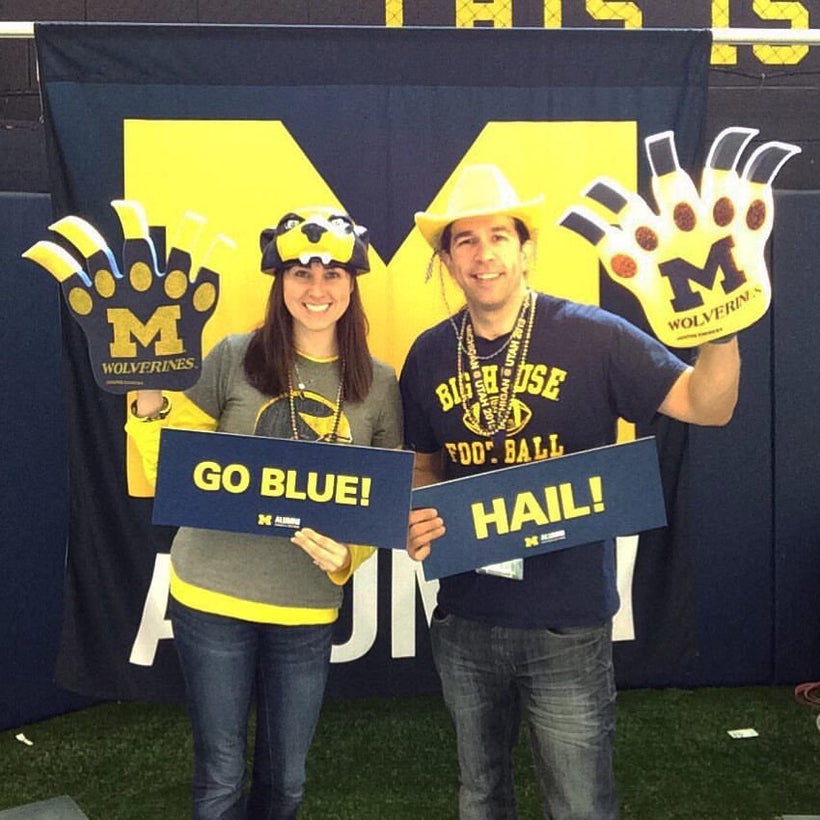 Eight years ago, I married a Michigan Wolverine. He warned me when we first started dating that "football season Jeff" was a bit intense. I grew up in SEC Country (Woo Pig Sooie!), so I thought I knew what I was getting into. I didn't. As it turns out, he was talking Jimmy-Fallon-in-Fever-Pitch intense, because that's how Michigan football fans are. And it's awesome.
Jeff took me to my first game at The Big House even before he introduced me to his family. In the nine seasons since, we've visited most of the Big Ten stadiums and have watched Michigan play in at least a dozen states. We've been in the stands for crushing defeats and thrilling victories, flying thousands of miles each season (sometimes round-trip in the same day) to games, first from New York and later from Nashville.
When Jeff and I found out in January that we were expecting our first child, we were thrilled. However, the timing of a late-September due date wasn't ideal: I'll be too pregnant to fly to the early games, and it will be too cold to take a newborn to games later in the year. In fact, there's a good chance that, for the first time ever, we (or at least I) won't get to attend any games this season. Which feels crazy after nine years of scheduling our fall lives around Michigan Football.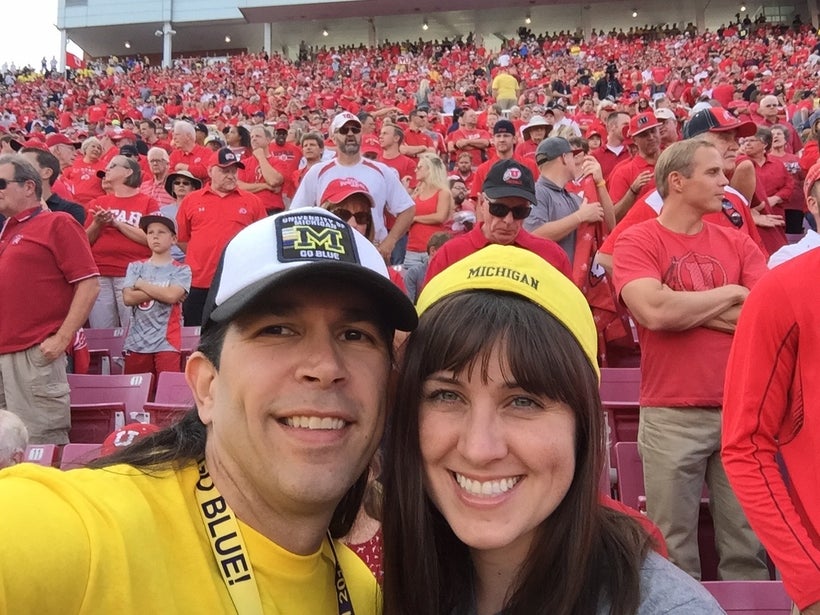 We began telling our friends we were expecting and were shocked to hear the same question over and over: "What are you going to do for your gender reveal?" We had no idea gender reveals were even a thing ("Doesn't the doctor just tell you what you're having?" I asked), but we quickly learned people take them pretty seriously in Tennessee (and, presumably, in other places too).
When Jeff suggested we send our ultrasound to Michigan's coach Jim Harbaugh for him to open the envelope, I was very skeptical. After all, Coach Harbaugh is a busy guy—so far already this year he's met with everyone from Pope Francis to Mr. Peanut. Plus, he must get requests like this from fans all the time. But, my superfan husband was confident that Coach Harbaugh would break the news to us. He even included a Letter of Intent from the baby so that Jim could justify the time spent opening the envelope as very long lead recruiting.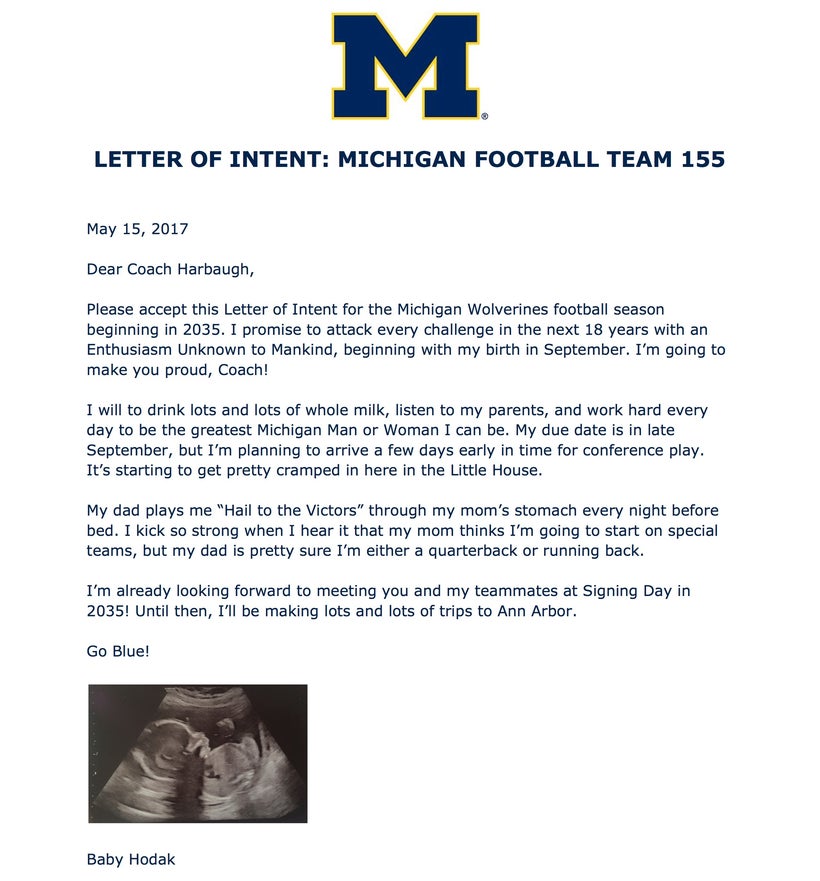 We agreed that if we didn't hear back, we'd just wait until the baby was born to find out what we were having to avoid a gender reveal altogether. After all, when Plan A is hearing from Harbaugh, you can't really have a Plan B!
I was stunned when we received an envelope in the mail this week with Coach Harbaugh's name/address—and speechless when we opened the envelope to find this note: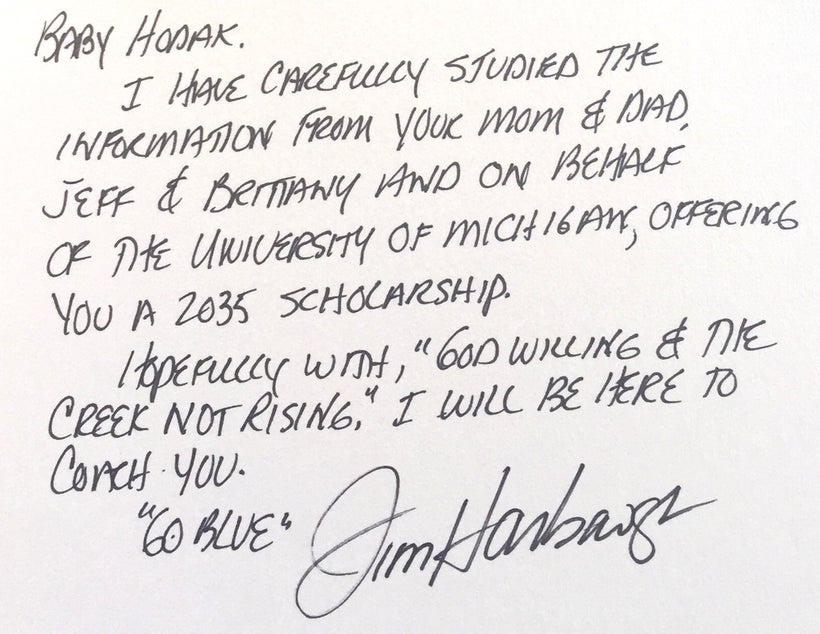 IT'S A BOY!! And a second-generation Michigan Man, it would appear! HUGE thanks to Coach Harbaugh for locking in that scholarship, too...we haven't even started our baby registry yet, but now I feel slightly ahead of the game.
Now, instead of the 2017-18 season being remembered in our house as "the year we had to skip all the games," it will be "the year Coach Harbaugh took the time the reveal the gender of our baby." Because one of the busiest people on the planet made time in his day to do a favor for people he's never even met. How special is that? No wonder he's one of the most successful, most respected and most popular leaders in the world.
I've learned over the years that you're born into some fandoms and others find you somewhere along the way. I couldn't be happier—or luckier—to have married into the Michigan faithful. It really is the greatest fanbase in the world with, on multiple levels, the greatest coach in the world. As he would say, "Who's got it better than us? No-body!" Now if you'll excuse me, I've got to figure out a way to convince my husband that, as much as it would be justified, we aren't naming our son "Harbaugh."
Calling all HuffPost superfans!
Sign up for membership to become a founding member and help shape HuffPost's next chapter
This post was published on the now-closed HuffPost Contributor platform. Contributors control their own work and posted freely to our site. If you need to flag this entry as abusive,
send us an email
.