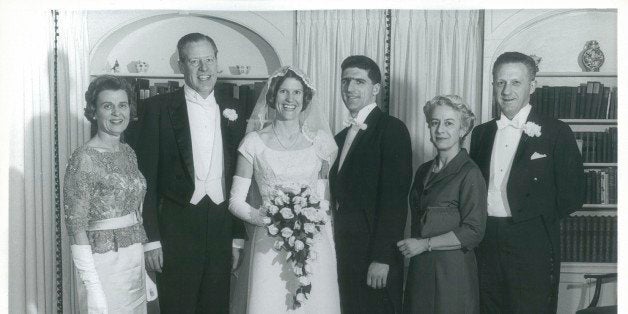 On a beautiful July morning, I looked from our cottage porch down to Lake Michigan where I saw my 81-year-old father-in-law, Paul, swimming alone straight out into the lake toward Milwaukee some 60 miles away. Paul was a fine swimmer and a determined man. He and my mother-in-law, Silvia, had emigrated from Italy because of the racial laws against Jews at the beginning of World War II. True, Paul had begun to lose his keys and confuse names. But my husband John and I shrugged off what we considered "typical old age."
That morning I ran down to the beach, yelled, and waved. Paul didn't hear me because he had taken off his hearing aids. An inner compass must have told him to turn around. When he came ashore, I said, "Paul, we have a no solo swimming rule. Please don't swim alone." Polite as ever, he agreed. But after lunch, I glanced at the lake and once again saw Paul swimming alone toward Milwaukee.A year or so later, Paul was afloat in his own inner world. Doctors tested him and then diagnosed him with probable Alzheimer's disease. That summer of Paul's solo swims was the last time we invited him to vacation with us in Pentwater, Michigan.
That Paul's Alzheimer's disease might cause a spiritual crisis seldom entered my day-to-day thinking. I did mention to my pastor -- I am a life long, main line Presbyterian -- that we were having a hard time with our aging parents, an understated, Calvinist approach. Stubborn, I was intent on forging my own path as parent to our parents without allowing caregiving to dominate our lives. I did begin to mutter "Help me" prayers on Sundays.
These first cries of anguish came as our four parents' Alzheimer's disease began to create invasive, unpredictable and unmanageable crises which strained John and me individually and as a couple. The disease was proving chaotic with its unexpected twists and turns: Paul's temper tantrum in his bank; my father's hidden silver; my mother-in-law's cries of 'aiuto,' Italian for help. Caregiver fatigue set in. God seemed of little comfort.
When Paul died at age 85, John and I were so tired that we blocked out signs of Silvia's Alzheimer's disease. One summer, she came to Sunday lunch soiled and confused. She forgot a date with me for a political gathering. A friend reported that Silvia could no longer manage renewing her theater tickets. Both John and I denied or ignored these signals and did not let ourselves imagine that his mother was developing Alzheimer's dementia herself. Yet as we slowly faced the reality of his mother's illness and my own father's Alzheimer's, my prayers grew more intense.
The next round of prayers -- and I was fast running out of confidence that any one was listening -- became a "how-can-this-be?" and "please, someone somewhere, help me in the midst of this unpredictable situation. During this period, caregiving overwhelmed me. Disorder invaded our lives every time a charge nurse or a well-meaning friend telephoned to report bad news. I was desolate when we authorized alarms on Silvia's bed and wheel chair. Alarms and dulling medications flew counter to the precepts of my Judeo-Christian heritage: Do unto others; honor thy mother and thy father; be ye kind one to another.
I became numb and worn out. John grew numb, worn out, and ill. We didn't stop taking care of our parents long enough to recalibrate our lives, much less to analyze faith issues. Yet my own deep-seated faith and John's spiritual imperative to take care of one's own drove us. So we continued, begrudgingly keeping the commandment to honor our parents.
We often questioned why we continued to carry on. Montana became our secret escape code when either of us was at wit's end. Once on the way to a nursing home, I told myself that I could bail out, keep on driving, and flee to Montana. Defiantly, I wondered what commanded me to stay, to field charge nurse calls or to sit at arm's length from my mother-in-law so she wouldn't pinch me. The free and wide skies of Montana tempted me.
Nonetheless, a voice in the center of my being told me that I belonged, not in Montana, but with my parents. What voice was this I heard? For me, it was God who directed me to accompany my father and mother in their decline.
Nor did John choose Montana. He carried on, unswerving and loyal, nourished by his own inner source. His parents had brought him out from World War II European fascism and provided a full American life. By their own enduring ties with Italian family, they exemplified a spiritual imperative, born of the Judeo-Christian background we share. It says to care for one another within the family no matter the circumstances.
Yet the God of that caregiving period was not a caring presence. I could no longer summon up the supreme being I had long believed in, a supreme being who had provided me with a vision of possible order and goodness in the world. How would such a being allow old people to lose their minds, allow a disease to ravage the core of their characters? Prayer became a moan or a sigh.
In my fatigue and despair, I came to the point of wishing the mothers dead: I asked myself if it was sinful to wish my loved ones dead and wondered how far I had strayed from that biblical imperative to honor my parents. Everything in my life was upside down: my husband no longer an anchor; my sweet mother-in-law cranky and prone to biting and pinching; my organized mother unable to execute the plans she loved to make. God did not figure in this mess.
After 10 years of caring for one parent after another and of despairing consultations with John, social workers, and my Thursday morning walking friend, I felt utterly weighed down by responsibility. If God had abandoned those with Alzheimer's disease, I was certain God had also forsaken me. At last, I recognized my need for professional, spiritual help. I was, after a decade of caregiving, full of self-pity and far removed from an imperative to honor my parents. I went to see my pastor and lay myself bare.
I hoped [Daniel, my pastor] would know whether the pieces of this fragmented, doleful period of my life composed a pattern, a [coherent] story if viewed differently. Daniel would discern, perhaps, what God had in store for me.... In my heart, during the days of Alzheimer's dying, I wondered where God was, why deaths piled one on top of the other... I began, "So I came today, to see what all this caregiving means? And my role? Basically, why me?
We sat quietly for a moment. I hoped Daniel was interceding for me with God."Susan," [Daniel said,] God says to Moses before he approaches the burning bush, 'Take off your sandals because you are standing on holy ground' (Exodus 3:5). You and John are walking on holy ground as you make this journey of dying with your parents. Holy ground, life and death. I hope you know that."
In that moment, I needed counsel and comfort. I didn't grasp the profound nature of God's words to Moses and how this seemingly abstract verse applied to me. Naively, I wished my pastor, like a magician, could strengthen and reassure me that our decisions were the best John and I could do, that I wasn't falling apart, and that God wasn't judging how anguished, how conflicted, and how tired we felt. Somebody needed to lift the guilt that haunted me: not paying enough attention; paying too much attention; not spending enough time or too much time; making yet another imperfect decision; feeling furious at myself, my family, and my parents for this ending to their lives. I longed for my pastor to wipe away that awful sense of never caregiving quite right.
Yet with hindsight, I see that God took my hand and steadied me. God indeed led me onto hallowed ground. In occasional flashing moments, our parents showed the essence we had known and reminded us of their lives well-lived. On my mother's 95th birthday just months before her death, she cooed and rocked her newest great-grandson, baby Emmett. Such moments strengthened John and me, individually and as a couple. The memories of hard times fade. Our sense of having been true both to our beloved parents and to ourselves survives.
I had counted on someone, maybe Daniel, to answer my question about God's place in this dread disease that afflicts both patient and caregiver, albeit in different ways. While in the moment, I was disappointed, I now know that no solace exists for a caregiver, no panacea for difficulties faced. I have still not heard adequate words of counsel or comfort for either an Alzheimer's patient or a caregiver. "I am so very sorry," is the only response I can imagine to one on an Alzheimer's journey.
After my crisis of faith, God has resurged like a phoenix. We and our family honor all four parents each July on that very beach in Michigan where Paul first set out to swim solo. We are not alone. We rejoice that together we trod this holy ground.
Versions of this article were presented at the School of Theology, University of the South, Sewanee, TN, April 2011, and at the Search For Meaning Conference, School of Theology and Ministry, Seattle University, Seattle, WA, February 2012
Popular in the Community