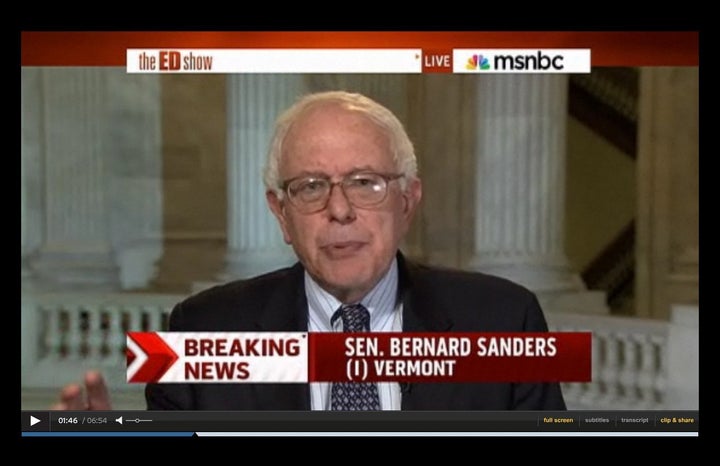 There was something stirring about watching Bernie Sanders engage in his filibuster. Not the bogus filibusters that the GOP has relentlessly deployed over the past two years. No, Sanders offered the real thing. Real rhetoric, real passion, real indignation. Not artifice, not calculation, not capitulation. Instead, it was old school, just like the man himself.
The contrast with President Obama could hardly have been starker. Yesterday Obama, fresh from having attacked his own base, wheeled out Bill Clinton, his former chief detractor, to help make the case for the tax-cut package, which, incidentally, Clinton truthfully labeled a stimulus bill. There was something stimulating as well about watching Clinton, a seasoned pro, return to the political fray. It even looked as though the two men were trading places.
Obama stood by deferentially as Clinton delivered the goods. Eventually, Obama simply disappeared while Clinton continued to hold forth. The uxorious Obama had more important things to do -- attend a Christmas party or Michelle might get mad at him. She must be plenty peeved already at the way he's caved, time and again, to his political adversaries.
If Obama fails to secure passage of the tax-cut package that he seems to regard with a mixture of resignation and desperation, then his presidency will likely be finished. Or he can govern exclusively with the GOP over the next two years. Odds are that it will pass, adding close to another $1 trillion in federal debt. Whether the stimulus will actually stimulate the economy is another question.
The example of the cantankerous Sanders should serve as an object lesson for a White House that is trying to triangulate its way out of electoral disaster. Sometimes it's worth taking a stand. Sanders didn't just do that. In pointing to the gross disparities in wealth in the United States, he did something else. He told the truth.
Popular in the Community