A large sign was erected on a Hawaii military base in the wake of the Sept. 11 terrorist attacks with the message, "God bless the military, their families and the civilians who work with them."
Now, 14 years later, a nonprofit religious rights group is demanding it be removed, claiming it violates the Constitution.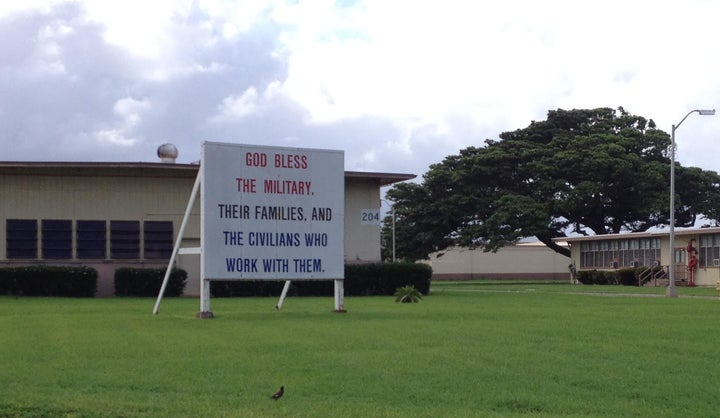 The group's founder, Mikey Weinstein, told the Honolulu Star-Advertiser the sign stands out "like a tarantula on a wedding cake." His group, which now represents 65 active-duty Marines at the base, recommends the sign be moved to the base chapel or removed altogether.
Capt. Tim Irish, a spokesman for the base, said Killeen received the complaint and ordered base staff to research the sign's origin and its compliance with existing regulations. "MCBH will exercise due diligence to ensure compliance with existing regulations and law, including the Establishment Clause of the U.S. Constitution," Irish said.
Not surprisingly, the demand to remove the sign was met with plenty of criticism.
"Only someone with a great misunderstanding of the First Amendment or an axe to grind against religion would claim that such a slogan poses a threat or is in any way unconstitutional," Ron Crews, executive director of Chaplain Alliance for Religious Liberty, said in a press release. "The real threat is posed by those who want to whitewash any reference to God from public discourse -- even ones as innocuous and uplifting as this one."
Christian evangelist Franklin Graham, Billy Graham's son, was among those who slammed the Military Religious Freedom Foundation via social media.
For now, at least, the sign is still there. The Military Religious Freedom Foundation followed up its initial demand with a second on Wednesday -- saying that if the sign is not removed, six more signs should be erected to satisfy Jewish, Muslim, Norse Religious Faith, atheist/agnostic/humanist/secularist, Hindu and Wiccan U.S. Marine clients.
The additional signs, as depicted in the photo illustration below, would contain the same message, but start with "Yehweh bless," "Allah bless," "Odin bless," "Vishnu bless" and "Goddess bless." Another would begin, "There is no god to bless" and end with "We have each other."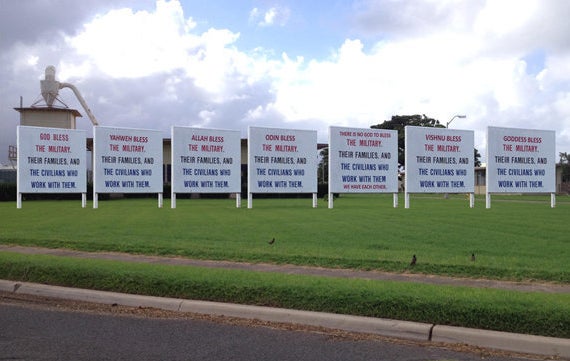 In his Wednesday message, Weinstein said he would immediately withdraw his demand for the six additional message boards if the base agrees to move or remove the sign currently on display.
PHOTO GALLERY
Top Three Religious Groups In Major U.S. Cities
Calling all HuffPost superfans!
Sign up for membership to become a founding member and help shape HuffPost's next chapter