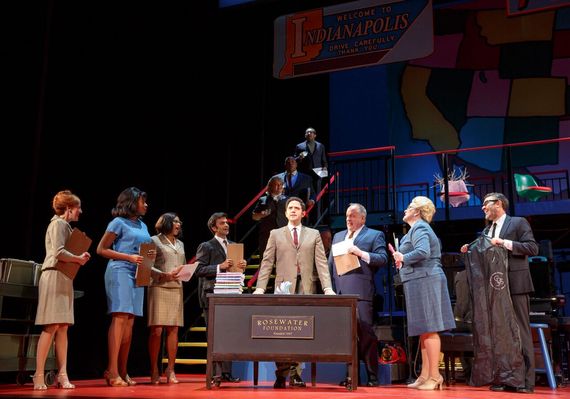 Santino Fontana (c) and the cast of 'God Bless You, Mr. Rosewater' at Encores! Off-Center; photo Joan Marcus
By Christopher Caggiano, ZEALnyc Contributing Writer, August 2, 2016
Thanks to such concert-revival series as Encores!, and its summer sibling Encores! Off-Center, musical-theater mavens get a chance to rediscover shows that have fallen through the cracks. Sometimes, we get Do I Hear a Waltz?, a fascinating footnote at best, of historic interest but artistically inert. But in a minority of occasions, we're presented with a real hidden gem, a show that makes us say, "How the heck did this one slip away?"
Kurt Vonnegut's God Bless You, Mr. Rosewater is one of those gems. If you haven't heard of the show, you've likely heard of the creators: Howard Ashman and Alan Menken. That's the team that gave us the classic Little Shop of Horrors, as well the the scores to the Disney money-makers The Little Mermaid, Beauty and the Beast, and Aladdin. Rosewater has been available for licensing for years, but the score was never recorded, which usually means no afterlife for a show, no matter how good it is.
As you might expect, God Bless You, Mr. Rosewater reflects a great deal of Menken and Ashman's later work, from Menken's deft, effortless melodies to Ashman's droll, intelligent lyrics. Rosewater was their first show together, and there are definite signs of awkwardness and a slightly uneven tone. But it's just the sort of quirky, funny, and touching show you'd expect from the future Little Shop team.
In keeping with its Vonnegut pedigree, God Bless You, Mr. Rosewater is rather dark and very satirical. The story concerns Eliot Rosewater, a man born to privilege, who currently runs the family foundation, doling out charitable grants to the not-so-worthy and already-privileged. Eliot decides to leave New York City and return to his family homestead, which is now a depressed Indiana backwater, inhabited by equally depressed people, whom Eliot decides are far more deserving of his support, both financial and emotional. Meanwhile, a scheming lawyer attempts to rustle in on that family money by trying to prove Rosewater is insane.
Part of what makes God Bless You, Mr. Rosewater so appealing, other than the terrific songs, is the yearning humanity that Ashman's book brings out in the people of Rosewater's eponymous hometown. But, as with Little Shop, there's plenty of quirky fun to be had along the way, much of it concerning Eliot's obsession with oxygen combustion and volunteer fire brigades. Seriously. When we finally learn the source of this obsession, Rosewater becomes as heartfelt and heart-rending as any musical in the canon.
The Encores! production is blessed with a near-perfect cast, including the wondrous Santino Fontana (Rodgers + Hammerstein's Cinderella), who is as irrepressibly charming as always as Eliot, and the eminently appealing Brynn O'Malley (Honeymoon in Vegas), who is both sharply funny and deeply endearing as Eliot's long-suffering wife. The production also features fine supporting work from Skylar Astin, Kate Wetherhead, and Rebecca Naomi Jones, as well as a devastatingly honest turn from Liz McCartney as one of the townspeople that Eliot takes under his wing. The only blemish in the cast comes from an awkwardly amateurish turn from Clark Johnson ("The Wire," "Homeland") as Eliot's father, the blustery senator. But all is forgiven once we reach the heart-melting cameo from the great James Earl Jones as Eliot's favorite science fiction writer.
The show is far from perfect. I've been rereading the script and still can't quite figure out the logic of the show's denouement. And some of the satire falls a bit flat. But on the whole, it's a delight, and deserves a cast recording so that more theaters, perhaps those that have put on Little Shop, will be inspired to try something in a similar vein.
Geniuses like Howard Ashman, who died prematurely of AIDS in 1991, don't come along all that often, and we owe it to his legacy to more fully document this wonderful show. The score deserves to be heard and the show deserves to be done, and we won't get the latter without the former.
________________________________
God Bless You, Mr. Rosewater. Presented by Encores! Off-Center on July 27-30, 2016 at New York City Center, NYC. Book and lyrics by Howard Ashman; music by Alan Menken; additional lyrics by Dennis Green; originally presented by The WPA Theatre; originally directed by Howard Ashman. Directed by Michael Mayer; music director, Chris Fenwick; choreography by Lorin Latarro. Cast: Skylar Astin, Derrick Baskin, Jeff Blumenkrantz, Nick Choksi, Eddie Cooper, Kevin Del Aguila, Santino Fontana, Clark Johnson, James Earl Jones, Rebecca Naomi Jones, Kevin Ligon, Marla Louissaint, Liz McCartney, Bonnie Milligan, Brynn O'Malley, and Kate Wetherhead.
Christopher Caggiano writes for ZEALnyc about theater performance and related topics.
Calling all HuffPost superfans!
Sign up for membership to become a founding member and help shape HuffPost's next chapter