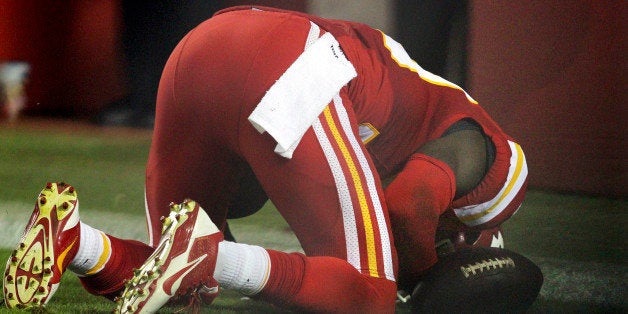 Football and religion go together in America. This is precisely because football is a religion for many Americans. But there are times when football provides a kind of religious commentary by raising--if inadvertently--deep and disturbing theological questions.

Such was the case on Monday night. The Patriots suffered an embarrassing loss to the Chiefs and Kansas City safety Husain Abdullah had an end zone celebration that confounded the NFL and set the internet abuzz [http://www.washingtonpost.com/blogs/early-lead/wp/2014/09/30/nfl-penalizes-muslin-player-for-praying-after-chiefs-touchdown/].

Driving into work the day after a Patriots' game is usually a blessed experience in Central Massachusetts where I live. Radio commentators ritually celebrate another victory and look forward to more triumphs: play-offs are foreordained, the Super Bowl will see God's purpose revealed in the majesty of a Patriots victory. That is the way the season should progress if the natural order of things is to be confirmed, since Patriots-nation and God's kingdom must be in harmony. While I happen to be a Catholic, teaching at a Catholic college, in one of the most Catholic parts of the country, there's a Calvinist quality to being a Patriots fan: we often think of our team as positively elected by God.

The Patriots' defeat at the hands of the Chiefs has brought apocalyptic prophecies about the decline of Tom Brady and a once-proud organization. New Englanders are feeling a gnawing sense that what once seemed like certain election has turned into likely damnation. We Patriot fans are ready to put on sackcloth and ashes in order to regain God's favor. If God's kingdom is coming, the New England Patriots are on the outside looking in. Maybe the sins of Spy-gate are finally catching up with us.

But if a Patriots defeat seems like a curse to New Englanders, it appears to be taken as a blessing by the Kansas City Chiefs and their fans. Kansas City safety Husain Abdullah certainly felt so: he got down on his knees, and placed his forehead on the turf, after picking off a Tom Brady pass and running it into the end zone.

Then a flag came out.

Celebrating on the ground is against NFL rules. But Husain Abdullah was praying. And if Tim Tebow can pray in the end zone, why can't Husain Abdullah? Of course, the referees didn't recognize that Husain Abdullah was praying because he was praying in Muslim fashion--his prostration in the end zone symbolized his submission to God. The NFL does have an exception clause for end zone celebrations that permit prayer. In backtracking on the penalty flag, the NFL is belatedly recognizing that Muslims aren't just religious: they're actually Americans--Americans who play football, among other things.

The barriers to Muslims being considered full-members of American society do raise deep and disturbing questions about how pluralistic America really is. We can credit Husain Abdullah's celebration for bringing this to our attention--gently and graciously.

But Husain Abdullah and Patriot fans such as myself still have to answer a deep and disturbing question of the theological kind:

Who does God root for?

I thought all along God was rooting for the Patriots. But now I'm asking myself: Did God invent the tuck-rule that saved the Patriots from the Raiders in 2001? Did a divine hand strengthen Adam Vinatieri's nerve and foot for two Super Bowl winning kicks? When Husain Abdullah, or any other player, thanks God for a touchdown, is the implicit claim that God directed the ball to be intercepted or opened a hole in the defensive line? What do we really mean when we thank God for our success, especially when our success comes at the expense of someone else?

I wonder.

Perhaps Husain Abdullah's response is the most fitting: a submission to the will of God--a will that often exceeds our human ability to grasp.
REAL LIFE. REAL NEWS. REAL VOICES.
Help us tell more of the stories that matter from voices that too often remain unheard.