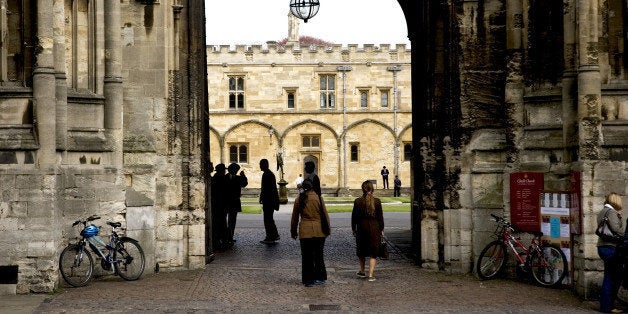 I nervously peered across the large wood table, whose recent varnish failed to cover its decades of scars. The faces of a dozen interfaith leaders, some twice my age and none within a decade of me, look at me with patience for me to begin the meeting. Despite being a fresh 25 years old, I had been recently hired to run a year-long campaign to combat Islamophobia, bringing together virtually all the big players in the interfaith space of New York City. Hoping to cut the tension, I leaned over to one of the men next to me and joked, "did I miss the memo for wearing ties?" as I pointed to my button shirt and suit jacket ensemble, sans tie. He replied, "do you have a masters?" I shook my head in confusion. "Well there you go" he returned.
This moment hung with me for some time. As a first generation college graduate, the thought of going into further school was enough to give me an upset stomach. My undergrad experience, albeit one full of building lifelong friends and learning irreplaceable lessons, was marked by sub-par grades, frustrating engagements with the institution, and a devitalizing sensation I've never repeated. Despite my youthful energy at the time, I question if someone can take 18 credits, work two jobs, intern, and then still to start a company. The thought still exhausts me.
However, it was becoming more clear that there is an educational roof in leadership in the world today. Sure, you can point to the few outliers, but those with a masters will make $400,000 more in their lifetime than those with an undergrad, and double those with just a high school degree. It also translates into access to higher positions, where leaders in business, government, media, and non-profits rarely lack such a master's degree.
If I were to go back to school, what would I even study? Running a global non-profit dealing with religious conflict (World Faith), there were a few ways I could go; masters in international politics or conflict studies, an MPA, or even divinity school. None of these felt right. As World Faith continued to grow, my job has increasingly became focused on attracting resources and building systems. What would develop my skills in this way?
Then came the spark. As it happens in many cases, it came through an email. Over five years ago, when I was a Global Laureate Fellow with the International Youth Foundation, they emailed out about the Skoll Scholarship, which would sponsor a full-ride scholarship at some place called Saïd Business School. An MBA? Why would a social entrepreneur get an MBA?
Then it clicked. The best degree to build those practical skills to build, scale, and steward a global NGO is a Masters of Business Administration. But I didn't even want to go back to school. The very thought gave me shivers. Hoping to talk myself out of it, I asked myself what would be the parameters: I'd need a full-ride scholarship as I already took out an extreme amount of student loans; I'd want to go to a damn good school to warrant the time spent; and lastly, if I had to leave New York to do it, I'd want to do it in a year. Added bonus points for a program that focuses on social impact and entrepreneurship. And thus the search began.
And it was a short search, starting where it began. There is no comparable world-class MBA program with a strong bend toward social entrepreneurship like Saïd Business School. It also happens to be a year long and offers the Skoll Scholarship for social entrepreneurs. The seed was planted, but the idea had yet to sprout.
Like most audacious ideas, what begins with exciting is followed by the question, "why do I think I even deserve this?" Not only is the Skoll Scholarship extremely competitive for social entrepreneurs (which I am), but what makes me think I could even get into business school? Business school is for accountants, consultants, and bankers (all of which I am not). I allowed these doubts hover over me like ominous clouds for over two years.
In the October of 2013, I still wasn't convinced, but I also couldn't shake the dream. But I knew if I didn't give it a shot, it would never happen. You miss 100% of the shots you never take. Knowing my abysmal undergrad GPA fell short of SBS's standards, I had to conquer the GMAT. But to apply for the Skoll Scholarship, I realized that I had to apply by January, a mere few months away. In an impulse buy late one night, I signed up to take the GMAT for less than a month later, giving me mere weeks to prepare. I figured that if I couldn't pull a score worthy of Oxford, I could put the dream to rest.
I took a practice test the next day, and realized I had a long way to go. So for the next three weeks, I put in more studious effort in those three weeks than I did in the four years of my undergrad. Even when I was on a work trip, I woke up at 5am, and then stayed up in my hotel room until midnight redoing the problems I failed to answer correctly in the morning. The day of the test, I was jetlagged and convinced that I would fail, and finally free from this damning dream. After finishing the GMAT, they offer you a chance to accept or deny your score (which you won't see). I knew I had failed, but curiosity got the best of me. To my shock and joy, I improved my score by 80 points in three weeks, overshooting my target by 10 points. So now the dream had become possible. You'd think I'd be relieved but I was only more anxious!
Three months later in the Spring of 2014, my application was in and an invitation for an interview was in my email inbox. I was genuinely shocked and ill-prepared to acknowledge to myself that I was really going to pursue this dream. By the time I arrived at the interview, I had to dedicate myself to the vision, and open myself to the emotional possibility that I could fail. I remember this moment, nervously tapping my feet, over-dressed in a suit, sitting in the lobby of Oxford's New York office. After an intense but inspiring interview with Stephan Chambers, and few more weeks of wait, I got the big envelope with an acceptance letter.
For many people, this is the end of uncertainty. Unfortunately for me, the years of non-profit work, shackled by six figures in student loans, the journey was far from over. I had to figure out how to pay for it. I was soon given the Skoll Scholarship essays, and eventually, an interview. By the end, I felt more confident than I had ever throughout the process, and was already mentally preparing for the move to Oxford just two months later. I'd made it this far, how could I not make it all the way?
That was until the bad news came that I was not one of the scholarship recipients. Like a kick to the stomach, I was wholly unprepared for the disappointment. I hadn't applied to any other schools and I told Medina, my wife, that I would only apply once, since it seemed to be such a long shot, and didn't want to keep our life plans in limbo. But before a more permanent sense of failure set in, Medina encouraged me to apply again.
And so I did. Since SBS doesn't allow deferrals for financial reasons, I had to reapply from scratch, re-interviewed, and was re-accepted, a mere three months after the scholarship notice, bringing us through the fall of 2014. And again in January of this year (2015), I got the worst news yet; I did not get the scholarship yet a second time.
I was stunned. I felt numb, devastated, and dejected; rinse and repeat. Now you may be thinking that I am being melodramatic, but I spent five years dreaming, working, and scheming to attend this program, and hadn't spent any emotional energy preparing an alternative vision for myself. I had given it my all, and my all wasn't good enough. Not since I was that dreaming 6th grader heart-set on NYU had I spent so long working to manifest a vision in my life.
Medina asked me if I wanted to talk about it. I didn't. I needed to digest this one on my own. Make sense of myself, my future, and the trajectory between those two.
One evening, Medina and I had went to dinner at Watawa, our favorite sushi spot on Ditmars in Astoria, with two of our friends, a young couple we've known for a few years now. When the topic of Oxford came up, I admitted that I still was looking for ways to make it feasible. Later that night after we left the restaurant, Medina asked me what I meant earlier. "I can't shake the vision of seeing myself in Oxford in the fall," I shared, "I don't know how or why, but I still believe that I going."
Medina nodded in understandment, and we both went to bed with the typical exhaustion the end of a busy week brings us. We weren't prepared for what the morning would bring.
I remember when I decided I was going to move to New York City. I must have been about six years old. My dad brought home a VHS tape of Teenage Mutant Ninja Turtles from the video store, and I still remember the opening scene; Shredder's henchmen, known as The Foot, stealing wallets on the streets of New York. I was enthralled.
What began as childish intrigue began an adolescent obsession. By six grade, I got ahold of the giant book of colleges that my parents bought my sister in hope she'd be inspired to go to college (she didn't). Thumbing through the light brown pages, I immediately looked up the words "New York," landing on "New York University." That was it. I decided right then and there I was going to New York University at the absurdly young age of 12. While this might be simply comical if you grew up in an affluent suburb in the US Northeast, I was from Battle Ground, a small town with little options, rurally tucked in the Cascade Mountains between Portland and Seattle. My parents, both with a just high school diplomas, moved out from their parents' homes at ages 15 and 16 and yet still did better than most of the locals. At the time, Battle Ground could best be described as a shithole. To this day, less than 20% of people in Battle Ground attain even a bachelor's degree, professional jobs are scarce, and options to leave are miniscule. So when anyone heard me say I wanted to move to New York and attending NYU, people replied with the same tambour you'd expect if I said, "I'm going to the moon!"
Yet I wouldn't let go of the vision of myself in New York. I had the audacity to dream, but moreover, I had the delusional narcissism required to believe that God had a vision for my life, and it was far behind the city limits of Battle Ground. I, perhaps arrogantly, believed I was destined for greatness.
In high school I only applied to New York University, and to the shock and amazement of me and virtually every person I knew, I was accepted into their Music Business program. This only fed my sense of destiny, and I consider the day I moved to New York the day my life really began, I've only been back to Battle Ground seven times in the last 11 years, to visit my father and attend my sister's wedding. In short, I never looked back.
And here lies my challenge. Attending Oxford SBS fitted into my grand vision. Like NYU, I spent years dreaming and scheming to make it a reality. I worked even harder to find funding for SBS, and patiently jumped through all the hoops. But none of this really guarantees anything. While I have lived by a script of achieving the unachievable, climbing a mountain of predestined meaningfulness, it all could just as easily been a figment of my imagination. My narrative takes little account of the privilege I've been given as a straight white man in a culture that rewards these identities. It ignores the terrible things that happens to good people everyday. After all, if 17,000 children died today of preventable causes, why the hell should God care about helping me get a scholarship to Oxford?
And so I lived in this tension; it's all meaningful, it's all meaningless. I am destined to overcome, or my best is not good enough, and there's no deeper meaning to be found. I began holding both in earnest. It's more than cognitive dissonance, it's spiritual dissonance.
The morning after I shared this vision with Medina, I woke up to an email from the Global Shapers network. Global Shapers are young movers and shakers recognized by the World Economic Forum, numbering at 5,000 across over 450 cities worldwide. Rubbing the slumber from my eyes, I put on my glasses and began reading; For the first time ever, Global Shapers were offering two full scholarships. Of all the universities in the world which university? Oxford. Of all the programs at Oxford? The MBA at Saïd Business School. Given the five years I spent trying to find a way to attend SBS, it would seem heaven sent. But given the serendipitous timing coming the morning after a conversation about this unshakable vision of attending SBS, it felt nothing short of prophetic.
Four months, a phone interview, and countless sleepless nights later, I was awarded one of the two Global Shapers Community Scholarships. I'm in awe, stricken by wonder, how the whole thing came to be, as I write this from my dorm room in Oxford, fulfilling that seemingly impossible vision from mere months ago.
Does this mean God wanted me to come to Oxford? Is this simply a demonstration of the many layers of my privilege? Chance? Years of hard work? Maybe all of them, maybe none of them. More than ever, I no longer feel capable of entertaining the hubris required to claim anything about life with any solid certainty. Moving forward, I only wish to keep a childish sense of awe, and a willingness to embrace uncertainty. God will work out the rest, whether through chance or providence.
Related
Popular in the Community