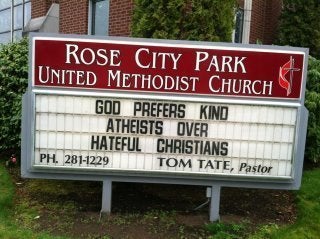 It's the kind of thing one might expect from an episode of "Portlandia," but the message is real -- and its biggest advocate says that it's rooted in scripture.
A Portland, Oreg., Methodist church has displayed a controversial message on its community billboard that reads, "God prefers kind atheists over hateful Christians."
Tom Tate, the pastor of Rose City Park United Methodist Church in northeast Portland, told The Blaze that the sign shows his 385-member church's "radical hospitality" towards people who feel alienated from faith.
In a phone interview with The Huffington Post, Tate said the he's received reactions from people all across the country, from Massachusetts to Texas, and that people have been overwhelmingly positive about the sign's message. Tate estimates that he receives "30 to 40" positive responses for every one negative response.
"The ones that are upset think we are pitting atheism against Christianity," Pastor Tate told The Huffington Post, "We are actually pitting kindness against hatefulness."
Tate said the message on the sign is exemplified in the Bible through the parable of the Good Samaritan. To the Hebrew religious establishment of the time, Samaritans were like atheists, Tate said.
The message was posted on the church's exterior billboard in late March, and has since gone viral across social networks.
The Rose City Park Methodist Church is a United Methodist Church affiliated with the Reconciling Ministries Network, an organization dedicated to the inclusion of people of all sexual orientations and gender identities.
Clarification: A previous version of this article failed to indicate that the Rose City Park Methodist Church is in the state of Oregon.
Related
Popular in the Community