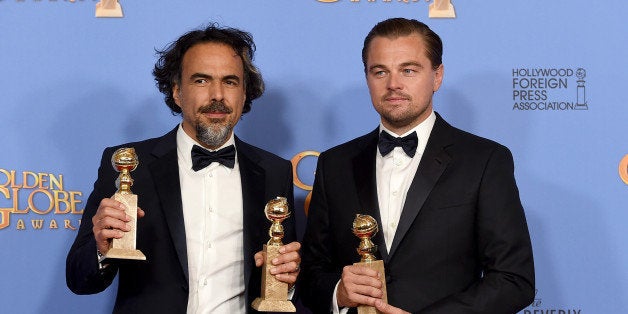 Be advised: this essay spoils Alejandro Iñárritu's The Revenant and Quentin Tarantino's The Hateful Eight, and even starts with the ending of the former.
By the end of the brutally long The Revenant, we're very eager for Hugh Glass (a disfigured Leonardo DiCaprio) to exact revenge on John Fitzgerald (the perfectly cast Tom Hardy). Before being left for dead, the bear-mauled, vocally-impaired Glass has been forced to watch Fitzgerald murder his son. Yet, at the very moment of Fitzgerald's comeuppance, director Iñárritu switches things up. God -- not Glass -- will execute the film's yearned-for retributive justice. Or, as Glass piously proclaims, "Revenge is in God's hands, not mine."
Iñárritu's film of deific vengeance was one of several critically-acclaimed movies of the year serving up revenge. But its most obvious comparison is with Tarantino's The Hateful Eight, the other snow-filled, revenge-driven, quasi-Western released on the same day. Set in an equally unforgiving landscape, Tarantino's genre-warping flick creates a social microcosm of sorts, where eight characters are forced to wait out a blizzard in a claustrophobic haberdashery and, in the process, unleash various revenge fantasies and schemes.
Despite their (seeming) similarities, The Revenant has won far more critical recognition than The Hateful Eight. In fact, the #sowhite Academy Awards has given the most nominations to The Revenant while largely dissing Tarantino's exuberantly vicious film. One wonders why The Revenant has fared so much better than The Hateful Eight, and whether Iñárritu's treatment of revenge, compared to Tarantino's, has anything to do with its greater praise.
Vengeance-wise, The Revenant relates structurally to an experimental class of plays sometimes called "anti-revenge revenge tragedies." Renaissance English playwrights created these stories during the heyday of stage revenge. Though skeptical of revenge, these plays keep the heroic revenger figure but distance him from the revenge itself. In Cyril Tourneur's The Atheist's Tragedy, the ghost of a murdered father comes onstage to tell his son not to take revenge, since God will do it for him. Because of this insistent dogma, the would-be revenger basically kills time in variously memento mori-ed landscapes, waiting for God to take over as lead revenger.
Even here, God does not directly murder anyone: the villain himself swings an ax too abruptly and knocks out his own brains. Too direct divine intervention risks aligning God's just vengeance with the very unjust gore-fest of revenging villains. In getting bad guys to be brained by their own axes rather than struck outright by God, playwrights were at least able to mask some of these unsavory associations.
The Revenant likewise follows a more indirect agency, which occurs just after Fitzgerald taunts Glass about the futility of revenge: "Did you enjoy it? Cause there ain't nothin' goin' bring your boy back." We're thus forced to wonder if the arduous, grisly, and dismal enterprise of the entire movie has been unfounded and morally suspect all along.
Here's when Glass decides to leave the rest to God and pushes the basically dead Fitzgerald into a river. But luckily enough for Glass, God's revenge unfolds rather quickly, as Arikara Indians arrive about two seconds later to scalp the already pretty-much toast Fitzgerald. And, in case the audience isn't aware of the karmic retributions afoot, the Arikara girl winks at Glass, post-scalping, right before Glass, in a glossy Gladiator moment, imagines his dead, modelesque wife floating before his eyes.
Glass's rejection of revenge isn't terribly surprising given the source material for the film, Michael Punke's The Revenant: A Novel of Revenge, which is littered with overtly Christian anti-revenge symbols, ranging from astrological signs to the novel's very epigraph, the shopworn biblical injunction "Vengeance is mine; I will repay, saith the Lord" (Romans 12:19). Iñárritu transforms Punke's Christianity into native symbols, replacing biblical verses with Pawnee adages, and even invents Glass's half-Pawnee son (which certainly raises the stakes for Glass in the film). This natural spirituality goes along with the film's (unsubtle) metaphors of physical death and rebirth (yes, Glass is reborn from a horse's innards).
Like his Renaissance predecessors, Iñárritu tries to have it both ways, using the subversive motive of revenge to compel audience engagement and, at the same time, protecting his central protagonist from ethically murky territory. Tarantino instead takes as his very theme this murkiness. While The Revenant frames the scalping of Fitzgerald not only as just but as spiritually so, Tarantino questions whether or not there can ever be distinction between justice and revenge. Early on, the supposed hangman Mobray blithely pontificates: "...dispassion is the very essence of justice. For justice delivered without dispassion, is always in danger of not being justice," with no small dose of irony, as Mobray is in fact a throat-slitting ruffian in disguise. "Justice" is just another one of the tantalizing fictions overwhelming the film, like the forged Lincoln letter and the manically shifting identities of the characters.
The Hateful Eight's final scene eviscerates the tidy categories separating justice from revenge. The oddest of all bedfellows - a black Union soldier (Samuel L. Jackson) and a white good ol' boy of the South (Walter Goggins) - lie bloodied and dying on a quilted bed, laughing in ecstasy as they hang their nemesis, the Ate-like figure of discord Daisy (Jennifer Jason Leigh). Tarantino's approach to violence here is a far cry from Iñárritu's, whose eyeball-piercing bloodiness is deadly solemn and aiming at realism. Meanwhile, the ambivalent tonalities of Tarantino's campy, self-referential violence play with audience expectation and mess with our conventional sense of right and wrong. Not surprisingly, the less disruptive, sanctimonious brutality of The Revenant has proved more palatable for critics and Members of the Academy.
The Revenant takes great pains to keep its dirty violence clean: lamentable, disgusting, but comfortably part of a divine scheme. But it's hard not to see, if only for a moment, in all the rending of flesh and guts, Tarantino's wretched ambivalence grinning in the background.
Calling all HuffPost superfans!
Sign up for membership to become a founding member and help shape HuffPost's next chapter