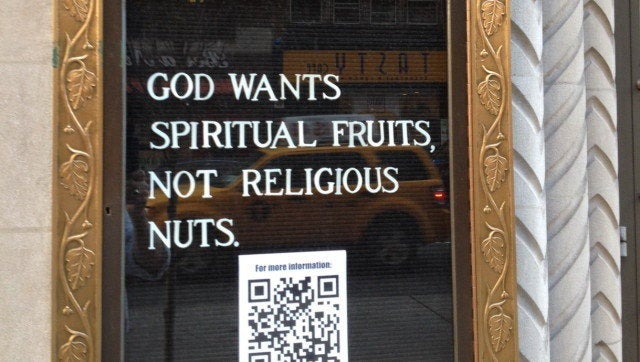 A small church on Madison Avenue in New York City is turning heads these days -- especially to look at the church's messages out front.
"It's amazing the amount of attention that those signs get," Brian Crowson, office manager of Madison Avenue Baptist Church told The Huffington Post, "We've been in the New York Post, the Drudge Report and others."
Sometimes the signs from this small Baptist church get political. After one election Crowson put up a quote from Will Rogers that read: 'The problem with political jokes is sometimes they get elected.'
Rev. Susan Sparks is the Senior Pastor of Madison Avenue Baptist Church as well as an established stand up comic. Pastor Sparks told The Huffington Post that she loves the reactions to the signs:
"I love it because it is a way to show that the church can step back and laugh at itself. Every week we have folks stopping and taking photos of the signs to post, share, etc. Very often I will see them circulated on Facebook."
Responding to one of the most recent, and more controversial signs -- "God wants spiritual fruits, not religious nuts" -- Rev. Sparks explains: "Our church is a place that welcomes all people; a place that is safe from the shame and judgment of religious "nuts" and therefore a rich ground to bear spiritual fruit."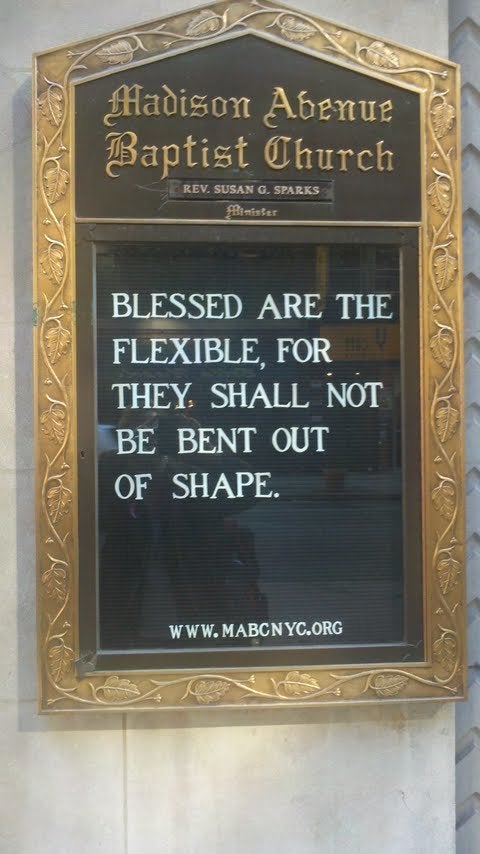 Madison Avenue Baptist Church Signs