When I hear the words chosen for the title of this article, I think of retired bio-chemist and high school chemistry teacher Blaine Malquist. This famous quote from The Count of Monte Cristo was used by the 68-year-old grandfather as he described to me his battle with the EPA, the Utah Department of Agriculture, the Utah Department of Health, and the Office of the Utah Attorney General.
Blaine's story of negligence and lack of regulatory oversight evolved from years of pesticide abuse in his hometown of Nelphi, Utah, that first began in 2004 when Juab County Utah began spraying Permethrin as part of a mosquito abatement program. Juab County did this in anticipation that West Nile virus was going to become an issue. This declaration of war against an imaginary enemy (according to the CDC the number of cases of West Nile Virus in Utah are extremely low, just two in 2014) has resulted in the continual spraying of dangerous pyrethroid insecticides, several times a week in Blaine's neighborhood and on his property, the latter done without his consent. This restricted use insecticide is banned in the European Union and here in the U.S., sprayers must be licensed. However, in my hours spent with Blaine I learned that pesticide laws in his hometown and county were being blatantly ignored, and the regulatory agencies chartered with enforcing those laws are asleep at the wheel.
I first met Blaine at the 33rd annual "Pesticide Forum" held this past April in Orlando, Florida. We met during an afternoon break between workshops, and as we talked, I listened to the story of his daughter's declining health and her reaction to the insecticide spraying that was occurring two to three times a week in their hometown. In 2011, after the repeated sprayings, things got so bad for his daughter that he went to court to get a restraining order. Despite evidence of the impact on his family, Blaine's request to stop the spraying around his home was denied. Trained as a bio-chemist, Blaine taught high school chemistry, physics and biology. He has researched the powerful chemicals applied by unlicensed city workers (which is a violation of federal law) and is more than capable of understanding how toxic the insecticides are that were sprayed from trucks driving up and down his street, often in windy conditions.
While the breakout sessions in which I participated were thought-provoking and educational, two people I met, individuals from opposite sides of the country, touched me the most. My intent with this article is to share the stories of two courageous people: Utah resident Blaine Malquist and retired farmworker Linda Lee.
While they live worlds apart, and their stories of chemical exposure can be attributed to different sources, the results are the same -- hardworking, every day people who are exposed to hazardous pesticides from a variety of origins and are victims of a disturbing blend of social injustice. Both have experienced exposure to pesticides, and have suffered greatly due to chemical trespass and a regulatory system that fails to protect people from pesticides. Linda is a former farmworker living in Florida and Blaine is the aforementioned, retired high school teacher.
The Story of Linda Lee and the Farmworkers of Lake Apopka
The Friday afternoon before the conference began, attendees had the opportunity to sign up for a "Toxic Tour" field trip to Lake Apopka which is located about an hour outside Orlando, Florida. Lake Apopka has a heritage of being one of the most contaminated lakes in the country, and its history clearly demonstrates how issues of social and environmental justice are closely intertwined. On our bus tour of about 30 people, I first met former farmworker, 62 year old, Linda Lee.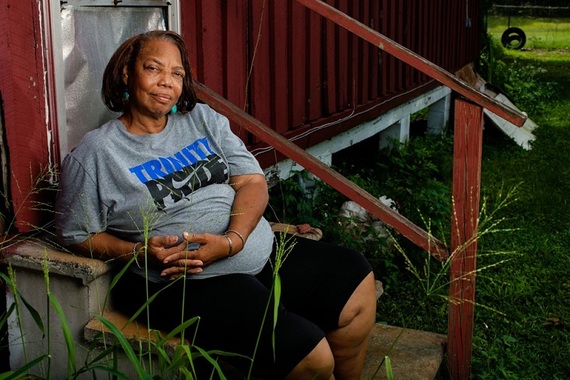 Linda Lee at home. Photo courtesy of Dave Getzschman
On our chartered bus ride to Lake Apopka, Jeannie Economos with the Farmworker Association of Florida led our tour and shared with our small group the history of Lake Apopka, which includes decades of heavy pesticide use from agriculture, and the lakeside discharge of chemicals created by the Tower Chemical Company, a manufacturer of insecticides. The legacy of Lake Apopka is its level of contamination, and the documented impact on wildlife exposed to these powerful pesticides. Millions of dollars have been spent to study the environmental impact caused by pesticides; however, nothing has been allotted to the former farmworkers in the area, the majority now suffering the effects of long term pesticide exposure.
In 1998, part of the region was declared an EPA Superfund site, and the state of Florida (using federal funds) purchased all of the land previously used to grow citrus and other crops. This resulted in the closing of all the farms in the area.
Suddenly and without warning, Linda Lee and approximately 3,000 other farmworkers lost their livelihoods, and many lost their homes in the process. While the farmers had their land purchased from the state of Florida for over $100 million dollars, the displaced farmworkers received nothing; and now most are sick -- having, for years, been exposed on a daily basis to agricultural pesticides, many of which are illegal to use in other countries.
Linda is one of those farmworkers who struggle with a variety of health issues from a lifetime of harvesting the fruits and vegetables we eat, and the exposure to pesticides that comes along with this work. She suffers from lupus, arthritis, complications from a kidney transplant, and a host of other medical challenges.
This moving video produced by Food Chains and Earth Justice, gives just a glimpse into the lives of the forgotten farmworkers of Lake Apopka.
Linda lives a simple, rural life and she has seen more than her share of grief. In Dale Finley Slongwhite's book, Fed Up, the High Costs of Cheap Food, Linda is one of the farmaworkers interviewed in a chapter entitled "Too Many Funerals," in which we learn of eighteen funerals held in one weekend, thirteen funerals in another. Linda recently lost her sister and granddaughter over the course of the last few months. These two deaths follow that of her daughter last year. All had formerly worked the fields -- and all have suffered from pesticide exposure. This has resulted in Linda now caring for three grandchildren and three great grandchildren in her very small home that is desperately in need of repairs, especially a new roof now that the rainy season has arrived in Florida. The Farmworker Association of Florida has recently launched a crowd funding campaign to help Linda continue to care for her family. If you would like to learn more, you can do that by visiting Crowdrise.
Despite her life of hardship and loss, Linda's outlook remains positive. She participates as a volunteer in many of the "toxic tours" that come through Lake Apopka, and she continues to educate people about the value and role of the American farmworker in history.
After listening to the stories of Blaine and Linda, writing articles of pesticide exposure and chemical trespass in Hawaii, and learning about our defective regulatory system from my friend and scientific adviser for Island Watch, Evaggelos Vallianatos, I have become infuriated at the level of protection and preferential treatment extended to the pesticide industry by our government, and the regulatory agencies that are chartered with protecting human health and the environment.
While I don't have all the answers on how to fix our broken system, or heal those impacted, I can continue researching and sharing the experiences of people, families and communities that have been adversely affected by pesticides. I've seen pesticide poisoning in my own family, in friends, and in wildlife; and I am outraged of the influence the industry has on every level of our government.