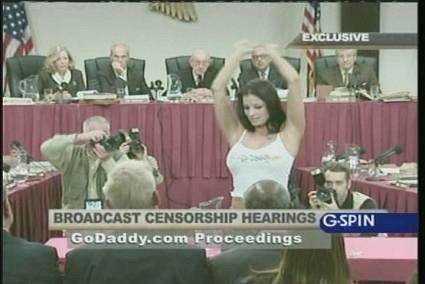 When you type in a domain name -- to check its availability -- and select the extension ".tv," a very interesting thing happens.
You're given prices for all of the choices -- .com, .net, etc. -- and little tidbits of information. The info for ".org" includes "Popular choice for non-commercial organizations." Sure, I'd heard about that. But here's the first tip on why you'd consider buying a ".tv" domain name:
"Note: The island of Tuvalu is sinking."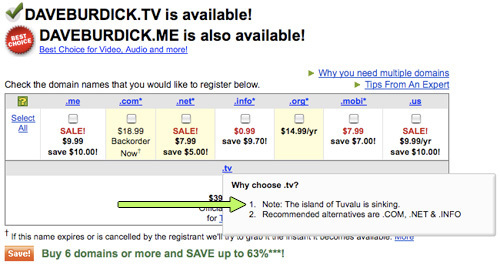 Boingboing slightly misinterpreted the message: "If I'm reading the pop-up window correctly, domain registrar Godaddy recommends against purchasing .tv domain names because the island of Tuvalu, which the domain represents, is sinking."
Not quite -- GoDaddy recommends that you do purchase the .tv domain because the island is sinking. It's the selling point.
My curiosity piqued, I called up GoDaddy to ask about their tiny, easy-to-miss environmentally aware message.
Here's what their general counsel, Christine Jones had to say by email later:
It is a fact that Tuvalu is sinking. We wanted to make sure people interested in the .TV domain were aware. This has been on our site for a while. Every so often, we receive a comment about it. More often than not, people think it's funny.
A tide gauge set up by Australia's National Tidal Facility indicates that sea levels have been rising slightly but steadily over the past 10 years, and a local meteorologist shows Pollock that during high tides, sea water actually bubbles up on land through the porous coral. Encroaching salty ocean water is ruining pulaka gardens, the main crop, and eroding coconut trees.
The prime minister of the Pacific island of Tuvalu on Tuesday urged world leaders to fight global warming to save his nation from disappearing under the sea. Prime Minister Apisai Ielemia, who is on an official visit to Taiwan, made the call while visiting a Taipei primary school and telling the school children the importance of protecting the environment.
Kind of a buzzkill after such a funny little note, but hey, if the object is to make people aware, mission accomplished!
Support HuffPost
The Stakes Have Never Been Higher
Related
Popular in the Community