Dozens of tourists, mostly women, are dipping their hands in the waters of a little grotto high up in the Cypriot mountains. Legends say this is the spot where the Greek goddess Aphrodite came to freshen up after running around with her many boyfriends. The waters are believed to have magical properties, one being the power to restore youth and innocence.
Aphrodite, Cyprus' hometown goddess, rules the roost on this easternmost island of the Mediterranean. On the coast, tourists pack the cliffs above a rocky bay said to be her mythical birthplace. A guide explains she popped up fully grown out of the ocean foam there. Inland, busloads of tourists are scampering around her palaces, shrines and sanctuaries.
"Between Aphrodite (or Venus, as the Romans called her), her boyfriends (including the Greek hunk Adonis), her son (Eros, called Cupid by the Romans) and her father (the super-god Zeus), there's something here for everyone," a local saying goes.
After a day or two of trailing the footsteps of the fabled icon of love and beauty, the tour buses move on to other historical sites around the island. And there's plenty of them, remnants of centuries of rulers. First on the scene were the Mycenaean Greeks, then the Phoenicians, Assyrians, Persians, Egyptians, Romans, Byzantines, Crusaders, Germans, Franks, Venetians, Ottomans and -- until a few years ago -- the British.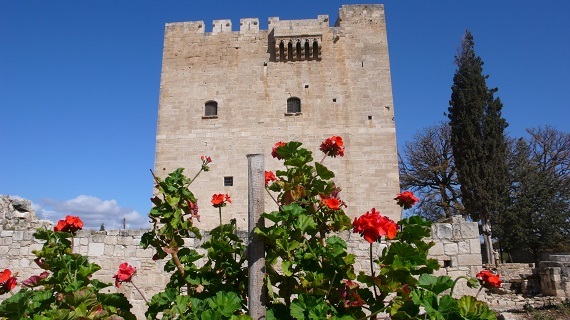 "Our whole island is like an outdoor history museum," says a Cypriot spokeswoman. "In one place, you'll find the remains of prehistoric settlements. In others, Crusader castles, Venetian fortresses and a classic Greek theater. In still others, pagan temples, early Christian basilicas and Muslim mosques."
Among the island's most-visited sites is a hillside cave lined by Byzantine wall paintings at the Agios Neofytos Monastery, the spectacular mosaic floors of Roman villas at the Kato Pafos Archaeological Park, the Sanctuary of Apollo and the ancient city-kingdoms of Kourion and Amathous.
Many visitors bunk down in the ancient city of Nicosia -- Cyprus' capital and home to a hefty number of the island's 100 or so tourist-class hotels -- and in the modern-day resort cities of Limassol, Larnaka and Agia Napa.
All of these sites are on the southern two-thirds of the island, below a "green line" drawn by the United Nations in 1994 to separate the predominantly Greek south -- called the Republic of Cyprus -- from the predominantly Turkish north. The line, manned by UN troops, was set up as a buffer zone after an invasion of the northern area by the Turkish army.
The invasion came just 14 years after Cyprus won its independence from Great Britain, which had governed the island since 1878. The Republic of Cyprus remains a favorite destination for visitors from the U.K., as shown in the dual Greek-English signage around the island. Many Greek Cypriots speak English as a second language.