The Indonesian Embassy in Washington D.C. has expressed her relationship with the United States in the most unique way -- by building a statue of Saraswati, the iconic representation of education in Hindu tradition on their grounds.
The Statue is 16' tall, in white and Gold carved by the native Balinese sculptors over a period of three months. The statue, stands on top of a lotus in front of the Indonesian Embassy a block from the Indian embassy and a mile from the White House. At her feet are three students; Young Barack Obama and his classmates while he was in grade school in Indonesia. The statue is yet to be inaugurated as of today, June 18, 2013 but making heads turn.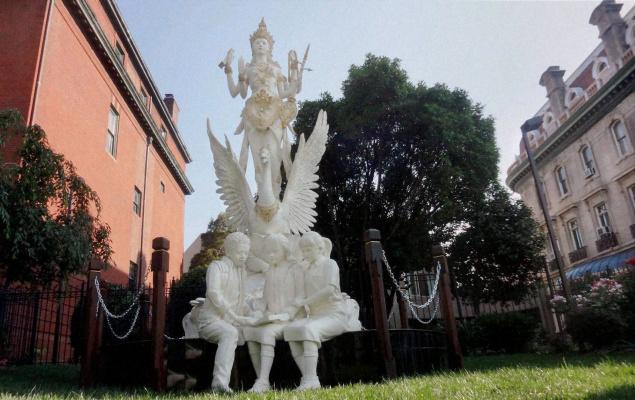 The symbolic statue could mean many things to many people, as a Pluralist I see the following five significant values expressed.
First, as an Indian American, I welcome this gesture by the Indonesian Embassy and congratulate them. They have indeed honored India, my motherland by honoring her Iconic figure; Goddess Saraswati. Bhupen Ganatra and Amol Mukherjee, the Indian leaders in Dallas add, "That this is great gift of highest level... awesome gesture by Indonesia expressing the best of religious harmony and importance of education by a Muslim nation offering a statue of Hindu Goddess to a mostly Christian nation. For this, Indonesia should be recognized by all nations... all religions."
As an Indian American Muslim, I am proud of Indonesia for following the principles taught by Prophet Muhammad (pbuh) that each one of us is responsible for the well being of our neighbors, communities, nations and our world. We all came from a single couple and are made into different tribes, communities and nations and the best ones among us, God says in Quran are the ones who learn, understand and respect the others. Dr. Akbar Ahmed, who heads the ibn-Khaldun chair at the American University and a leading Muslim in America adds, "These symbolic gestures build upon each other in building peaceful societies."
First, education is essential in opening people's hearts and minds towards each other to build cohesive societies, where no one has to live in apprehension, discomfort or fear of the other.
Second, the hallmark of civil societies is reflected by how they treat their minorities, women and children. In this case Indonesia has symbolically chosen the statute of Saraswati, the Hindu Goddess of learning worshipped by a mere 3 percent of her population, and yet it stands to represent the relationship between Indonesia and the United States. It's a powerful message of pluralism -- of respecting the otherness of others and accepting the God given uniqueness of each one of her citizens.
Third, the same education has led the United States to choose her president from a mere 13.2 percent of the population. President Obama's election is historical. Indeed, for the first time in human history, a qualified person was chosen and accepted to govern the entire populace. Through this action, America gave hopes to the religious, cultural, racial and linguistic minorities in the community of nations that everyone who is qualified can aspire to lead their nation. It was for this reason, the world cried with joy on the day Mr. Obama was elected as President of the United States.
At the Parliament of World's religions in Melbourne, Australia on December 5, 2009, at the conclusionary flag ceremony -- some 200 flags of nations were placed in the holder. As individuals were picking the flags of their nations, I requested them not to pick the flag of their own nation, and instead pick the flag of other nations they consider un-friendly towards their nation. It was a Joy to see an Israeli Rabbi pick up the Palestinian flag and a Palestinian Imam pick up the Israeli flag. An Indian picks up the Pakistani flag and a Pakistani picks up the Indian Flag, and I smiled when the British held the French flag and vice versa. Unless we learn to be in others shoes, we cannot shed our prejudices to build better societies. I cannot ask the other to have ill-will towards me, when I am loaded with it myself.
The idea of the statue was conceived by Indonesian Ambassador Dr Dino Patti Djalal and was built with the aid of National Economic Committee and Bali's Badung Regent. "Although the official inscription is yet to be honored, the public can readily enjoy this 4.9-meter tall statue today by the entrance to the Embassy building on Massachusetts Avenue."
Explaining the motive behind the cultural gift, a spokesperson of the Indonesian Embassy told the Press Trust of India (PTI), "Devi Saraswati is one of the Goddesses in Hinduism; the primarily practiced religion among Balinese people in Indonesia, which itself is the world's biggest Muslim-majority country. Yet, Her representation at the Indonesian Embassy was not decided out only of any religious grounds, but more on its symbolized values that parallel with several key principles of Indonesia-U.S. relations under comprehensive partnership, in particular education and people-to-people contact," a spokesperson at the Indonesian Embassy told PTI.
I am pleased to share another such step happening in Dallas, Texas.
Who does not want to see a community or a nation, where you and I don't have to live in apprehension, discomfort or fear of the other? In Hindi and Urdu languages, the closest words to describe pluralism and cohesive societies are: Vasudhaiva Kutumbukum (वसुधैव कुटुम्बकम), Anekantvad (अनेकान्तवाद ), Bahimiyat or Taksiriyat ( تَکثیریت ), Sanskat Samaj (संसक्त समाज), and chaspinda Muashira (معاشرہ چسپندہ)
Our poets will capture that sentiment and recite them at the Poetry session on Saturday, June 29, 2013 at Richardson Civic Center, Richardson, and will be preserved as a documentary.
Nothing will ever change in the world we live in, if we do nothing about it. Together we can nurture a culture of acceptance of each other; it may take twenty years or a full generation to see the visible signs. But, at least we can feel good, that we were a part of the team that laid a good foundation for such societies.
Related
Popular in the Community