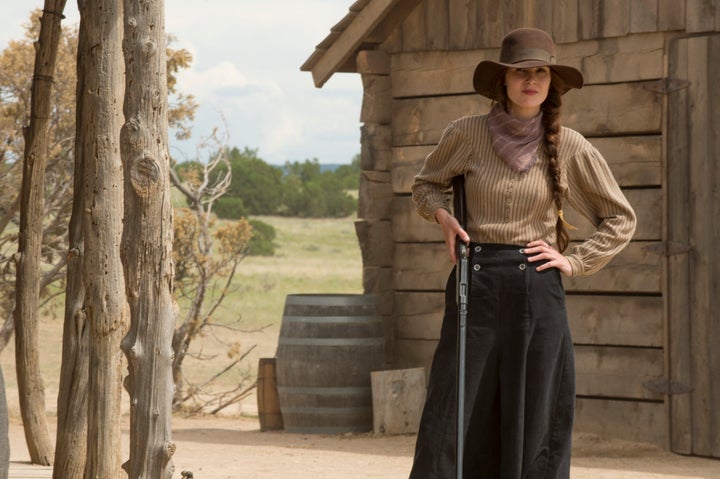 Just when you thought 2017 was winding down, a band of bad-mouthing, gun-wielding, whip-smart women have appeared on the horizon, ready to take down a gang of unlawful men.
As the trailer for Netflix's "Godless" boasts: "Welcome to no man's land."
The limited series, written and directed by Scott Frank and produced by Casey Silver and Steven Soderbergh, follows criminal Frank Griffin (Jeff Daniels) as he hunts down his former gang member and son-like protégé, Roy Goode (Jack O'Connell). Hoping for a more peaceful life, Roy deserted his brotherhood and ends up seeking refuge with a widow named Alice Fletcher (Michelle Dockery). An outcast herself, she lives in the isolated town of La Belle, New Mexico, which is governed mainly by women after most of the men were killed in a mining accident.
One could assume a period piece following a ruthless cowboy on a mission of revenge would earn the attention of many a typical male viewer. But there's reason to believe the binge-able show, which debuts on Nov. 22, will appeal to fans new to the genre: This Western is a woman's war cry. While the lush cinematography and storytelling is reminiscent of a Western classic, the women of La Belle are neither barmaids nor brothel madams. They're witty gunslingers, battling their own inner demons while they fend off the bad guys.
Michelle Dockery told HuffPost during a Build Series interview that although "Godless" has elements of an authentic Western, it's "turning the genre on its head" with a story that hasn't been told.
"There's far more women involved in the narrative," Dockery said. "Life was, in those times for these women, a hard scrabble. Every day, trying to make something out of nothing. They were extremely tough women."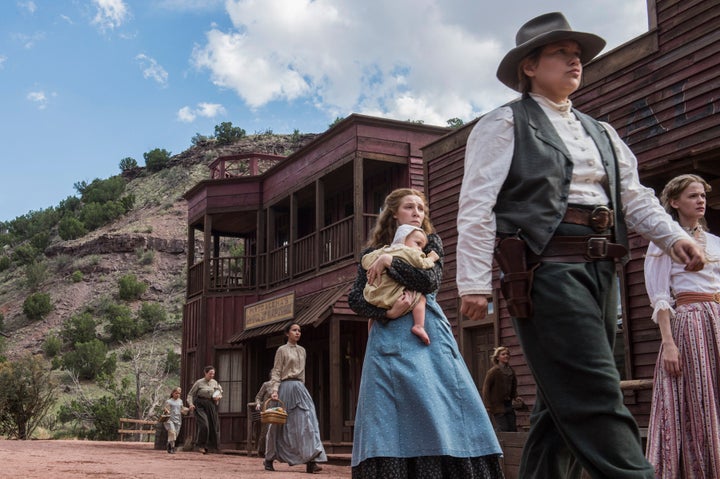 Her character Alice, for example, has a tragic past. A widow by the time she was 21, she was left to raise her biracial son, Truckee, and care for her mother-in-law, all the while tending to and defending the family's ranch. In one scene, Alice attempts to wrangle a horse, but gets dragged around, allowing the rest of the herd to break through the corral and run off. In another, she asks for help from Roy, using the opportunity to learn new herding skills.
Ultimately, Alice is in control of her own narrative, no matter failure or success.
Lady Mary Crawley Dockery isn't the only woman stepping up her game on screen. "Godless" gives Emmy-winning actress Merritt Wever ("Nurse Jackie") another role to sink her teeth into as Sheriff Bill McNue's (Scoot McNairy) mighty sister, Mary Agnes, aka Maggie. Trading in her dresses for men's clothing, Maggie stands her ground and does what she must to keep life moving in a town housing a handful of men. When her brother tells her she's changed ― after catching her in an intimate situation with a woman ― she doesn't mince words.
Bill: You're not maternal no more.

Maggie: Maternal?

Bill: Well, yeah.

Maggie: I love my husband, may he rest in peace, and I love [Bill's kids] Willie and Trudy, too. But I'm done with the notion that the bliss of me and my sisters is to be found in childbearing and caregiving.
While cruel, murderous gangsters threaten to destroy what's left of La Belle, Mary Agnes leads a battalion of women, arming her female cohorts and encouraging them to defend their neighbors with confidence.
"She takes my breath away," Dockery said of Wever's performance. "She is absolutely amazing as Mary Agnes. I think people will really enjoy it."
No doubt, viewers will bask in the plot as it takes us from drama in the town center to Frank's bloody trail. But what audiences should really appreciate in this refreshed Western is how it projects the very reasonable idea that women, in the 19th century, could have been just as influential as men.
"Godless" is only a seven-part series, but the cast is hopeful for more stories about brave cowgirls who stand up for their own. "We'd jump at the chance," Dockery said.
"Godless" debuts on Nov. 22. Watch the full interview with Michelle Dockery below.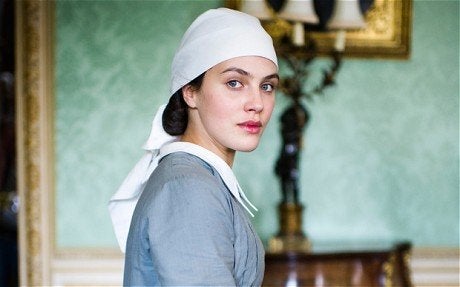 "Downton Abbey" Stars Of Yesteryear
Popular in the Community