When Carla Miller, 23, walked into her aunt and uncle's house in 2011 and saw her infant cousin for the first time, she began to cry. She and the rest of her family members had prayed for the child during his gestation, arriving as he did unexpected to an older mother. Here he was, healthy, and Miller could not help but weep.
Miller's aunt, Lenet Pacheco, said she knew from that moment that her niece was the perfect candidate to be little Eliseo's godmother.
"We wanted someone that Eliseo could rely on to give him love and guidance whenever he needed it," Pacheco told HuffPost by email. Miller "radiates this love and goodness that we notice every time we see her."
Several weeks later, Miller returned to the house for what she thought would be a casual dinner, she told HuffPost over the phone. Halfway through the meal, her uncle brought out a bottle of champagne and Pacheco produced the invitations they had prepared for Eliseo's baptism. As her eyes skimmed the page, Miller got to the bottom and was shocked to see her name listed as godmother.
"It was kind of like walking into a surprise party because we were getting together to celebrate that I was going to be a godmother to my cousin," she said.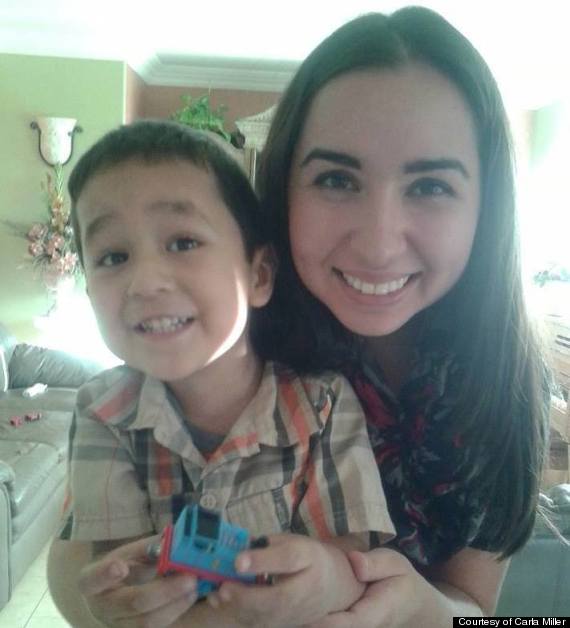 Carla Miller with her godson, Eliseo.
Miller was raised in what she describes as "Mexican-Catholic culture," where godparents play a prominent role in family life. Everyone in her family has a godparent, often selected from aunts, uncles, siblings and cousins. Some of the adults have multiple godchildren, like Miller's mother does, and some, like Miller, became godparents at a young age. Miller was just 20, a junior in college, when her aunt and uncle made the request.
Godparents are chosen by the baby's biological parents before the baptism ceremony, during which the honorary couple holds the child and "presents" him or her to the congregation, Miller explained.
Once the child reaches early to mid teens, he or she is invited to choose a confirmation sponsor, who will guide them through the next sacrament. This person often acts as a second godparent, especially if the two develop a strong bond.
For her confirmation, the then 16-year-old Miller chose Pacheco to be her sponsor and presented the honor to her with a surprise party much like the one her aunt threw for her in 2011. Their relationship blossomed over the years and continues to deepen as the two have become comadres, or co-mothers.
"With my aunt, my comadre now, I always felt really like I had this link with her," Miller said. "We're so excited to be comadres [now]. ... We have a second level there."
Over the three years since she became a godmother, Miller has embraced her role, taking her godson out on what she calls "godparent dates," buying him special gifts and fulfilling her part in religious ceremonies. There's a level of gravity to the role, too, which Miller recalled from her experience as a godchild.
"The godparent is considered like a second spiritual parent, kind of tied to the idea of a legal guardian in my mind because I always knew if my parents died, the idea was I would be going and living with one of my godparent families. … It was a grave responsibility."
The Rev. James Martin, a Jesuit priest and editor of America Magazine, reiterated the importance of the role in an email to The Huffington Post.
"The question asked in the Catholic sacrament of baptism is a good one: 'Are you ready to help the parents of this child in their duty as Christian parents?' So it's less an honor given to a friend, or a kind of 'reward' for a relative, than an important duty asked of a trusted faithful person," Martin explained.
Although Judaism, Islam and other faiths reserve roles for important individuals in life-cycle events, the concept of a godparent as practiced in Christianity does not quite translate.
"A sandek -- one who holds the baby at a bris -- might be a little similar, but it's a totally different concept," Rabbi Dov Yonah Korn told HuffPost by email.
Harvard University humanist chaplain Greg Epstein directed HuffPost to an excerpt of his book, Good Without God, which explores the notion of "guideparents."
"You may also want a secular alternative to the often poignant moment of choosing 'godparents'-- beloved and loving friends or family members who pledge to take a special mentoring role in the lives of your children and, movingly, to step in and play an even bigger role should any unexpected tragedy befall you as parents," Epstein writes. "We do often call them 'guideparents,' acknowledging the guiding role they commit to play in the life of a newborn child."
The Christian tradition of godparenting as a designated role first developed around the 2nd century, when the religion was still relatively young and pagan converts needed a "sponsor" to vouch for them.
The Rev. Jacqueline Lewis, senior minister of Middle Collegiate Church in New York City, said she believes the tradition goes back much further.
"It's an ancient tradition, across many traditions, to dedicate the child to God," Lewis told HuffPost by phone.
Many in Lewis' Protestant congregation desire support in bringing their children into the church community, she said, and selecting godparents is an integral part of this. During the baptismal ceremony, Lewis walks the baby down the aisle of the church, presenting the child as the newest member of the community.
That way, Lewis said, "all of us are entrusted with child care."
Lewis has no children of her own, but has accumulated godchildren throughout her life. The eldest is now 33, and the youngest is just a toddler. She said the role carries significant responsibility, and she would assume guardianship if the parents of one of her godchildren passed away.
Day to day, Lewis acts as mentor, trusted friend and spiritual counselor for many of her godchildren, especially the older ones.
"Everybody needs a safe place to say, 'I'm wrestling with this.' Particularly because I'm a pastor, my godchildren talk with me about theological things and ethical things. I feel so honored to be the person they talk to about that."
Although godparents are expected to take part in major sacraments, like baptism and first communion in Catholicism, Lewis suggested that religious discipline is not necessarily what makes a godparent exceptional.
"I wouldn't say it's so much about right religion," Lewis said. "I think it's about love, just really love this kid. Love the kid enough to share the parental project -- making space for a loving and generous adult to emerge."
Miller said she has at times struggled with the fear of being inadequate or "hypocritical" as a godparent if she were to ever lapse from her Catholic faith. Describing her religious upbringing and family culture, Miller said: "We all try to meet these ideals. We know that we're not perfect, but we love each other throughout it. As a godmother, I hope to do the same thing for my godson, to let him know that we're all human and we're here for each other."
Miller added that the Catholic faith serves as "a guiding light" that she trusts will always be a part of her life, regardless of the shape it takes. Similarly, she said she hopes to maintain a strong connection to Eliseo at every stage of his life, even if the specifics of their relationship change over time.
"I don't want to lose out on the time in the middle," Miller said. "Those transition periods will be the most important and they're the hardest ones to keep up.
"The little things, the little visits, the little gifts and discussions about faith or everything life ... I want to keep them up as frequently as possible so that we can have a lot of memories in our life's relationship."