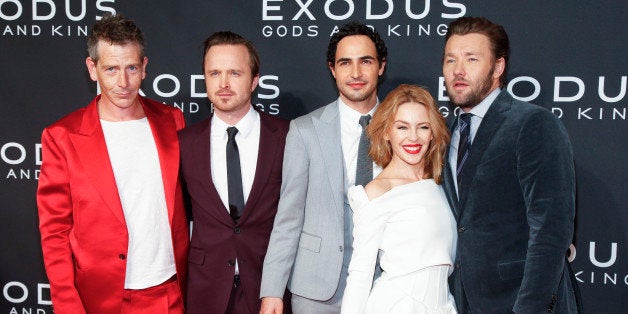 With the upcoming film Gods of Egypt set to be released in theaters in February 2016, the problem of whitewashing casts in film and television has resurfaced. Though director Alex Proyas and Lionsgate have issued an apology since the first trailer's release, their casting problems allude to the much larger diversity issue in Hollywood.
Ridley Scott's Exodus: Gods and Kings (2014) was released with the same problem: white actors and actresses portraying Egyptian deities and royalty. With Scott's film nearly doubling its high budget in box office success, Gods of Egypt is expected to perform similarly based on budget, casting and special effects. However, all of this success will be met by capitalizing on stories and figures from biblical and ancient Egyptian history without employing actors of African descent. Films such as these are only the most recent insults of many, as casting issues both extend back to and pre-date Cleopatra (1963) starring Elizabeth Taylor.
The entertainment industry is dominated by white males, who cater only to specific audiences for big budget projects. There is an ongoing belief that both predominantly black casts and the black consumer dollar will not support films with higher budgets, so producers often do not lend their support. However, this has proven untrue with more recent projects such as Straight Outta Compton (2015), which cast fresh actors in the roles of some of hip hop's greatest icons. Forbes writer Scott Mendelson asserted the fact that these major motion pictures employ lesser-known white actors, which contradicts their reasoning for not employing the plethora of well-known black actors who could achieve the desired box office pull. Still, this practice remains prevalent as highly capable actors and actresses of color are overlooked.
Why is it that we can see B-list white actors, such as Gerard Butler, Christian Bale, Sigourney Weaver, Geoffrey Rush and Nikolaj Coster-Waldau as Egyptian gods and kings? Better yet, why is it that they can see themselves in those roles? But not A-list black actors such as Will Smith, Denzel Washington, Halle Berry, Idris Elba, Kerry Washington, etc.
America has a problem with casting people of color in roles of power.
In the roles of gods and kings, even of African origin, black actors are virtually unseen. It appears as though white producers not only believe that African-Americans shouldn't be in the roles of gods and kings of African origin, but that they couldn't fathom the African diaspora worshipping gods and kings in African imagery either.
African-American imagery in film and television has been studied by the Ralph J. Bunche Center for African-American Studies at UCLA as well as Essence, which released a report on African-American women's issues with media in particular. Several actors and actresses have spoken out about diversity issues in casting recently, and David Oyelowo, who played Dr. Martin Luther King, Jr. in Selma (2014), is amongst them. Oyelowo asserted in The Hollywood Reporter that black actors rarely receive awards for politically empowered roles, and that they instead have gone to actors for subservient ones.
The few times we have seen accurate portrayals in regards to Egypt have been in animated films such as The Prince of Egypt (1998) and Joseph: King of Dreams (2000). Otherwise, when actors of color have portrayed empowered figures, they have either been ignored or met with outrage, as John Boyega was for his role in Star Wars: The Force Awakens (2015). Even the mere suggestion of a diverse and empowered role can spark backlash, such as Idris Elba in the role of James Bond. Luckily, some projects' stakeholders have endeavored to maintain diversity, like the Spike miniseries Tut (2015). Additionally, many viewers are anxiously awaiting Marvel's Black Panther (2018) starring Chadwick Boseman, as this will set the first black superhero in mainstream American comics as the star of a film.
There is a strange cycle between media and culture when it comes to production and consumption. Rather than hinging on the success of what people want to see, studios produce what they believe people will pay to see. And from what studio heads have seen, white actors bring in the most box office success. But this formula has rarely been broken to take a chance on African-American actors and consumers, which poses significant problems for the African-American community. This lack of diverse representation affects both race relations as well as identity development, as people see African-Americans relegated to stereotypical characters if not erased altogether.
Despite this, there is hope for the future as more black directors, writers, and producers enter the crowded space behind the cameras. But in the meantime, it would be much appreciated if the films portraying stories on African heritage and culture would include people of African descent.
Popular in the Community