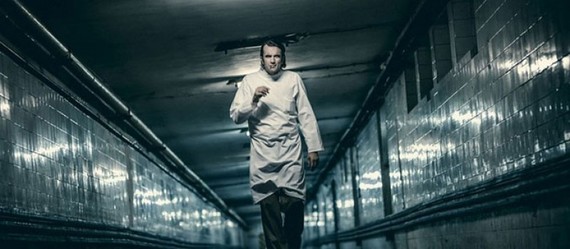 A rare breed of spunk and spirit co-mingle in the Polish film Gods (Bogowie), the biopic about professor Zbigniew Religa, who performed the first successful heart transplant in communist Poland in the 1980s. It's a winning combination destined to win over audiences and some critics. But the biopic, directed by Polish filmmaker Łukasz Palkowski--suddenly on the rise and someone to watch out for--also boasts an addictive charm that's not easily forgotten.
Clearly, this is one of the year's best foreign language films, right up there with Why Don't You Play In Hell? (from Japan), Gloria (from Chile), Strangers By The Lake (from France) and Ida (yet another Polish film).
Fortunately, Palkowski and screenwriter Krzysztof Rak have a compelling character for the film's centerpiece. Religa achieved a kind of celebrity status before his death in 2009. Often seen as both eccentric and bombastic, he was a towering man who never wavered in his quest to dismantle some of the rules that Poland's medical world adhered to at the time. A force to reckon with, the man chain-smoked and was prone to drunken tirades yet he would never place his patients in harm's way. He had that old-world European bravura and a relentless work ethic that seems to have slipped between the cracks of today's Twitter Feeds and SmartPhone distractions.
Tomasz Kot--charismatic and believable--slips into Religa's scrubs here while a throng of supporting characters--sharp-witted nurses and head honchos among them--pepper the tale with potent dialogue in many a fast-paced scene. The main issue at hand is performing the first successful heart transplant in Poland. Religa doesn't have history on his side however. A failed attempt by another doctor years prior still lingers in the air and there's a moral and cultural and religious taboo to contend with as heart transplants were commonly perceived in Poland, and parts of Europe for that matter, as an act against nature.
What ensues is a series of misadventures to link the right patient with the right heart. And Religa is relentless in his endeavor.
After one ill-fated attempt, the scenes that follow move with robust vitality and, at times, much humor. In the hands of another filmmaker, this could have become a downtrodden caper, but Palkowski has pluck and it's refreshing to find a young filmmaker this interested in history and secure enough in his style and collaboration with others to bring the story to light in a unique and engaging way. We can also witness how well screenwriter Krzysztof Rak manages to hit all the right marks, too--not just with dialogue and pacing but in moments when the film hopes to extol wisdom about medical competency, the definitions of biological death and the struggles of rising out of outdated mindsets.
Walking out of the film, one is left with a rare imprint that only a handful of American films--indie art house titans--throughout the year are able to deliver. We do not endure two hours of cinema--we experience it here. What Gods has on its side, it seems, is that it offers more than just a winning trifecta--direction, writing and music (Bartosz Chajdecki). Its cinematography (Piotr Sobocinski, Jr.) and editing (Oslaw Barzan) also help elevate the film from becoming a big screen romp of a soapy small-screen cousin, Greys Anatomy. Still, there's a rare kind of passion in filmmaking and acting here that's downright compelling.
In the meantime, the film Gods have been good to Gods thus far. The movie recently soared to top of the Polish box office in its opening weekend, with Jan Komasa's Warsaw 44--yet another potent endeavor--landing in second. And it nabbed five awards, including Best Film, in the 39th Gdynia Film Festival.
What this means for the film here in America remains to be seen, although it continues to win raves at film fests around the country. Last weekend it was celebrated to a packed house at Chicago's impressive Polish Film Festival in America, now in its 26th year--the programming at this years fest somehow outmatches last year's 25th bonanza. Gods also recently screened in L.A. and Pittsburgh.
Of the film, Palkowski recently told the media that he wanted to make a film that would be "reminiscent in style of American productions, make it universal and understandable for audiences all around the world," and that he was hopeful that Gods would travel.
(In Polish with English subtitles.)
Support HuffPost
The Stakes Have Never Been Higher
Popular in the Community