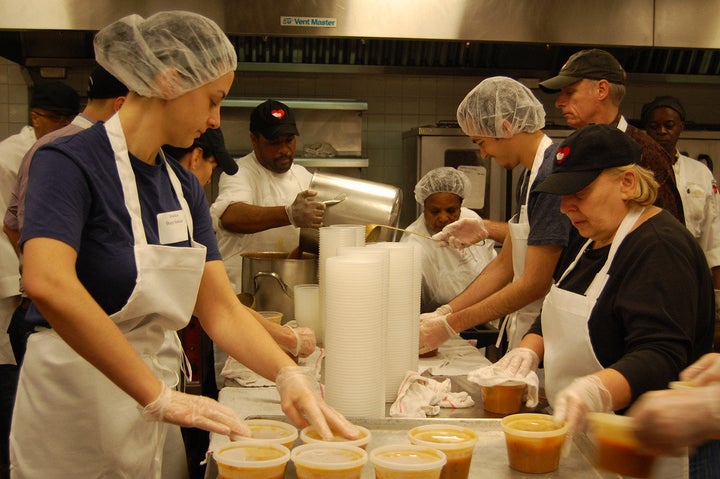 Although Aaron Rochman's $200 in food stamps never carry him through the month, the 34-year-old -- who has been living with HIV for eight years -- never has to worry about his next meal. God's Love We Deliver arrives at his doorstep every Wednesday with enough nutritious food to feed him for the week.
"It's just good food delivered with a smile," Rochman told The Huffington Post. "The fact that it's free helps. It really fills the gap where public assistance runs out and the next time I get benefits."
The former office engineer had to leave his job about a year and a half ago when he was just too sick to work. Rochman, who worked as a volunteer before becoming a client, felt reluctant to sign up at first. But when his weight dropped to 112 pounds and he felt his entire body turn into "one giant cramp," a friend urged him to put his pride to the side and let the nonprofit take care of him.
The 25-year-old organization, which predates World AIDS Day, began as a one-woman show when hospice volunteer Ganga Stone decided to cook for a man dying of AIDS. Today, God's Love We Deliver has evolved into a full-scale operation, serving 4,000 free meals a day to people battling incapacitating illnesses, including HIV, AIDS and cancer. Each meal is hand-delivered by members of an army of volunteers.
For the charity's clients, the food is often as good a medication as any.
"When your body is depressed because of sickness and medication issues, anything that is helpful and integral to making that feel better is going to make your mind feel better," Rochman said. "Once you get out of that depressive state, you're going to start feeling more hopeful."
The volunteers are often the only human contact some of the critically ill recipients have during the day.
But, the nonprofit isn't just fighting for the wellbeing of its clients. The organization has also perched itself at the forefront of the fight to destigmatize HIV and AIDS.
"There was such an extreme stigma against AIDS that we were careful about how we presented ourselves," David Ludwigson, chief development officer of God's Love, told The Huffington Post about the organization's early days. "It wasn't until we put our logo on a van 10 years ago that drove a South Bronx route and didn't get a single complaint that we knew the time was finally right to get the word out."
"Everyone was heartbroken to turn people away," Ludwigson said. "It really wasn't a question of how, but of how can we not. We had the kitchen capacity, we just had to raise the money. So we decided to open our services to all people suffering from life-altering diseases."
For information about volunteering for God's Love, click here.
Popular in the Community