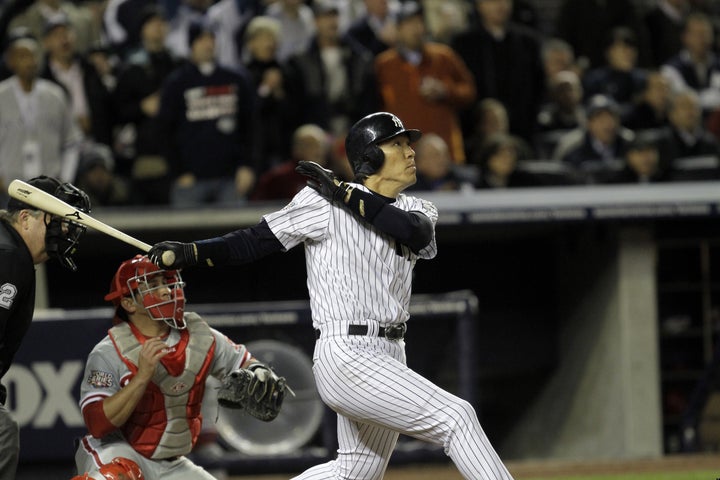 There's a line about Godzilla in the 1998 Hollywood remake that goes: "He's not some monster trying to evade you... If you find what he wants, then he'll come to you." This week baseball's Godzilla found the contract he wanted in Los Angeles, which means he'll be coming to the Angels next season to rock the American League West. The agreement ends his seven-year run with the New York Yankees that culminated last month in a World Series Most Valuable Player award. The decision to leave the Bronx was a difficult one for Hideki, who had hoped to finish his career in pinstripes. He has great admiration for his former teammates, particularly Derek Jeter, Jorge Posada, Mariano Rivera and Andy Pettitte. He has great affection for New York, a city that embraced him as a native son.
In the weeks since the Series victory, it became abundantly clear that resigning Hideki was not one of the Yankees' priorities. Hideki's overriding concerns have always been winning and playing for a quality organization. Over his 17 seasons in pro ball, his only two teams have been the Yankees and the Yomiuri Giants. Each is the premier franchise in its respective league. Beyond the Yanks, his preferences were the Angels and the Boston Red Sox, two dominating franchises with superb players, coaches and management. But with David Ortiz entrenched as Boston's everyday designated hitter, the Red Sox were never a real option. When Angels DH Vladimir Guerrero filed for free-agency, L.A. became even more attractive to Hideki.
Hideki takes special pride in being a complete player -- at the plate and in the outfield -- and from the start of negotiations, the Angels made every effort to accommodate him. On Sunday, during a meeting with team officials at my home, manager Mike Scioscia offered Hideki the chance to show that he can still play the field. Hideki is a longtime fan of Scioscia, and the lunch cemented his desire to play for him. Scioscia's current plan is to have Hideki test his knees and mobility in spring training. Ideally, Hideki would start in left at least once or twice a week. The rest of the time, he'd DH.
In the end, Hideki chose to accept Angel's offer rather than wait for Yankees to decide whether they wanted to bring him back. Failure to act quickly might have caused L.A. to withdraw its offer and forced Hideki to sign with a weaker team, thus forfeiting a shot at another World Series. Conflicted, Hideki stayed up all Sunday night mulling his final move in this limited game of musical free-agent chairs. He didn't want to be left standing.
Happily, the Yankees' 2010 home opener is against the Angels on April 13. Hideki will be on hand --- kusuri-yubi (index finger) extended -- for the ring ceremony.
Calling all HuffPost superfans!
Sign up for membership to become a founding member and help shape HuffPost's next chapter