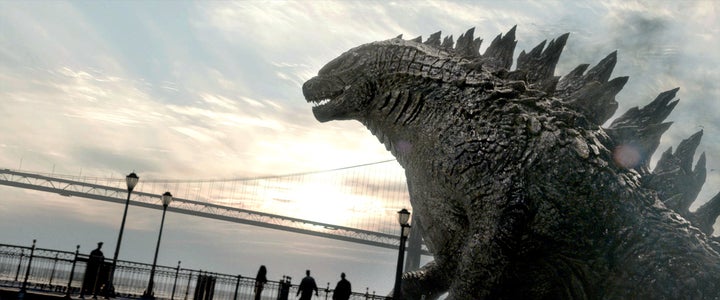 Godzilla and King Kong will soon go where many have gone before: Freddy and Jason, Alien and Predator, Batman and Superman, Kramer and Kramer. They are about to land a movie in which one word brings it to life: "versus."
Yep, "Godzilla vs. Kong" is official. Warner Bros. and Legendary Pictures announced on Wednesday that they will put the oversized creatures on the same big screen in 2020, building on scientists' discoveries in the successful 2014 "Godzilla" reboot. (Don't forget there is already an unwarranted sequel to that movie set for 2018.) Here, the studios promise an "ecosystem of other giant super-species, both classic and new," according to a press release posted to Legendary's site.
"Godzilla vs. Kong" marks the culmination of a trilogy that begins with 2017's "Kong: Skull Island" and continues with "Godzilla 2" the following year. "Monarch, the human organization that uncovered Godzilla in the 2014 film, will expand their mission across multiple releases," Wednesday's announcement said. Jordan Vogt-Roberts ("The Kings of Summer") will direct "Skull Island," which begins production next week and stars Brie Larson, Tom Hiddleston and Samuel L. Jackson. Gareth Edwards will return to direct "Godzilla 2," after he makes "Rogue One: A Star Wars Story." The cast has not yet been announced. 
"Audiences really responded to 'Godzilla,'" Legendary chief Thomas Tull said in the statement. "Today, I'm excited to reveal that film was only the beginning of an epic new entertainment universe. As a lifelong fan of these characters, I've always wanted to see the ultimate showdown, and today we're pleased to be announcing that and more."
The thing is, this mashup technically already exists. "King Kong vs. Godzilla" is a 1962 Japanese film that was Americanized and released in the States in 1963. In other words, Hollywood is a radioactive pit stuck in a cyclical hopelessness. Or a very, very thrilling place. You decide.
PHOTO GALLERY
Fall Movie Preview 2015
For a constant stream of entertainment news and discussion, follow HuffPost Entertainment on Viber.
Calling all HuffPost superfans!
Sign up for membership to become a founding member and help shape HuffPost's next chapter