GoFundMe, a site that allows people to solicit money online for personal causes like medical bills, house repairs and scholarship funds, is coming under fire after it censored fundraisers related to abortion. On Tuesday, the company issued an update to its guidelines saying it wouldn't fund projects linked to "termination of life," "weapons & violence," "adult material" and other topics.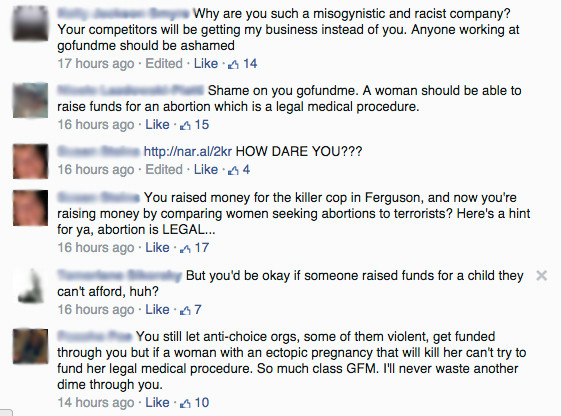 The company will now review projects to make sure that hosting a campaign is best for the GoFundMe "brand and community," a spokeswoman wrote in an email statement. "GoFundMe makes no distinction and places no restrictions on a pro-life or pro-choice group's ability to fundraise for rallies or protests," she said.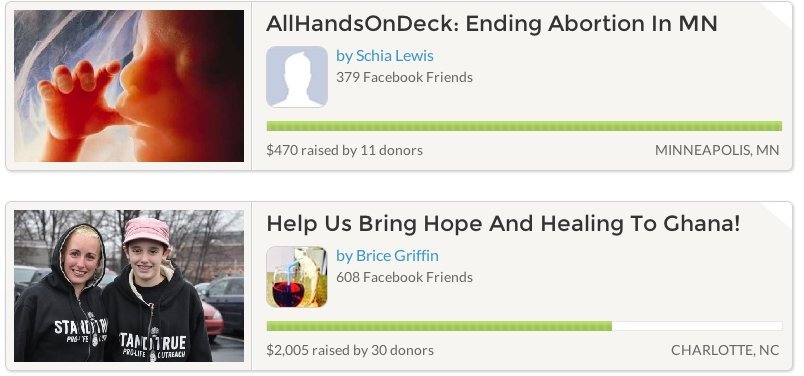 GoFundMe is a private San Diego-based company that bills itself as "the world's #1 personal fundraising website." Unlike rivals Kickstarter or Indiegogo, which startups and creative types use to raise money to fund businesses or projects, GoFundMe is focused on more personal needs. Some of the most popular projects currently on the site include a page asking for money to cover medical bills for a woman who was recently assaulted in her home and a page soliciting money to pay for a newlywed couple's new car after their old one was destroyed. The company makes money by collecting a 5 percent fee on each donation.
The company has 34 employees including its co-CEOs, according to its website, and claims to have helped users raise $440 million since it was founded in 2010. It declined to share revenue information.
Projects on Kickstarter under the search term "abortion":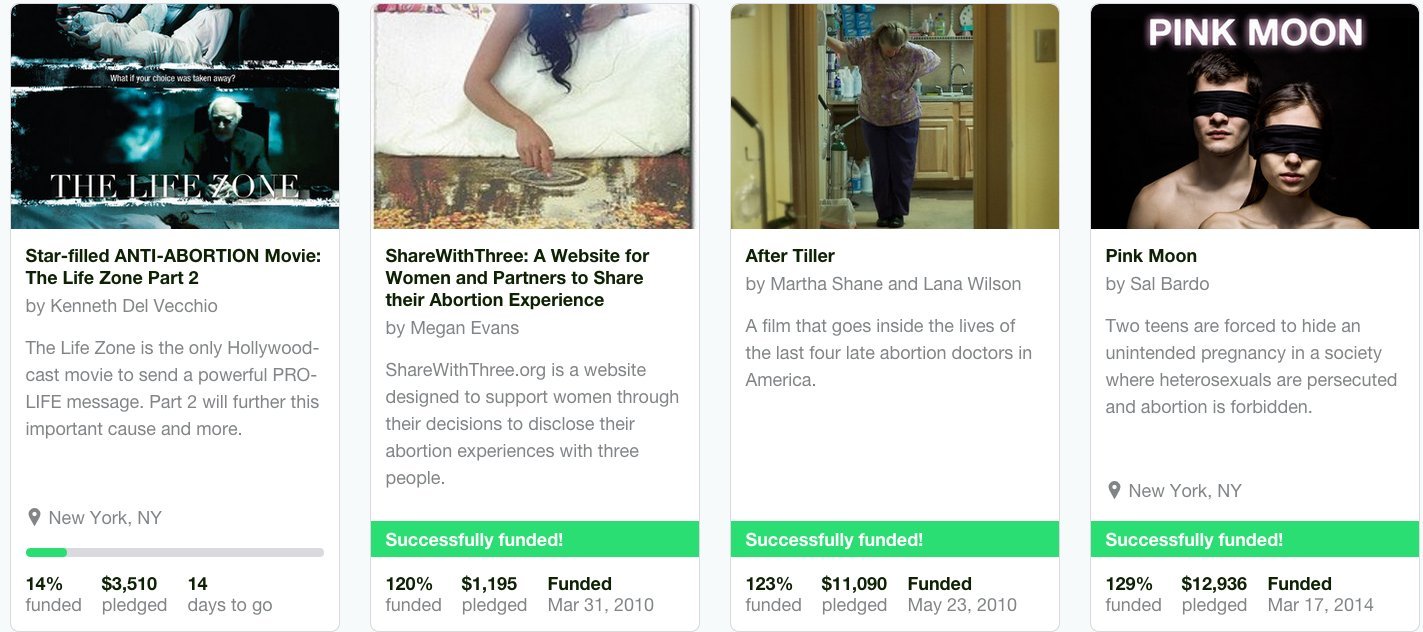 Projects on Indiegogo under the search term "abortion":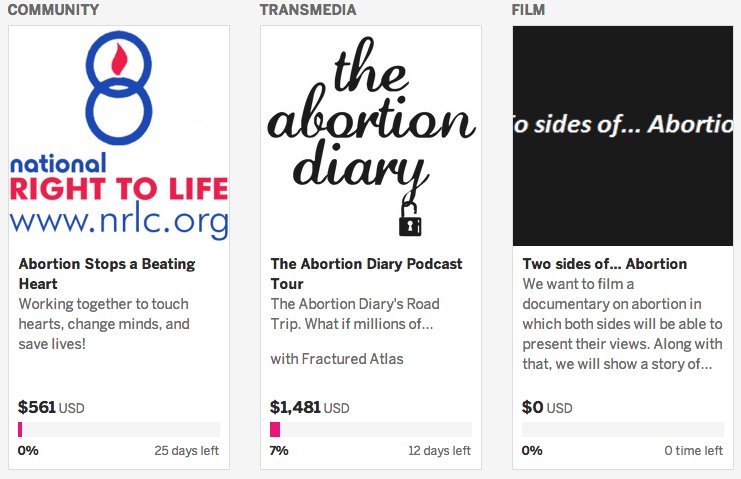 As crowdfunding has gained popularity, sites like these have had to walk a fine line between offering a platform to the masses and curating (and sometimes censoring) content to ensure credibility. Typically, the sites rely on users to self-police and avoid funding campaigns that look questionable. GoFundMe noticeably let a fund for Darren Wilson, the police officer who killed Michael Brown, stay on its site, despite the controversy surrounding the shooting. Still, it's not unprecedented for the companies to step in -- though in most cases it's been over non-political issues.
Kickstarter apologized last year for not acting fast enough to pull a page asking for funding for a "seduction guide," which featured material advocating violence against women. The site also pulled a campaign for Kobe beef jerky last year after determining it was a scam. The Washington Post reported that GoFundMe also took down a fundraiser for Raffaele Sollecito, who was convicted with Amanda Knox of murdering Meredith Kercher in 2007. The page had been up since 2013 and had raised more than $40,000.
Determining when to step in ends up "being a very difficult decision for these platforms," said Ethan Mollick, a management professor at the University of Pennsylvania's Wharton School of Business.
"There is this ongoing battle among the various crowdfunding sites about how much to curate and how much not to," said Mollick, who researches crowdfunding. "There is probably some combination of curation or censoring that is optimal, and nobody knows quite what that is."
"The old ways of raising money are dominated by networks that are mostly male. And as a result, in order to get funding, there are a lot of ways that create issues for women," Mollick said. "[Crowdfunding] allows people to be activists about supporting groups of people that they believe are underrepresented."
Related
Popular in the Community