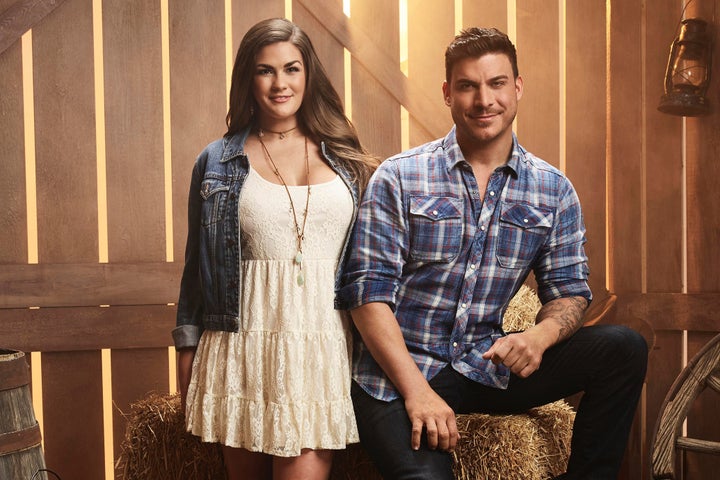 Let's play a word association game. When I say Vanderpump Rules, you say....?
Well, it could be one of the words that came to my mind: Sur (the restaurant featured on the Bravo show), Bartenders, Beauty, Youth, Backstabbing, Lies....I even thought of the phrase "Goat Cheese Balls," a favorite Sur appetizer of queen bee cast member Stassi Schroeder, and "Eye Candy." I'll admit to watching mainly because the cast is attractive. Or Vanity - I've used the hashtag #VapidRules when tweeting about the show, simultaneously hoping I haven't offended the powers that be at Bravo for opining on the program's depth. I do trust that the network honchos have a sense of humor, fully understanding that a woman in her early 40s watching the "drama" reserves the right to wry commentary. There are enumerable nouns, verbs and adjectives that could be ascribed to the series and some people are likely left speechless.
"Farming" isn't one of those freely associated concepts that pops to mind with this cast of 20 and 30somethings. They all became well-acquainted while trying to get a leg up in the entertainment mecca of LA, working for Lisa Vanderpump (restaurant owner and Real Housewife of the Beverly Hills bunch. But you may have heard: There's a new Vanderpump Rules spinoff based on the fact that cast member Jax Taylor, a notorious playboy of past seasons, is in a long-term committed relationship with sweet southerner Brittany Cartwright. She hails from the rural parts of Kentucky and grew up living a more simple life on an actual farm. Yes, one with acres of land, cows, chickens, a barn with horses and all. I'll admit I'm currently singing "Old McDonald" as I recount "things you see on a farm" having grown up in New York with buses, subways, traffic and industrial smells as my form of aromatherapy. When I speak to the couple on the phone, Jax admits that farming is not his forte either. This disclosure immediately puts me at ease and Brittany laughs at the instant common bond we've forged. Then the three of us discuss the show:
Brittany, I was one of your first interviews this past season of Vanderpump Rules. It was also your very first season being part of the regular cast. When we spoke, you were nervous because it was an anxiety-inducing initial episode for you. How much more comfortable are you this time around, or are there new anxieties with this spinoff?
Brittany: Oh, I remember when we spoke! It was much easier for me to be at my home with my family for the spinoff. I was used to all the people and everything. With Vanderpump Rules, it was all brand new for me and I wasn't as close with everybody and didn't know what to expect from viewers. It took a while to build relationships with my cast members and I really had to get used to the fact that people were watching and then commenting online. There was definitely a comfort this time around because I had my home, my faith (you see my dad is very much into that when he asks that we all say a benediction before having a meal) and family. The first episode of Vanderpump Rules, as my first episode on reality TV (which began with a wild claim Jax made), was hard. I'm used to everything now, I guess. (laughs)
Jax, had you ever done farm work before? I thought of the show 'Simple Life' with Paris Hilton and Nicole Richie, but I heard you make a comparison to a different show when you were interviewed on E!
Jax: The movie Son in Law with Pauly Shore! No, I had never done farm work before. It was ALL completely foreign to me and it was hard. Hard work in general is foreign to me! I mean...I'm a hard worker, but definitely not ready for that really early morning type of work. I definitely enjoyed it though there were moments that weren't the best moments, but I would be good at that type of work if I did it regularly. I can tell you that I'm definitely not used to it!
Who was harder to please for you, Brittany's sweet and lovable yet very strict-with-the rules Mamaw or Lisa Vanderpump?
Jax: Probably Lisa Vanderpump.
Yeah, you really smooth-talk Mamaw on the premiere episode.
Jax: Lisa is used to my ways and more cynical because she knows me. I can't get anything past her too easily....at all. It was much easier schmoozing with Mamaw.
I've noticed that you often do things wanting to please others, and we see that in the premiere episode, but you've been vocal on social media about some of your views - some that wouldn't necessarily resonate with Brittany's conservative family. Did you need to tone down who you were and be more reserved in the conservative South?
Jax: A little bit. I would bite my tongue on certain things. I'm very outspoken and say things that are on my mind regardless of the outcome. I don't have a filter sometimes and it ends up hurting me. That's just the person I am, either you like me or you don't and there's no middle. But actually, I am now learning to tone it down a little bit by going to therapy, doing things to help other people and being more aware that I do it.
You spoke up for transgender rights at one point on Twitter, so I support some of the "Not Toned Down Jax."
Jax: (laughs) A lot of people do. I speak what's on my mind and life is short. You've gotta say what's on your mind...at times.
SPOILER ALERT: When you were worried that Mamaw would discover you were going against her rules of "no drinking" with Brittany and her friends and you rushed out to intercept her and Brittany's mom, you had an engagement ring design on your phone to show them. You hoped that would take the pressure off of you because you were fielding marriage inquiries from the family. So, I have to ask: Was that legitimately a ring you had looked at for Brittany or did you happen to have a a friend's photo handy? My friend Ryan Bailey and I previewed the episode for our recap and we joked about that.
Jax: um...Yeah, that was legit, wait...
Brittany: Jax is a little worried now because he didn't get a chance to watch the episode, but he has it and he's supposed to watch it but just hasn't gotten around to doing it yet. I watched it. Jax, of course I saw it! It's on the episode! It looks gorgeous. He's freaking out.
Jax: Shira, I think you just ruined it.
Brittany: He had to know I was going to see it on TV.
Oh, Phew PHEW. That Huffington Post lady didn't ruin the surprise.
Jax: I have a friend that's a jeweler who did that.
So, I have to ask and I really hate to do this...There were some blogs that were reporting they were certain you two had just broken up, but I didn't necessarily trust the claim. Can we put the kibosh on this rumor?
Jax: Yes. You definitely can (put the kibosh on that rumor). Don't read those! You can't read that stuff. We have arguments like I'm sure you have with your significant other. Things get magnified differently because we're on TV.
Brittany: It's crazy. If we unfollow (one another on social media) everyone finds out.
Jax: It means the world has ended. It comes with the territory for us with the show. They are bored and I guess there were no stories that day. We have our ups and down.
Brittany, your mom appeared on Vanderpump Rules. Was she more comfortable this time around?
Brittany: For sure! She went through it so now she knows how it's done. I'll admit that everyone was a little uncomfortable at first - the other members of my family. This was all brand new for them so my mom had an edge on the rest of the family. She knows that people will get on the Internet and say all different kinds of crazy stuff. They said she was homophobic when she was on Vanderpump Rules which is very much untrue and I stuck up for my mom. This time I told her 'don't read into it, people say whatever they want and you're never gonna make everyone happy.'
Brittany, I also have to ask if you were a rebel growing up. We see you defying Mamaw's drinking orders - well Jax started that - and you are, after all, with Jax so there's some obvious rebellion right there.
I've grown up to respect authority and to be very nice and polite, but I've always had a rebellious side and my friends would tell you that. I would have parties when my mom wasn't there. I love having shots and fun with my friends. I definitely got in trouble a couple of times. My Papaw passed away 2 years ago in December. He never smoked or drank a day of his life. This was his farm and on the farm, the rules are his rules. My Mamaw wanted us to respect those rules and I felt so bad as I was watching the episode. I really did. I didn't like seeing us going against his wishes.
I get it though. I grew up in a strict religious home and my mother would not have housed me in the same room as a guy I wasn't yet married to. You guys are lucky that you got to share a bunk bed - even if you were separated by bottom and top bunks!
Jax and Brittany: (both laugh)
Jax: That's a whole different way of looking at it.
Brittany: I guess we should appreciate that we got to stay in the same room!
Tune in to tomorrow night's premiere episode of 'Vanderpump Rules: Jax and Brittany Take Kentucky' at 9ET/PT on Bravo.
Related
Popular in the Community