Magdalena Yeşil is a serial entrepreneur, the founder of Broadway Angels and the founding board member and first investor of Salesforce. Most recently, she is the author of Power Up: How Smart Women Win in the New Economy, Yeşil's guide to navigating the unique hurdles women face in the tech and tech-enabled industries, or any competitive field. It's based on insights from her own career and those of other high-powered Silicon Valley women such as Leah Busque, founder of TaskRabbit, Jennifer Hyman, co-founder and CEO of Rent the Runway, and Julia Hartz, co-founder and CEO of Eventbrite. Magdalena recently wrote an op-ed in SF Chronicle about recruiting men to join women's fight instead of walking away from them in Silicon Valley, and you can watch her DreamTalk from the DreamForce conference here.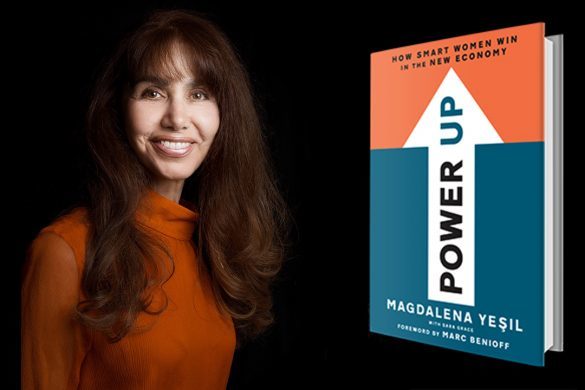 We want to get to know you. Tell us about your childhood. What were your formative years like?
Magdalena: I grew up as a Christian Armenian in Istanbul, in a country where the population is 99% Muslim. Very quickly, I learned to be very comfortable as a minority, an outsider, and succeed without belonging. This groomed me for a successful career in male dominated fields.
What brought you from Istanbul to Silicon Valley?
Magdalena: When I was 10 years old, America sent man to the moon, and I decided that I wanted to come here. I didn't speak English at the time but studied hard in middle school and learned the language. I enrolled at Illinois Institute of Technology in Southside Chicago, not realizing what a tough neighborhood it was located in. I also knew nothing of Chicago winters. After my freshman year, I transferred to Stanford and got my Bachelors degree in Industrial Engineering and my Masters degree in Electrical Engineering from there.
Around 1980, Steve Jobs and Steve Wozniak came to Stanford campus to recruit for Apple, and offered me a job right after the interview. I went to my grad school advisor for advice, and who said, "It's a company with a fruit in its name. Go work at a serious company!" So I instead I went to work at Advanced Micro Devices a semiconductor company. Do I regret it? No. We make decisions with limited information, and things somehow always work out.
Then what happened? How does one go from being a semiconductors engineer to being a VC?
Magdalena: I grew my engineering and product career at Fortune Systems and saw Fortune go through its IPO, 7th largest in the history of the United States. I continued with a short stint in software. I had wanted to get an MBA but realized that management consulting is an alternative to learn about business without paying for an MBA . So I spend joined the management consulting firm Booz Allen and later opened my own management consulting firm in my late 20's. Our office got burglarized twice, back to back, and both times they stole all our computers. The second time it happened, we had not yet backed up our files off our new computers so we lost all our clients reports, and had to shut down the firm. Around that time, I had my second kid and took some time off.
It was difficult to return to the workforce because I was looking for product roles and no one would take a chance on me because I had been out of operating roles in technology industries doing consulting and then out of the workforce. Plus they viewed me as a little too old and overqualified for the product management roles I was interviewing for.
To re-enter the work world, I wanted to become an expert in something. I conducted a self sponsored survey of internet users and presented my findings at the very first internet conference in DC. At that time, internet wasn't for the common man, it was still in the domain of universities, research institutes, the, government,and the military. As a result of my novel Internet User Survey, I became an expert on the internet. I met Dan Lynch and we decided to start a company to commercialize Internet access. After not being able to raise any venture capital, we merged with another similar company out of Virginia, and the resulting entity IPO'ed in 1994. Shortly after that, Dan and I joined a couple of others to start CyberCash, an electronic commerce infrastructure company dedicated to secure payments for the then emerging e-commerce vendors, such as Amazon. CyberCash IPOed in 1996. My next, and third startup, MarketPay, got acquired in its 7th month. A VC firm named US Venture Partners was going to invest in us, but they couldn't because the because we sold MarketPay. Instead, I joined USVP and I became a VC..
You were the very first investor in Salesforce. Tell us how that came about.
Magdalena: As a VC, I became interested in ASPs (Application Service Providers) that were offering alternatives delivery models to the traditional Enterprise software model.
Marc Benioff and I had met back in 1994 when I was at CyberCash and had become friends and colleagues. We often discussed industry trends and make a couple of investments together. One day Marc asked me for lunch and told me he was thinking of creating a CRM software company with minimum functionality that that users could pay for on a monthly basis. Based on my work with ASPs I believed that this was the future of software. So I committed on the spot to work with Marc, to help him recruit engineers, to personally invest, to serve on the board and to raise money for the startup. That is how I became the first investor and founding board member of Salesforce.
Recruiting engineering was easy but raising venture capital was not. My own firm said no. Actually, every VC firm we went to said no. So we raised capital from private investors instead. Salesforce looks so glamorous today, but we had many bumps along the path, we almost ran out of cash more than once. But we stayed resilient. We kept going no matter what. I was an integral part of Salesforce during for over six years -- from prior to incorporation to past its IPO.
You cofounded Broadway Angels that comprises of prominent female VC's. Tell us about that.
Magdalena: Being a woman VC is usually very lonely, you are the only woman in a partnership. Around year 2000, Silicon Valley Bank started organizing annual trips for us handful of female VC's to get together in Hawaii. Initially, we stayed in the home of the CEO for 2-3 day long get togethers. For most of us female VCs, this was the most fun we had all year.
One time, Sonja Perkins and I were remembering those times, and Sonja suggested that we start a platform for female VC's to network with each other as well as invest together. That is how Broadway Angels was born.
You recently launched your new book Power UP! How Smart Women Win in the New Economy. Why did you write it, and what's your message for your audience?
At Broadway Angels, I often see a difference between male and female founders pitching to us. When women put their corporate goals out there, they are usually achievable, they are not "reach" goals. In contrast, , men describe their goals with audacious hand gestures and take on big challenges to win big. And the VC business wants audacious returns. We want 20X returns and not 2x. Most women who come to us are realistic and conservative. I want female entrepreneurs to be aggressive in their expectations and reach for the sky. Those big bold plans are the ones that us VC's are looking for.
You recently wrote an op-ed in SF Chronicle about recruiting men to join women's fight instead of walking away from them in Silicon Valley. What advice do you have for women in Silicon Valley?
Magdalena: I advise women to bring their gravitas to work everyday. I define gravitas as one's seriousness and dignity. In a world where personal and professional lives are blurring, gravitas is a shield one can use to protect one's self from unwanted advances. Gravitas guides how you carry yourself, how you shake someone's hand, and the messages you send to those around you. And when someone doesn't respond to my intended message and wants to take the conversation elsewhere, I do not engage. I do not react at all, and stay on the point I am making, I take control of the conversation. Men don't have anything over us. It's important that we feel that we are no less than them. They may be in a position of power, but we cannot let them abuse that power to get things that are outside the professional realm.
In Turkey, when you embark on a new journey, they throw a bucket of water after you. The water signifies the ability to always find a path. It's a send off. My final advice to women is to believe that they're like water. Just like water, you are unstoppable. You can always find a crack and flow through it or you can go around the boulder blocking your way.
Popular in the Community