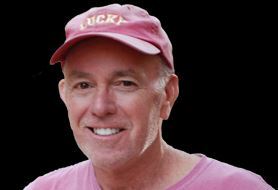 As the final days of 2011 approached, Colon Terrell was walking with his wife Brenda and talking about the blank slate that would be the next year.
His tenure as a bank president was coming to a close, a combination of the institution shutting down and him retiring at age 63. So they were going to have plenty of free time.
Whatever this next chapter in his life would hold, Terrell knew it would involve physical activity. That was a priority for him since rebounding from a heart attack that required a five-way bypass.
So on that afternoon stroll in December 2011, Terrell said to his wife, "What would you think about me walking across America to raise money for the American Heart Association?"
On March 1, 2012, Terrell took off on Heart Trek USA, starting within view of the Atlantic Ocean at the Cape Hatteras Lighthouse in North Carolina.
On Sept. 2, 2012, he walked across the Santa Monica Pier in California, atop the Pacific Ocean, capping a 3,725-mile journey.
Terrell still giddily recalls the trip. He and his wife think about it, or talk about it, nearly every day. Something is always happening that connects them to it -- a memory of a person or a place, or the question of where they were on a certain date during the trek.
Since 2007, the American Heart Association has held this event on the first Wednesday in April. The goal is encouraging Americans to get up and get moving on this day, and then to turn that activity into part of a healthy lifestyle. This year's celebration occurs this Wednesday, April 1.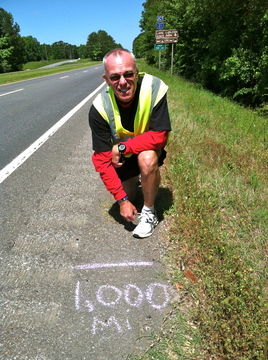 Terrell is a great resource to discuss this subject ... and not because of the extreme example he set. Rather, the emphasis is how he personally inspired people he didn't even know.
"I can't even tell you how many people told me they had begun exercising just by reading about me and meeting me," he said. "I know it made a difference to some of them because they still keep in touch. They tell me how their life has changed, not specifically because of me, but because they made a change in their lifestyle."
During Terrell's trek, National Walking Day fell on April 4. As the day approached, he wrote about it on his blog and encouraged people to join him as he walked through the Georgia towns of Royston and Hartwell.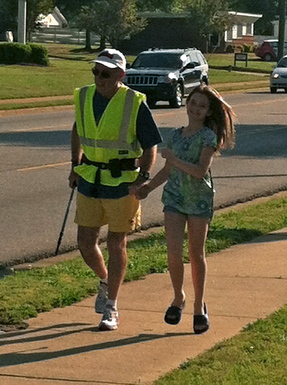 It turned out to be among his favorite days for several reasons, starting with the fact his granddaughter Reagan joined him for about 1.5 miles.
Then there were all the cool things that Terrell, a history buff and baseball fan, got to experience. This included the Ty Cobb Museum and a historical marker that signified he was standing in the "Center of the World" for the Cherokee Nation.
"It was a crossroads for six separate trails and where they held their annual jamboree for over 100 years," he said. "Things like that were just fantastic."
Terrell walked about 20 miles each day, always in a reflective vest that said "Walking Across the USA for Heart Health." Some towns he visited threw little parties in his honor, and his arrival occasionally generated media coverage.
Turnout was bigger, of course, whenever he was publicized. But everywhere he went, people would come up to him and ask why he was doing it, letting him launch "into my spiel about everyone needing some form of exercise."
Those questioners often joined him for a few blocks or even a few miles. Many made donations. He ended up raising more than $26,000.
"I had a mother stop me near Lubbock, Texas," he said. "She gave me a $5 and her three kids each gave me every piece of change in their pocket."
For all the great experiences, there were challenges, too -- a monsoon on Day 2. 117 degrees in the Mojave Desert. Early on, the skin on his toes "just came apart" and had to be heavily bandaged each day. Also early on, he battled kidney stones; three passed and one didn't, requiring an operation soon after he returned home.
He downplays that part, though, because there are so many more good memories than bad ones.
"It was one of the most memorable events of both my and my wife's lives, from the people we met to the great welcomes we got," he said. "This was a life-changing event for us. I highly recommend that everybody find one."
Now 67, Terrell remains very active.
He's traded solitary walks for almost daily games of Pickleball, a sport he describes as "a cross between ping pong, badminton and tennis, on a badminton-sized court with a paddle about twice as big a ping pong paddle and a ball that's like a Wiffle ball."
As the walk shows, he doesn't do anything small. So it's no surprise that in addition to playing, Terrell also is the ambassador for U.S. Pickleball across the Florida panhandle.
But he's an even bigger ambassador for a heart-healthy lifestyle.
"It doesn't matter what form of exercise you do," he says, "just do something."