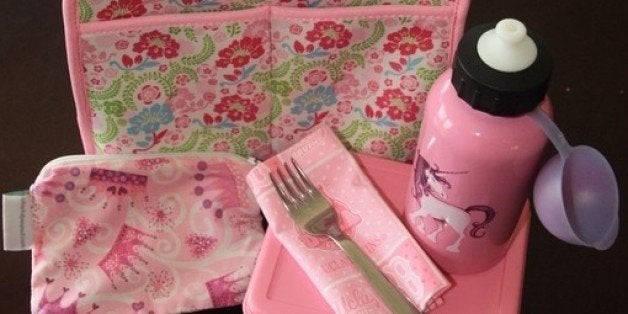 The average child throws away 67 pounds of lunch waste each school year. One of the easiest ways to combat the growing garbage problem is to start your child off this school year with a trash-free lunch. While shopping for new clothes and school supplies don't forget to invest in some lunchtime essentials. In fact, you can save $246 a year by packing a waste-free lunch!

1. Buy a reusable lunch bag. Make sure it's waterproof and you can wipe it out. Consider a reusable bag that you can throw in the washing machine.
2. Invest in a stainless steel water bottle. This will last the duration of your child's entire school years and you don't need to worry about chemicals leaching out from plastic.

3. Fabric sandwich and snack bags are a must. Get rid of those disposable plastic bags and save $85 each year. Etsy has a wonderful assortment of handmade bags of various sizes and shapes. Your child will love picking out fun fabrics and styles.
4. Storage containers. You probably already have a bunch a small, lidded containers lounging in your drawers or falling out of your shelves. These are great to store veggies and softer foods like applesauce and hummus. Think about buying in bulk and transferring into smaller food containers and avoiding those single use packaged items.
5. Bring stainless steel utensils. Every year, Americans throw away enough paper and plastic cups, forks, and spoons to circle the equator 300 times. We can easily reduce that by packing utensils we already have. If you're worried about losing your fine silverware, buy an inexpensive set at a local thrift store. For eco-friendly bamboo utensils check out Reuseit.
6. Don't forget a cloth napkin. Again, Etsy has some fun designs that will allow your child to be the hero at the lunch table. If you are crafty (or not) you can make your own no-sew napkin using old shirts.
Going green at school is a great way for your child to make a difference and set an example for others. Classmates will likely be green with envy at all the cool waste-free lunch goodies.
Dawn Wynne is a best-selling children's author, award-winning teacher, and certified health coach. Combing her love for the environment, passion for nutrition, and teaching talents she works with children and families to help them make healthy lifestyle choices. For information on her books visit her at www.dawnwynne.com.