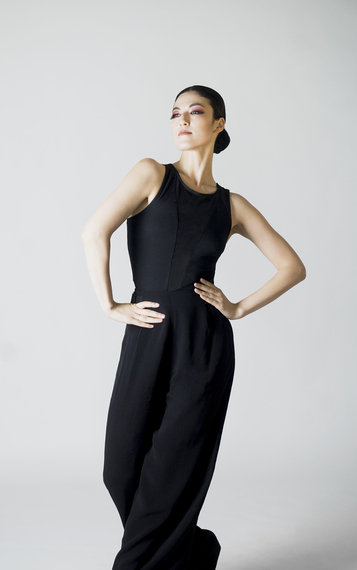 Photo by Emma Wainwright | Makeup by Maria Palermo
Dancer and choreographer Joanna Numata has had the privilege of dancing with such artists as Kanye West, Beyonce, Rihanna, Fergie, Black Eyed Peas, Busta Rhymes, Nelly, Pharrell, Cassie, Diddy, Romeo Santos, and Dirty Money, to name a few. She has worked on the feature films, "Step Up 3D," "I Am Legend," "The Smurfs" and "Friends with Benefits."
How did you fall in love with dance?
I started taking ballet when I was seven. When I was 10, I started doing tap and jazz, and also built in modern later on. My old tap teacher recommended that I check out the Broadway Dance Center. I decided to take this hip-hop class with a husband and wife team. One did breaking and the other did popping and locking. I'd never done anything like that in my life before, so I went in my spaghetti-strap leotard and jazz pants. At least I had sneakers on. That was my very first class in the city.
What made you decide to study different styles rather than concentrating on one style?
The music and movements just grabbed my interest. Some of it could be just different teacher's personalities as well. Rhapsody [James] has a great personality, and that makes you want to train harder and be in her class. Even if you go the commercial route, you can still use your classical training. I've gotten jobs where I get sent in for ballet or tap, and I'd have to pull them out.
That must be nerve-wracking!
This happened for Kanye West on "Saturday Night Live." They just told us it would be a more technical audition and ballet-based. There were tons of people; they were running behind on time. I was actually about to leave when they started calling in more dancers. They wanted to see a ballet freestyle for one of the last cuts. I did what I could and I ended up booking that job. Other things come into play, of course.
How do you deal with the constant scrutiny on your look?
When I first started, I didn't understand how much that would matter. I've gotten jobs purely on my looks and not because I was the best dancer. You know this over time. It's good and it's bad. It can work against you.
Does being mixed race or a person of color impact that perception?
I tell my students now that you have to develop a thick skin and that it's not always about your dancing. You just have to present yourself at your best. I can't be 5'5, you know? Sometimes they will be looking for only white blonde girls, sometimes they're only looking for girls who are 5'9 and multi-ethnic. Through an agency, they'll send you in for things that they want you booked for, so that can narrow it down. When I first moved here, my hair was down to my waist, all in one length. Rhapsody was like, "You have to cut your hair." She has an eye for that kind of thing. It's not selling yourself out because you have to be open to trying different looks.
In 2005, I was called in to audition for a Will Smith movie ["I am Legend"]. The last thing they mentioned was, "You're going to have to shave your head." I thought, "There is no way." But I went to casting to take a picture and make them happy. Every time they held callbacks, I just happened to be free. [Laughs] When I got booked, I think my agent thought I would be jumping up and down. But if I shaved my head, I would probably not be able to work for two years while it grows back. Then I found out they've doubled the rate, which was more money than I've ever made before. Up until that point, I was just hustling and doing a million side jobs.
How was the filming experience?
It was the best job ever, and I actually booked another job while I my head and eyebrows were shaved. It involved body paint and was very tribal, so the shaved head kind of worked. That whole experience opened me up to changing my look.
How does teaching dance differ from being a dancer yourself?
I love teaching, but I didn't grow up wanting to do it. We were doing a company workshop with Rhapsody, and she mentioned wanting to teach a class as a group, and I wanted to try it.
What did you have to develop in order to be a good teacher?
It came over time. You can observe other teachers to see how they break things down, keep the energy up, and talk to students, but you just have to jump into it. Over the years, I've found ways to communicate how to break things down. I've been teaching for 11 years now, and it's nice to be inspired by my students.
Having a big social media presence has become a thing for dancers and choreographers. How do you navigate that?
Honestly, I fought it for a long time. I'm not great at it and I don't want to sell myself to people. I didn't want to put my choreography online because I didn't want people to take it. There was no YouTube or Instagram when I started training. Now, sometimes people would go groups for a long time at the end of class to post a video. You have to [do it] to grab an audience. It's strange, but it's necessary right now.
Calling all HuffPost superfans!
Sign up for membership to become a founding member and help shape HuffPost's next chapter