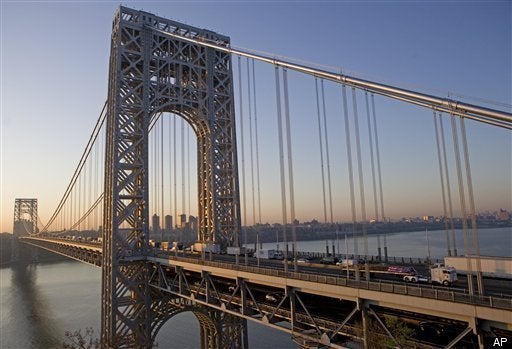 Well, fellow Manhattanites, August about halfway over, and being broke due to that pesky recession, your "staycation" is getting kind of stale, so now would be a good time to get to some of that tourist stuff you've been meaning to do but never actually have. The stuff all those tourists do in a day, you've been putting off for years and years, and now's a good time to get it all over with.
Being a tourist in your own home town sounds kind of cheesy, but it's actually rather fun, and one thing millions do is drag their families or friends to see National Parks, driving for flying for hours and hours to see a bunch of national wonders, such as Yellowstone in Wyoming, or for famous tourist traps such as Mt. Rushmore in South Dakota. But you can't go to those places because you're stuck in Manhattan or Brooklyn, and you don't have a car or the money to pay for such a trip.
But you can visit a bunch of National Parks without ever leaving Manhattan, seven of them, in fact, and there are a few more that you can get to on the subway.
So what we're going to do is a mad dash through all of them in a day.
I first thought of this project when I got slammed in the comments section of another article because there are a bunch of people out there who refused to believe that there are ANY National Parks east of the Mississippi river, much less New York City. Fortunately, a Ranger confirmed that there are. None of these are actually called National Parks, but under federal law, all National sites are the same, whether they're larger than the state of Rhode Island (Wrangell-St. Elias National Park & Preserve, Alaska -- 13,175,901 acres) or the statue of Ben Franklin in Philadelphia's Franklin Institute, which is less than twenty feet square. If rangers wearing funny wide brimmed hats man it, it counts.
Since, we're mostly broke, this jaunt has to be a cheap as possible, so our investment is a one-day unlimited MetroCard, ($8.25), and an official National Park Passport ($9) to get stamps in (we have to prove we've been there, and not all these places are worth photographing). Plus one of the sites charges to get in, but we'll get to that later.
The place to start is Battery Park, at the bottom of the island. The Battery is not a national park, it's a city park, but it's here people buy tickets for Ellis Island and the Statue of Liberty. Unfortunately, the cost of getting TO these places is a bit high, $12, and the lines around the ticket office are usually humongous. But don't fret -- we're not going there this time. The ticket office itself is actually our first stop!
Castle Clinton National Monument, or as it used to be called, "the Old Aquarium" has been occupied since the days of the Dutch, and before the processing center at Ellis Island was built, this is where most of the immigrants to the country got off the boat. There's a small exhibit on the history of the place (it was an aquarium for most of the first half of the late century, up until the 1960s, in fact), and you can get the above mentioned passport.
Once we've seen that, and some of the street performers outside, we head east past the Staten Island Ferry Terminal to the Governor's Island Ferry. Governor's Island has been open to the public only a few years, and unless you make an advance appointment for a Wednesday or Thursday tour, you get over there except on Fridays and Weekends. However, the ferry terminal is part of the Park and you can get your passport stamped. It's a bit of a cheat, I know, but it counts.
Next we walk along the East River up to Wall Street and head west were we encounter the Federal Hall National Memorial, which is where George Washington was inaugurated and the First Congress met in 1789-90. However, this is not actually the genuine building. It was torn down in the early 19th century (preservationists are a relatively new phenomenon), and replaced with what was called a Sub Treasury, and was later used as a customs house. There are exhibits and tours, showing where stuff would have been in the original building, and the history of the Treasury department. You can get your passport stamped in the gift shop.
Going to the end of the block we take the #4 or #5 train to City Hall, and walk a block or two north to the African Burial Ground National Monument, which in my humble opinion is the smallest National Park in the country. There's a tiny little park with a ranger standing there handing out brochures and telling you how to get to the museum, where after going through security, you get to see a short film about all the brouhaha when the cemetery was discovered around a decade or so ago. The gift shop is closed half the time, but the rangers will let you get a stamp.
Next we head south along Broadway to get on the 2 or 3 trains, where we head up all the way to 96th street, change to the One, and go further north to 125th where we head west one block to the park and the General Grant National Memorial (also known as Grant's Tomb). For most of the 20th century, our 18th President and his wife Julia laid in state in humongous marble sarcophagi as the neighborhood rotted away and the edifice was covered with graffiti and other shit. The Grant family threatened to move the General and his lady to Ohio, but the federal government stepped in. there's not much there inside anymore.
Also in Harlem is the Hamilton Grange National Memorial, where Alexander Hamilton had his digs. Unfortunately it's currently closed to the public because it was moved from another site, but sometimes the rangers will take visitors from Grants Tomb to see it. You can cheat and get a stamp for it at The Tomb.
Heading south to 116th street, we head east a block or two and get the 1-train south, changing to the express, if convenient, at 96th street and down to Times square, where we change to the R train, getting off at 23rd street. From here we head south to 20th street, turn east and arrive at Theodore Roosevelt Birthplace National Historic Site, which while in the right place and shape, is a replica built in the 1920s, as a precursor to the Presidential Library System. The bottom two floors are a museum, but above that, all the furniture is authentic.
Finally, we head down to Union Square to pick up 6-train, which we take down to Houston Street, where we transfer to the F-train, which we take to Essex, and two blocks west of that is the Lower East Side Tenement Museum, which to see you have to pay $20, more expensive than the Statue of Liberty/Ellis Island, but that's because it's partly private, and because they wanted to be totally authentic, they're in violation of several building codes. You can get your stamp at the bookshop (as well as the ticket) across the street.
If you want, you can go back and see Lady Liberty, Ellis Island, and Governor's Island, the next day, but remember to go in the morning, because the ferry company doesn't do both Liberty and Ellis in the afternoon.