Of the four members in The Kingston Springs, only drummer Matt DeMaio has ever actually caught a catfish. But that doesn't stop the band from going down to the Harpeth River every day to wet a line and relax on the shore.
It must be hard, being the youngest band to perform at Austin City Limits, just three years removed from playing music in their parent's basement. The Kingston Springs overcome the stereotype that Nashville only breeds country music. The Vacation Time EP, released in 2010, combines vocal harmonies, subtle horns and sparse keyboard accents with classic guitar riffs and funky bass lines to create angsty rock for the indie generation.
The boys from Tennessee look ready to make a leap with their forthcoming full-length album, which they will most certainly finish after they get back home and do some catfishing.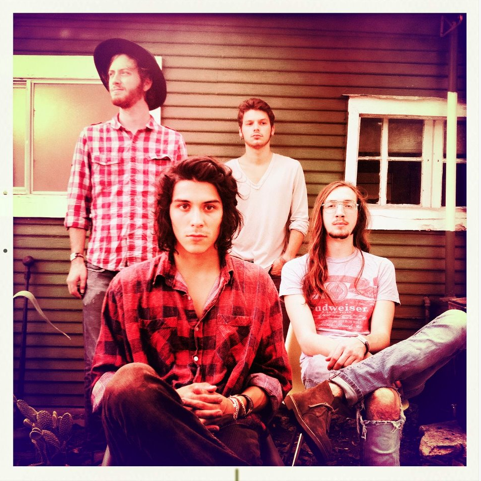 Photo credit: Jeff Gentner
Mark Collins: Describe catfishing for me.
Matt DeMaio: It's big in the south. I go down to a local river, the Harpeth River, to this spot that is privately owned. Honestly, it's a lot of sitting and waiting.
James Guidry: Dude. It took you a solid two months to catch anything. I would ask every day. I didn't even have to ask if he was catfishing because he always is.
MD: One of the things I love is that with all of us being so busy with our music it's nice to get away, relax, and not have to think about anything. You just sit there. Sometimes it takes me six hours just to get a bite. But I love it. It's one of my other loves.
JG: Sit down, smoke a cig, put in a dip. That's literally the only time that I'll put in a dip. The only time.
MC: None of you grew up catfishing?
MD: I went on a trip this summer to see my family in Connecticut and my grandpa had this cottage on a lake. I was fishing for bass and striking out. I saw this catfish pull up next to the bank. I had forgotten about catfish! So I got really into it in the north and when I came back to the south I realized there were much better places to catfish. So I went to Wal-Mart and got some new tackle. I started and I couldn't stop. It was like an obsession.
Ian Ferguson: He's kind of gotten us all slowly sucked in. I even went to Wal-Mart and bought a fishing pole. It says Ready 2 Fish on it.
JG: We always made fun of him for going catfishing but then we actually went and saw how fun it is.
MD: They made fun of me until I caught a huge catfish. After the flood I went down to the river and caught seven in an hour and a half.
JG: I bet that felt good.
MC: Do you eat what you catch?
MD: I don't really believe in that. I feel like catfish -- and all fish in general -- are in danger. I read a lot in the Tennessee fishing magazine about fish dying out and there is a limit on everything. I just think its good to let it go.
You conquered it, you caught it, now I'm going to let it go and grow bigger. It's an honoring experience.
AF: If I caught something I would eat it.
JG: If I catch a catfish I want to put it up on the wall. I caught this, I want to hang onto it.
MC: Do you have any tips or tricks?
MD: We do aborigine style to catch bait fish for catfishing. You take a five pound test, something really thin, tie a hook on the end with a fly and dip it in the water then boop! Pull it out, got a bait fish. Then you can set up tons of limb lines.
MC: Have you seen the videos for catfish noodling?
MD: Yes. You know what it is? It's bullshit. I don't mean to talk bad about noodling. It does take a lot of courage to do that. But it's not fishing, it's catching. Anyone can do that if you have the right amount of money.
Throwing a line in the water and waiting for opportunity to happen and then fighting to get it up on the bank -- that takes skill.
MC: Do you catch anything other than catfish?

MD: When I go catfishing with chicken liver all I catch is turtles. And if you don't use pliers they will snap your finger off. They're that powerful. They have really strong jaws and they will bite it right off.
It's hard to catch and release turtles because you usually hook them in the neck or the leg and it is so tough to get the hooks out. I try and save every turtle I catch. But there are turtle meat sandwiches and turtle soup.
AF: They eat lots of crazy animals in Tennessee.
MC: Do you have any stories about going out catfishing together?
AF: We've never all fished together. We've gone down to the river and swam. With the heat swimming is just the greatest thing.
JG: We used to go to the river about a mile from my house. We would go down and just swim. Back when we used to have girlfriends they would come with us.
MD: Now they all hate us...