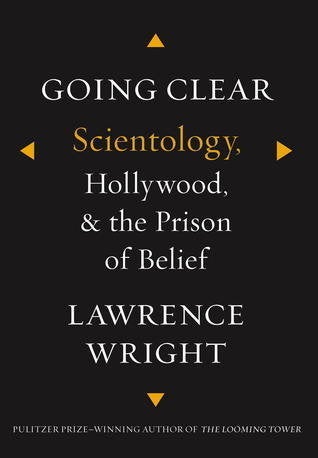 What is it about?
Wright delves into Scientology's past and present, coming up with a lot of sketchy things about the religion. The story focuses on screenwriter Paul Haggis, but Wright has loads of information about other former Scientologists as well.
Why are we talking about it?
After we read Lawrence Wright's 2012 New Yorker article exposing many the many eccentricities of Scientology, we couldn't wait to read the full book.
Who wrote it?
Lawrence Wright won the Pulitzer Prize for his non-fiction book The Looming Tower, which examined al-Qaeda's 9/11 attack. He has also written five other non-fiction books. Wright is currently a staff writer at The New Yorker.
Who will read it?
People who are dying to know more about the secretive religion, residents of Los Angeles and New York, people who want to know what exactly is going on with Tom Cruise.
What do the reviewers say?
New York Times: "Going Clear is essential reading for thetans of all lifetimes."
Los Angeles Times: "Who'd have thought a history of a religion would offer so many guilty pleasures?"
Washington Post: "...the result is a rollicking, if deeply creepy, narrative ride, evidence that truth can be stranger even than science fiction."
Impress your friends:
According to Wright's book, the Church of Scientology hired a Scientologist chef to cater Tom Cruise's wedding (stating that he'd be reimbursed for time and materials bought) and then never paid him.
Opening line:
"London, Ontario, is a middling manufacturing town halfway between Toronto and Detroit, once known for its cigars and breweries."
Typical passage:
"In 1955, a year after the church's founding, an editorial in Ability, a publication affiliated with the church, urged Scientologists to recruit celebrities. A long list of desirable prospects followed, including Marlene Dietrich, Walt Disney, Jackie Gleason, John Ford, Bob Hope, and Howard Hughes. 'If you want one of these celebrities as your game, write us at once so the notable will be yours to hunt without interference,' the editorial promised. 'If you bring one of them home you will get a small plaque as your reward.'"
Related
Popular in the Community