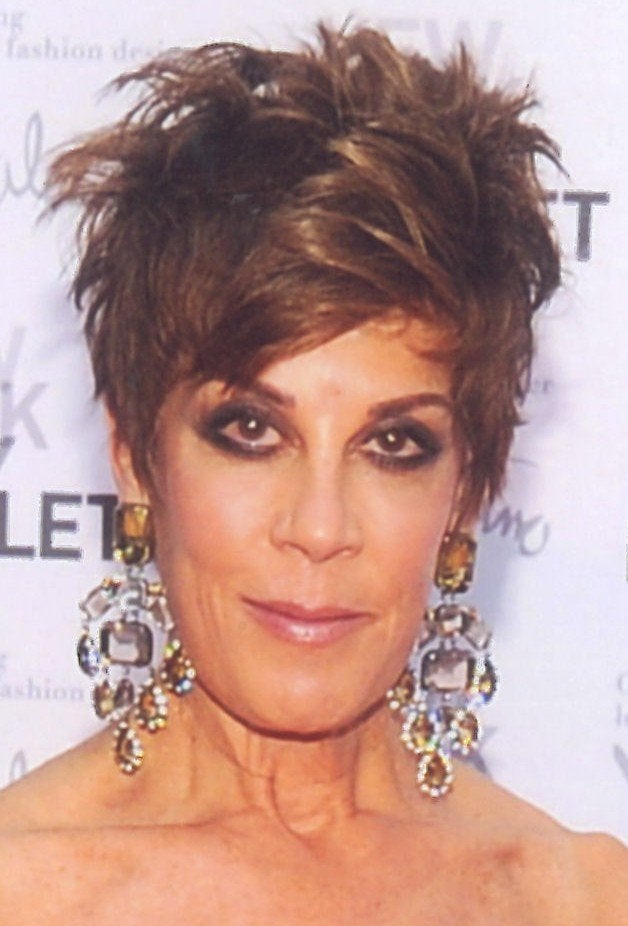 The Academy of Motion Picture Arts and Sciences had just opened its doors for ticket pick-up for the 85th Oscar telecast.
Forty voting members, the distinguished director Norman Jewison, and I were on a long single-file line that snaked through the lobby. We patiently waited to go upstairs to pick up our tickets, clutching our photo IDs.
Suddenly, a messenger slipped in and cut the line. He announced to the uniformed guard in a stage whisper, "Dreamworks," and it was as if God-like Steven Spielberg himself had just delivered the Gettysburg address: The messenger was ushered upstairs--the final act of the Lincoln campaign.
Sleep deprived and jet lagged, I had just taken a six-hour flight from New York sitting next to Paula Wagner, who was Tom Cruise's agent-turned Broadway producer for Jessica Chastain's theatrical presentation of The Heiress. We discussed Jessica'snail biting chance to beat Jennifer Lawrence for Best Actress. Chastain was bringing her new aristocratic boyfriend, Count Gian Luca Passi de Preposulo to be premiered on the red carpet.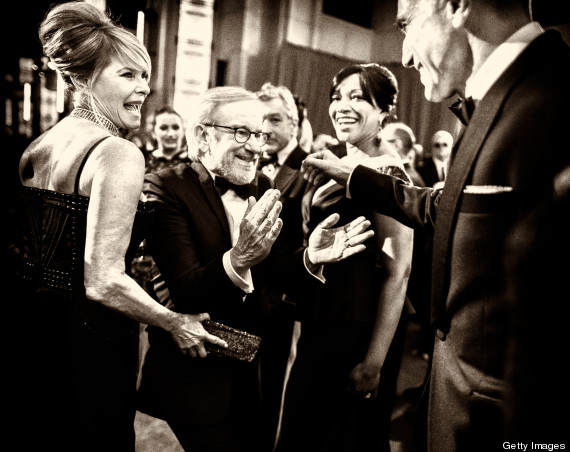 Lincoln director Steven Spielberg congratulates Best Actor winner Daniel Day-Lewis.
I mentioned Oscar guru Harvey Weinstein's concern about Emmanuelle Riva's last-minute surge for Best Actress for Amour. The French phenomenon doesn't speak English; neither did last year's Best Actor winner Jean Dujardin. Riva had never been to L.A. Her campaign felt like voting for a ghost, even for her 86th birthday.

This was the year I got phone calls in September from top studio executives, all announcing their win for Best Picture. This giddiness was due to the excellent quality of the films, which resulted in the priciest Oscar war on record.
Seven of the nine Best Picture nominees took in well over $100 million at the domestic box office, but it was the worldwide numbers--in the millions--that were staggering. Twentieth Century Fox's Life of Pi caused a tsunami, at $604 million; Universal's Les Misérables scored $412 million; the Weinstein Company's Django Unchained whipped up $413 million; DreamWorks' Lincoln delivered at $261 million; Warner Bros. Pictures' Argo captured $227 million; Weinstein's Silver Lining Playbook danced to $216 million; and Sony Pictures' Zero Dark Thirty killed it at $108 million.

Back on line at the Academy, the informed buzz was as follows: Argo would take Best Picture because Chris Terrio's script was most entertaining. The directing nomination snub to Ben Affleck was shocking because he was considered a shoe-in and a strong contender to win. The depth of respect for Ben's talent resulted in a riot of affection and a sweep of SAG, DGA, PGA, WGA, and Bafta awards. Argo producers George Clooney and Grant Heslov advised from faraway Berlin, while Warner Bros.' Sue Kroll kept the campaign on course on the home front.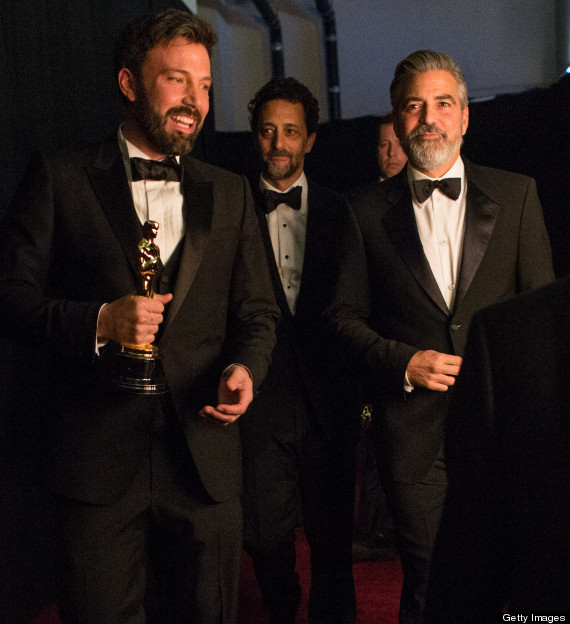 Best Picture winners Ben Affleck, Grant Heslov and George Clooney (Argo).
Lincoln's victory was Daniel Day Lewis' from day one of shooting, no pun intended. The suggestion that Obama was our answer to Lincoln was interesting. Voters knew that Obama had secretly hosted three screenings in the White House, but they weren't invited. DreamWorks ran a patriotic campaign that the media and moviegoers gobbled up.
The best director race had the most drama. Hollywood dreaded Spielberg losing to Ang Lee. Eventually, everyone was thrilled when Spielberg was anointed 2013 president of the Cannes jury the day after the awards show.
The voters knew that the beloved Lee's three-year boat ride was a technical miracle in 3D. Fox's $604 million international box office blew in the win.
Harvey Weinstein had three horses in the race and was the most talked-about. His loquacious Quentin Tarantino was a lock for Best Screenplay. Best Supporting Actor was a total toss-up, though, with a sentimental edge to Robert De Niro.
Our government put the kibosh on Zero Dark Thirty, with arrogant denials of "enhanced interrogation." Even Senator Christopher Dodd could not help writer-producer Mark Boal, director Kathryn Bigelow, financier Megan Ellison and Sony Chairman Amy Pascal.
Additional chatter was catalyzed by the cast of Les Misérables performing a historic one-time, live performance during Sunday's broadcast which became the talk of the weekend. This was part of Oscar producers Craig Zadan's and Neil Meron's attempt to razzle dazzle us with an homage to movie musicals, including their own Chicago.
Les Misérables was the most polarizing film in the race. The 27-year-old theatrical musical was seen by 60 million; a phenomenon not lost on the Academy crowd. In screenings, voters clapped after each song while watching director Tom Hooper's daring cinematic visualization as if they were emotionally experiencing a live performance in the movie house.
Back to buzz on the ticket line. Barbra Streisand's, Adele's and Shirley Bassey's appearances created high anxiety and a bloodbath for tickets ... hence the hysteria drummed up by DreamWorks' messenger cutting the line.
I checked into the bustling Beverly Hills Hotel, meticulously laid out my Valentino and Ralph Rucci gowns and hit the party circuit overdressed for life. Tom Ford threw a cocktail party in his Rodeo Drive sleek steel and glass store. He greeted Girls star Allison Williams with mentor/friend Rita Wilson, while her husband Tom Hanks was knee-deep in rehearsals for his Broadway debut in the late Nora Ephron's Lucky Guy. Guests included Paramount chief Brad Grey with wife Cassandra, Patty Clarkson, Anna Paquin, Anna Wintour's daughter Bee Schaffer, Mario Testino, Henry Cavill, Tom Freston, Crystal Lourd and Bryan Lourd. ICM agent Hildy Gottlieb and her director-husband Walter Hill gave a dinner in their Spanish stucco-and-tile Beverly Hills home. Nominee Christoph Waltz, having won this year's Golden Globe and Bafta Awards, had no clue that he was about to beat Tommy Lee Jones and Robert De Niro. Katie Holmes, a new client, was ushered around by manager John Carrabino. She was on her way to catch the red eye back to New York and her daughter Suri.
Nine-year-old Quvenzhané Wallis, clutched a puppy handbag and stood on line to kibbitz with 90-year-old Don Rickles, holding court on a couch. Chris Tucker and Ray Romano flanked Rickles. Others schmoozing included Patty Hearst, Sidney Poitier, Mark Duplass, Emmy Rossum, Danny Huston, Julia Stiles and director Michael Mann.
Tom Hooper and Eddie Redmayne, always joined at the hip, then dashed out to Malibu to Universal honcho Ron Meyer's annual dinner for Vanity Fair's Graydon Carter. Guests included Russell Crowe, Lorne Michaels, John Travolta and Barbra Streisand.
Earlier in the evening art aficionado Larry Gagosian hosted an opening of Richard Prince's cowboy paintings, which were all pre-sold. Now Larry's annual art dinner was in full swing at Mr. Chow's. I walked in late and made a full circle around the front room, waved to Giants owner Steve Tisch, director John Waters, photographer Terry Richardson and performance artist Marina Abramović. I entered the back room and greeted Elton John, David Furnish and Amazon's Jeff Bezos who sat at a corner table. I slid onto a chair next to art collector/film producer Peter Brant, who was next to nominee Tommy Lee Jones. Jones is set to direct and co-star with Hilary Swank in The Homesman, which Brant is co-producing.
Coming from a brunch at the Polo Lounge, Valentino and Giancarlo Giammetti met me for lunch. They had just visited with their dear friend, Nancy Reagan, who at 91 is frail but her mind is still as sharp as a tack. They met me at Cecconi's, where we were joined by Alexandra von Furstenberg and her boyfriend Dax Miller.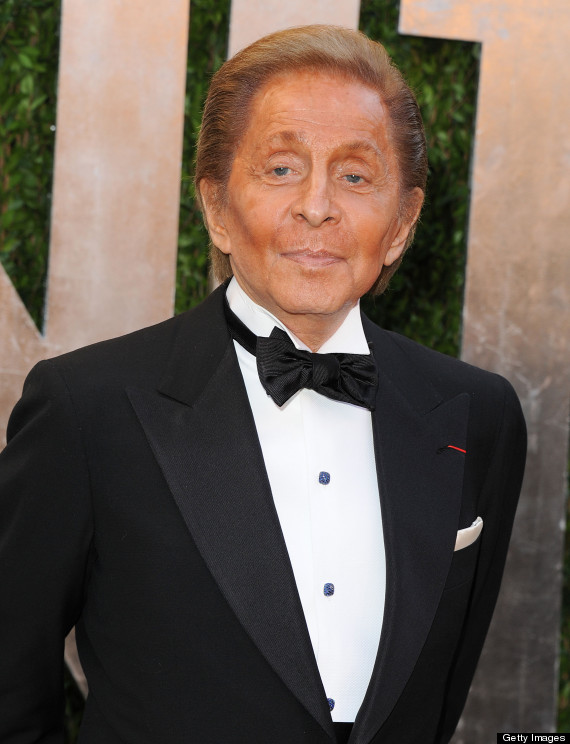 Fashion designer Valentino.
I asked Valentino if Oscar slam dunk Anne Hathaway was going to wear his couture dress she had chosen. He calmly said he didn't know but that he had flown his tailor in from Rome for fittings. Unbeknownst to him, she was planning on wearing a gold-beaded vintage Dolce & Gabbana instead and later changed her mind when her stylist Rachel Zoe discovered it had been worn before.
The British consul-general, Dame Barbara Hay, had a reception for England's Oscar nominees at the British Residence. The cast of Les Miz were at the Dolby Theatre in rehearsal. Nominated producers Cameron Mackintosh, Tim Bevan, Eric Fellner and Debra Hayward, as well as James Bond producer Barbara Broccoli, shivered as they sipped hot tea on the lawn.
Ron Meyer, Adam Fogelson and Donna Langley invited me to the restaurant Lucques for Universal's nominees. Straight from the airport, Good Morning America's Lara Spencer landed at the party. She came to discuss red carpet strategy with me and to see heartthrob Eddie Redmayne. Lara then flew off to agent Ari Emanuel's party at his Brentwood home for the William Morris Endeavor nominees. Valentino and Giancarlo waited for Anne and the cast who arrived flushed with excitement from rehearsals.
I begged my best friend Tom Hooper to take me to Saturday's dress rehearsal. He laughed, saying it took him days to get his own credentials. "Fuhgeddaboudit," he told me. I made a note to call the president of the Academy, Hawk Koch, the next morning to get in.
I asked Anne if she was planning on wearing a Valentino dress. She told me no. I whispered that into Mr. Valentino's ear. He was very gracious and said he has had so many red carpet moments that Anne should wear what she wants.
Next stop was Warner Bros.' celebration for its nominees at the Soho House. Oscar king Ben Affleck was holding court in the garden between Jennifer Garner and Victor Garber, who portrays the Canadian ambassador, Ken Taylor.
I huddled with George Clooney to discuss The Monuments Men, a movie he is directing in Berlin about the Nazis' theft of art owned by Europe's Jews. I asked him, "Who dies?" He said, "Two Jews, one Frenchman." I asked, "Who is the Frenchman?" He said, "Jean Dujardin." I asked, "How?" He said, "I shoot him." I asked, "How many takes?" He said, "Thirty-five." I said, "Justice will be served." He smiled and nodded knowingly. This is Clooney's sweet revenge toward Dujardin, who beat him last year for Best Actor without uttering a word.
Jim Berkus had a party in his home in Beverly Hills for the United Talent nominees. Dancing up a storm were Naomi Campbell, Mark Ruffalo, John Leguizamo, Kirsten Dunst, Daniel Radcliffe, Rashida Jones, Jerry Bruckheimer, New England Patriots owner Robert Kraft, Brian Grazer, Warner Bros.' Kevin Tsujihara, Viacom's Philippe Dauman and CBS' Les Moonves.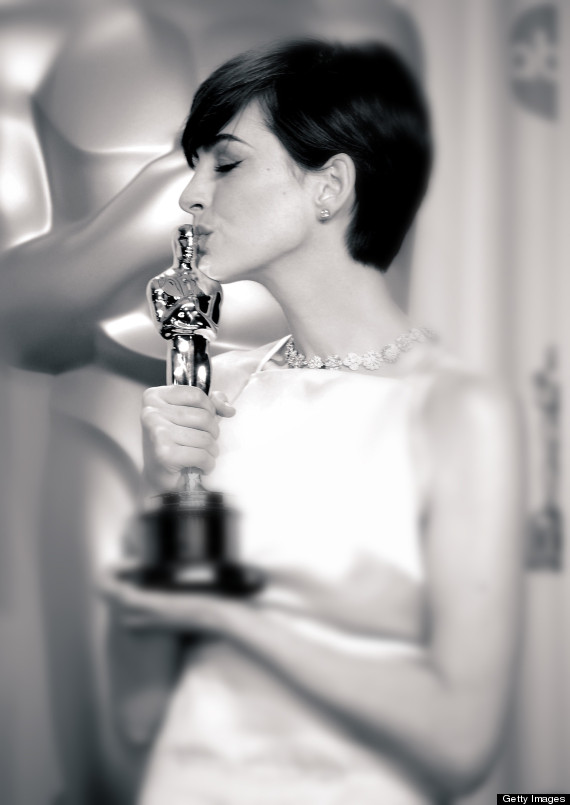 Best Supporting Actress winner Anne Hathaway (Les Misérables).
I made my annual trek to the Academy for the sold-out Foreign Language Film Nominees Symposium, a somewhat intellectual conversation among all five nominated foreign directors, hosted by Mark Johnson. Ang Lee made a charming introductory speech about his history with the Academy. This appearance cemented his win Sunday night.
Last year industry royals Barry Diller and Diane von Furstenberg did not have their annual family picnic for Graydon Carter because they were renovating the house on Cold Water Canyon, so everyone went to the Independent Spirit Awards under a tent in Santa Monica.
This year both lunches were inconveniently held at the same time. Barry got the powerful who hire the independent filmmakers. The Spirit Awards got the talented who want to grow up to be anyone who gets invited to Barry's lunch.
The house has been transformed into a modern temple of earth-tone stones and glass walls by Francois Catroux. Barry and Diane greeted guests on the concrete steps as they wandered into the massive building in awe of money so tastefully spent. Everyone wore earth-tone, beat-up clothes on this perfect sunny day.
The author, Peggy Siegal.
Diane's kids Alexander and Tatiana von Furstenberg co-hosted for the young. There was a substantial herd of kinder and pre-teens playing tag on the hilly lawn. Alexandra von Furstenberg, Anna Scott Carter, a very pregnant Georgina Chapman, Ginevra Elkann, Hugh Jackman's wife Deborra-Lee Furness and Wendi Murdoch were some of the devoted mommies.
Moguls mingled, while patiently waiting on line for lunch and jockeyed for position at the brightly clothed picnic tables. The smorgasboard of fame in attendance were; Rupert Murdoch, Harvey Weinstein, Warren Beatty, Tom Brokaw along with George Stevens, Jr., Jim Gianopulos, Jeffrey Katzenberg, Tobey Maguire, Henry Kravis, Sandy Gallin, Jeff Berg and his brother A. Scott Berg, who has a spent ten years writing a biography of Woodrow Wilson that will be published this fall.
Directors Gus van Sant and Simon Curtis chowed down. Lawyers Burt Fields and Allen Grubman chatted up clients. Producer Irwin Winkler talked about his film with Scorcese, The Wolf of Wall Street, and Jeremy Thomas described his Best Foreign Film nominee, Kon-Tiki.
Hugh Jackman was wildly impressed I wormed my way into his dress rehearsal that night. He said security was so tight that they practically strip searched him on the way in. I said, "With you, they have good reason."
Jackman did not exaggerate the thoroughness of the interrogation at the Dolby Theatre. Koch's assistant was glued to my hip as she ushered me down nondescript hallways. Behind her back, I slipped into the ornate Green Room complete with chandeliers and fancy wallpaper and met Les Miz French music composer Claude-Michel Schonberg. He told suspicious guards, "She is with me."
Jackman and Redmayne spotted me as they were about to go on and rolled their eyes knowing wild horses could not keep me out. In the audience I was next to Cameron Mackintosh who had personally paid to fly in an additional 24 chorus kids from London to add to the 24 Universal sponsored. The iconic music began and everyone got goose bumps. The set cracked open and Hugh swept out singing "Suddenly" followed by Anne Hathaway, Russell Crowe, Amanda Seyfried, Eddie Redmayne, Helena Bonham Carter, Sasha Baron Cohen and Aaron Tveit, until the whole theater was reverberating with "One Day More."
I stood in the garage with Sasha Baron Cohen's wife, Isla Fisher. She had brazenly filmed the number on her iPhone. Redmayne came dashing out disheveled and Isla pulled him aside. She replayed the video and gave him stage direction. The Anne Hathaway dress drama continued. Anne texted Valentino that day that she did plan on wearing his dress, only to find out at tonight's rehearsal that Amanda Seyfried had a similar one. Who knew? What a nightmare for Anne.
At Charles Finch and Chanel's annual pre-Oscar dinner at Madeo gorgeous girls were dressed in Chanel. The best invites always say come for a hot meal and we will put a $20,000 dress on your back.
Those that happily ate in Chanel were Jessica Chastain, January Jones, Kate Bosworth, Poppy Delevinge, Felicity Jones, Rosie Huntington-Whiteley, Chloe Moretz, Emily Mortimer, Andrea Riseborough, Gia Coppola and Charles' wife Sydney Finch.
Bob and Harvey Weinstein gave a private cast dinner at the Soho House for Leonardo DiCaprio, Amy Adams, Joaquin Phoenix, Quentin Tarantino, Jamie Foxx, Christoph Waltz, Jennifer Lawrence, Bradley Cooper, Robert DeNiro, Chris Tucker, Kerry Washington, Jackie Weaver and David O. Russell. Even after the success of The Fighter and Silver Linings Playbook, both credited to David O.Russell's deft direction, he was not expected to win gold Sunday night. His reward was that he was now revered as a beloved filmmaker on everyone's "A-list". At the stroke of 10 pm the flood gates opened and five hundred industry types descended on the club. I paid my respects and fled back to The Beverly Hills Hotel.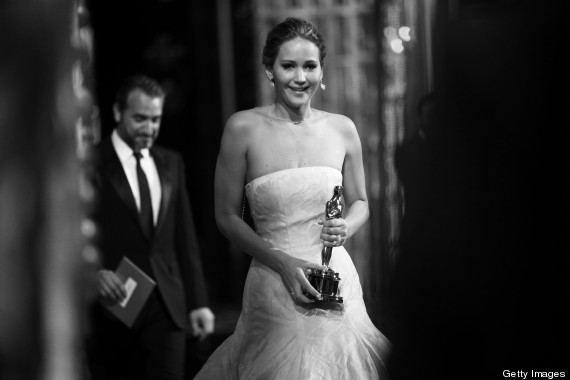 Best Actress winner Jennifer Lawrence (Silver Linings Playbook).
A missed tradition, started by the late entertainment TV journalist Claudia Cohen, was her brunch by The BHH pool where you performed your best weekend gossip for Graydon Carter.
This year's gab fest takes place at Bruce Weber's table, with Cornelia Guest, Sandy Brant and Ingrid Sischy. Ingrid had been huddled outside the hotel gym all morning in her sweats, as she clutched her cell phone and whispered some crisis management advice to Elton John. Ensconced in the Frank Sinatra Suite, Russell Crowe was now in the coffee shop eating eggs but this group was more interested in who was going to win.
At the next table, Fiat heir Lapo Elkann and his sister Ginevra, with her two kids, were all wearing large, iridescent-green sunglasses Elkann had designed for Gucci. They looked like elegant aristocratic bugs with a patina of old money.
I went to the 85th Academy Awards with Oscar strategist Lisa Taback. We passed SWAT teams, sniffing dogs, hovering helicopters and screaming fans. Like ol' pros we ended up on the mother of all red carpets in front of GMA's Lara Spencer.
We discussed stopping by Clooney's private party at Craig's later and ranked the perfect sculptured bodies and fake breasts. The most famous people in the world tried to do as many interviews as possible.
We distracted the stars from this ritual with small talk, as a security guard was sent over to push us down the carpet. The more we shuffled, the more abusive he became and threatened to throw us out. This did not stop us from congratulating Daniel Day Lewis before he won.
We chatted up Michael Douglas about playing Liberace in HBO's Behind the Candelabra, co-starring Matt Damon as the flamboyant singer's lover. Catherine Zeta-Jones, forever curvaceous, was draped in shimmering goldas she gave sound bites to TV crews.
We kissed elegantly composed Anne Hathaway and asked, "Who are you wearing?" "Prada," she said. I suggested to her father Jerry that he buy her that Tiffany diamond necklace after she wins, imitating the late Bruce Paltrow's generosity to his daughter Gwyneth after her own big night. Not sure I was kidding, her mother Kate sweetly assured me, "We have something for her."
We stepped on Amy Adams' Oscar de la Renta silver-ruffled train. We stared deeply into Halle Berry's dress to see if she was real. We touched Jennifer Lawrence's amazing Dior skirt when she was not looking, and we embraced every studio head in hopes of a job next week. Usher number 85 now screamed at us, and we finally ran away.
The shocker of the night was the appearance by Michelle Obama, via satellite from the White House, backed by a collection of random military personnel, as she gave out the Best Picture award. There was stunned silence at the Vanity Fair dinner at the Sunset Tower Hotel, which was a room full of rich Democrats who put Mrs. Obama's husband in office.
The idea of the first lady supporting Hollywood was terrific. If only Lorne Michaels had produced. She would have appeared live from the Lincoln Bedroom, with the CIA knocking on her door with the envelope. Finally I pulled up to the Vanity Fair party back at the Sunset Tower Hotel. Every Oscar winner was now in the room clutching their golden guy.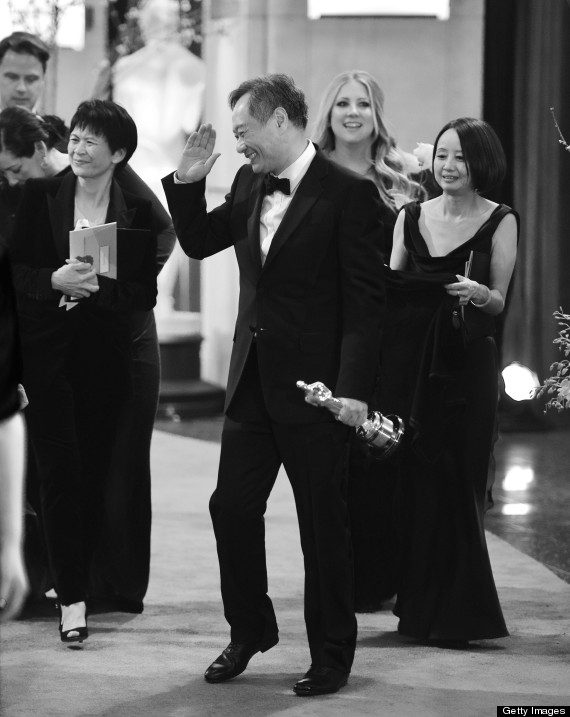 Best Director winner Ang Lee (Life of Pi).
I congratulated Ang Lee and teased him about being able to buy anything. He told me he is a simple man and a true artist with no need for yachts and private planes.
Graydon Carter's cracker-jack team, Sara Marks, Matt Ullian and Beth Kseniak diligently tended to guests. Some of Carter's closest friends that made the night include every single person already mentioned as well as Bradley Cooper, Ronald Perelman, Judd Apatow, Steven Spielberg, Francis Ford Coppola, Tory Burch, Aaron Sorkin, Jeff Klein, Fran Lebowitz, Jean Pigozzi, Amour winner Michael Haneke and Sony Pictures Classics' Michael Barker and Tom Bernard.
It's 3 a.m. The lights come up. The magic is over. The waiters are cleaning up, and Ang Lee and I are the last ones eating sliders and still chatting.
Peter Brant and Stephanie Seymour gave Bob Colacello, Stavros Niarchos, his girlfriend Jessica Hart and me a ride back to New York. Stephanie slept. Peter, Bob and I rehashed the weekend. This was an amazing year for great films. The campaigns were exhausting and endless. It felt like the end of camp. The war was over. I browsed the Internet on the way home and found a list of 40 films that will be in play for next year. I needed a nap.
A version of this article originally appeared in Avenue magazine.
Calling all HuffPost superfans!
Sign up for membership to become a founding member and help shape HuffPost's next chapter