Love her or loathe her, Lady Gaga is impossible to ignore. And not just for the outré outfits that have made her one of the most talked-about individuals of the year. It's her beauty choices that are causing eyebrows to raise, with makeup mavens riveted by her every look. The blogging universe is in a lather over Gaga's lipstick choices, her nail colors and how she might appear sans makeup. No wonder MAC has enlisted her, along with Cindy Lauper, as the face of Viva Glam for spring 2010, or that so many acolytes are duplicating her edgy looks on YouTube. Not since David Bowie in the 70s, Boy George in the 80s or Kylie Minogue and Madonna in the 90s has a pop entity flaunted their war paint with such exuberance, eccentricity and theatrical verve. At 23, Gaga is the poster girl for letting your freak flag fly--at full mast.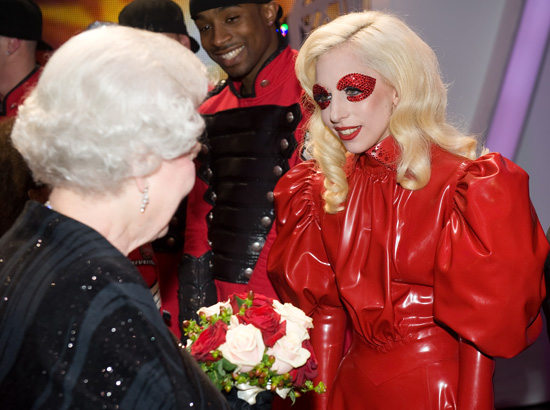 Gaga meets Queen Elizabeth II on December 7th
The singer's penchant for extreme glamour--enormous lace masks, graphic face art like thunderbolts and sculptural headpieces--has positioned her as a nonpareil style arbiter. It's easy to imagine that her influence may well trickle down to cosmetic counters: One of my best-selling eye colors of late is Techno Glitter, an eye-catching, Gaga-like silver loose dust. While the tabloids are having a field day with Lady Gaga imitators, accusing everyone from Rihanna to Taylor Swift of stealing her unconventional approach to dressing, the rest of us could learn a thing or two from the mercurial performer. If you ask me, there are lessons to be cribbed from her chameleonic approach to maquillage, and tips you can use even if you're not gracing the red carpet at the VMAS. Most notable is the unmitigated zeal with which the star embraces the color palette. It's an idea many women could use to jolt themselves out of their neutral comfort zones.

Brighten Up: There's a reason the world "beige" has become synonymous with "bland." Sure, in some situations, neutral colors are necessary, but sometimes they're just plain blah. Learn from Lady Gaga and approach vivid hues with less anxiety and more abandon. The singer embraces everything from fluorescent pink on the eyes to deep purple on the lips. Personally, I've always been an exponent of bold shades if only because they boost the spirit. Wear subtle hints or washes of color, and build up to more vibrant expressions when you're more confident. Embrace color and you'll feel, and look, a whole lot brighter.
Break the Rules: If there's one thing Lady Gaga has a talent for it's flouting convention. All too often in beauty, we get inundated by "rules," like the antiquated idea of only pairing strong eyes with subtle lips. Why not emphasize both the lids and the lips? In the video for "Bad Romance," in one of the many looks on display, Lady G rocks an intense plum lip and dark, smoky eyes layered with shadow, liner and lashings of mascara. I counsel three coats with my super-inky Long Black Mascara--she probably layers on a few more. Either way this bewitching look could easily be adapted for a night out.
Pay Lip Service: Most women have one favorite lipstick, be it a versatile sheer red or a neutral dark pink they've worn for decades. While it's helpful to have a go-to shade, beware of getting caught in a lipstick rut. There are so many different textures, hues and even shapes we can use on the lips. Naturally, the lady in question rocks them all: From gothic black to vampy red, from a Kewpie doll-style Cupid's bow to a creamy white pout that's reminiscent of an intergalactic heroine from 1950s sci-fi movies.
Enlist the Experts: In interviews the pop star often cites her so-called "Haus of Gaga," a flock of stylists, designers, hair and makeup artists and other collaborators. While you may not have the budget (or the patience!) for such an elaborate retinue, take Gaga's lead and learn that it's wise to call in the specialists for a big event. Consult with a professional makeup artist, or even an expert at a beauty counter, to ensure your look wows. At Ulta, the beauty retailer, I counsel the associates to be armed with tips on head-turning flourishes any woman can execute; a dramatic liquid liner perhaps or an age-defying aerosol foundation.
Lash Out: Lady Gaga isn't shy when it comes to working falsies--lashes, that is--from intense black versions so thick they could be crow feathers to avant-garde Japanese iterations fashioned from exotic fabric. While many women go faux for their wedding day, most are too intimidated to use them on a regular basis. Trust me--they're not as scary as they seem. False strip lashes are relatively simple to apply, and while individual ones are a little more intricate, they are worth the extra effort. Take the time to learn how to apply and use them and you'll always receive flattery for your fluttery efforts. Hold the Latisse.
A Little Role Play: One of Lady Gaga's strengths is her ability to keep changing up her look. Whenever I do presentations for young women, I always encourage them to road-test different guises by creating digital "look books" to share with friends. But you don't need to be a blossoming teen queen to do so. Create new "roles" for yourself and experiment on a rainy Sunday afternoon--that way, when it's Friday night and you crave a fresh look for an event, it's a no brainer. In the words of Lady Gaga, ooh la la.