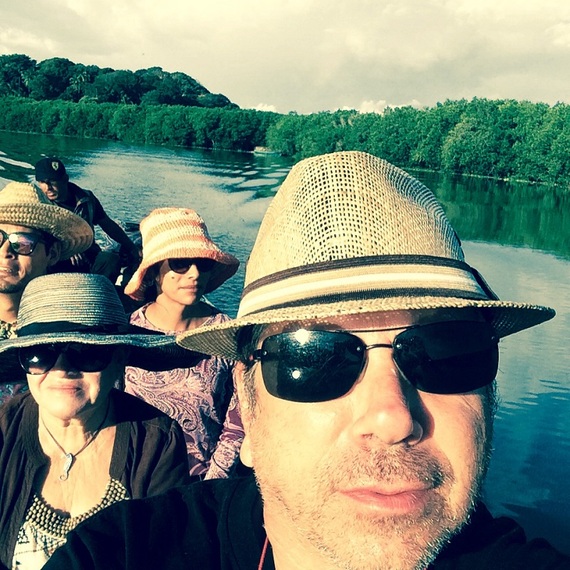 Some might say that I've been blessed. Born on perhaps the world's most enchanting island of Santorini, Greece, only to be brought to America's culture capital of San Francisco at age three years old, and perhaps the icing on the cake is that I now live part time in Puerto Vallarta, Mexico
I learned at an early age that a life of travel would be my calling. In my formative years my caring Greek parents would take me back to Greece for summer vacations. There, I learned valuable lessons of how to interact with local inhabitants. I learned how to share living spaces living on people's spare couches, beds, and floors far long before couchsurfing.com ever existed. I become proficient at baking bread and discovered life through food. Eating in someone's home come as a natural way of life, Being raised by Greek immigrant parents having my roots engrained into my brain, while being raised in tolerant San Francisco, a sharing economy was commonplace.
Serendipitous moments have been my life mantra. Some of my greatest experiences in life have come from chance encounters. Taking the road less traveled has been nothing but favorable and has created some of my most enthralling life changing moments. I have found that wherever I have roamed in the world, that people are generous and kind throughout the world. It's a fact that very few people, and the percentages are low of people who want to harm you.
Today's advanced traveler has ways than ever to fully immerse into local society while on a trip.
The advent of technology has changed the way we travel. Ten years ago, the concepts of staying in a locals spare room, or on their couch, or even trading your home for a stay in someone else's, was still relatively unheard of. Fast forward to today, with the magnitude of apps and web sites catering to your every whim to make travel more personable and making new friends around the world is a piece of cake.
Experiential travel, peer to peer travel, immersing with your new surroundings has never been easier. With web sites and apps at your fingertips allowing for eating in someone's home, touring with a native to explore everything from farmer's and fish markets to coffee shops and patisseries to off the beaten track neighborhoods, through the eyes of an inhabitant which knows the area best to get you off of the tourist trail, "Going Local" has never been so easy.
You can ride in someone's car, of course sharing the cost of gas, meet up with groups of likeminded locals and other travelers, who share similar interests from: food and wine, surfing or biking, history or music. There are options to share in local society. You can tour with a local who might show you things that you would have never seen.
Great moments occur when cultures collide. Just as travelers are anxious to learn about the local society in a new found destination, hosts are equally enthralled to learn about where you come from.
It has been stated by that if you have visited a nation, roamed on its soil, shared meals with its inhabitants,laughed with school children, toasted a glass with your new friends that surely the chances are far less that you would wat to bomb people who you've called friends. Travel teaches us tolerance, acceptance, losing any prejudices and fears that we might have.
With travelers seeking out knowledge, unique experiences and encounters on the road, becoming responsible travelers by caring for people and environments by treading lightly on new found lands. Perhaps learning a new world through volunteering. Some wanderers come for a visit and even move to their new found favorite nation.The true meaning of travel is to immerse into culture, people, learn from its history, joys and fears.
Some of the most inspiring and thought provoking, leading world travelers share my thoughts on the concept of "Going Local" The founder of Lonely Planet guidebooks Tony Wheeler. Another is Richard Bangs, the modern day father of adventure travel. Writing travelers with a world of wisdom. Some being Rick Steves, Don George, Patricia Schultz, Judith Fein, James Dorsey, Tim Leffel, David Noyes, all great explorers and storytellers, just a few of the world renowned writing travelers who believe that life's lessons are learned on the road.
In the end, as citizens of the world, travel teaches us that we're all much more the same than different.