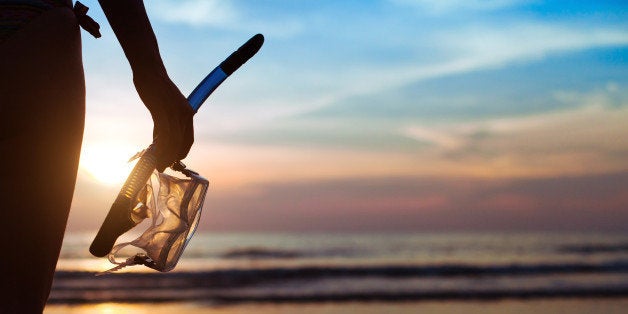 As an executive at a company whose slogan is #NoBackRow, there is a daily blur between personal family time and commitment to moving our fast-paced ed tech business at 2U, Inc. forward. The day begins at 6 a.m. with email and ends when it ends with email; that's how we keep our bi-coastal and international business running. The exception to this rule, for me, is when I am on vacation with my family. It began last year with a kid-free trip to Bermuda when my husband asked if 2U was coming with us. I love my company, my job and my co-workers, but I knew what he meant and I knew I had to take some steps to disconnect from work in order to connect with myself and my marriage. From his question was born what is now my vacation email policy. I have boiled it down to five parts that can be adapted to anyone working in an email-centric environment.
1. Prepare to be relaxed. We all scramble to tie up other loose ends before leaving on vacation. I add one more part to my vacation prep by designating someone to be the point person for anyone looking for me while I am taking a break. Once my point person is in place, my email auto-response is short but specific. It clearly states that I am on vacation - not on a work-related business trip - and asks emailers to contact my designee with any inquiries. It also lets people know that if they have an emergency and need me, they can call me. No one does.
2. Don't email me, I will email you. Everyone has a different approach to vacation. Some can't relax unless they know there are no fires burning at work, so they check email surreptitiously while their travel companions are planning the day's excursion. Not me, not anymore. In the meeting I hold prior to taking off, I tell my team that they should not email me while I am away. The first time I stated this rule, their eyes became as large as sand dollars. Employees and colleagues think they are helping you by copying you on an "FYI" so you are all caught up when you return. All they are doing is stuffing your in box with what will be stale news. You will need to dig out of your mailbox, which is not as fun as digging for a sandcastle. So I ask my managers to keep a running list for us to review.
3. Set a date. Since my managers are asked not to email me when I am away, I set time on our calendars - 30 minutes at most - for each of us to connect the day I return and catch up on what I missed. This sets everyone at ease that anything that was important will be reviewed and allows me to jump right back to work when I am back in the office. In doing this, I have noticed that we take more time chatting about vacation than going over issues that may have seemed critical days ago. Guess what, people handle things in your absence.
4. Run interference. My own team is relatively easy to wrangle when it comes to setting vacation email rules, but, of course, they are not the only ones who reach out to me. Many times when those outside my team email, there are others from my team who are copied on those emails. Before replying all and littering my in box with a chain of responses, my blockers take me off the chain and spare me the lengthy scroll.
5. Press delete. Our company's success is made possible by the advancement of technology that allows us to do almost anything - even take graduate courses online - on our smartphones. My new ritual when taking off for vacation is deleting the work email app from my phone. Then, I am not tempted to do a quick check of email while waiting for the water taxi. If I am going to violate my own vacation email rules, it will require me to wait until returning to the hotel room to open up my computer and log on. By the time that happens, hopefully the urge will have passed and the rum swizzle will have kicked in. By not replying to email, I show my team I trust them.
Work hard, play hard is a great rule of thumb if both are not attempted at the same time. This system may seem like a lot of effort to keep email-free for a few days, but it is an essential process to be able to step away from work and reconnect with myself and my family. So far, I have not missed a critical issue because my fantastic team has already addressed it. It allows me to truly recharge and be better at driving my business forward the other 50 weeks of the year that require my full electronic attention. It also empowers my managers to take charge in my absence, solve problems and add to their own skills. When they take off on their own vacations, it allows them to control how much or how little work will be infused into their time off. If their boss creates rules around how she expects to disconnect on vacation, it gives them license to do the same.
Email is a necessary means of communication that quickly gets washed away like writing in the sand. When taking time away from the email that helps us transact business everyday, we think at a higher level and come up with our best and most innovative ideas.
Jessica Wang is the Senior Vice President of Clinical Placement at 2U, Inc. When not responding to email, she enjoys time with her family, running and reading.
Calling all HuffPost superfans!
Sign up for membership to become a founding member and help shape HuffPost's next chapter