Ahhh, the lost art forms from the '80s. So many revolved around music: music videos, mix tapes, assembling groups of musicians who have no business spending any time together like Bob Dylan and Sheila E. Arguably, the most important lost '80s art form is LIP SYNC CONTESTS AT UNDERAGE DANCE CLUBS.
My best friend Susie and I were experts in all of the above. Especially the lip syncing. And the contests.
Susie and I were very into MTV and music. She loved Def Leppard the way I loved The Rolling Stones. Her passion for the bass player Rick Savage ran deep, and was really quite admirable.
Besides music, we were both very into fashion. We went to great lengths to show the world we were best friends by dressing exactly alike, which you can see more of here.
There was one matchy-matchy Lori-Susie outfit that wasn't included in the above post because I couldn't find the photo.
Had I destroyed the evidence that these outfits actually happened? I searched and searched, could see every detail in my head, tore my albums/shoeboxes apart, then eventually gave up.
Until this past weekend at my Mom's house. I found the image below in an old, smelly photo album in her shed out behind her house.
I let out a little yelp as I unearthed this: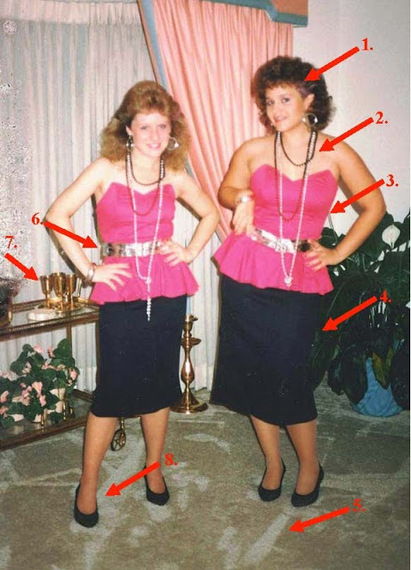 These were our outfits when we made the FINALS of the lip sync contest at Faces Teen Night Club.
Faces was in a strip mall by a movie theatre and a Showbiz Pizza Parlor and had everything a 13-year-old girl could want including a DJ, a disco ball and mouthwatering fancy mocktails.
Let's just break down this look(s), shall we?
Matching hot pink streaks in the "winged" sections of our hair.
Pearls-a-plenty! Identical! Knotted!
Because every 14-year-old girl needs a HOT PINK CORSET. Jesus.
Cheapo-black "tube skirts" purchased at Rave.
Vacuum cleaner lines -- because this was the living room and nobody ever went in there. Except to vacuum.
These outfits needed a little extra something. Like a belt. A silver f*cking belt.
Gold chalices on a gold tray. Just in case a priest or a pope stops by.
Cheap-ass black plastic pumps from Payless. Perfect for dancin' and sweatin'.
Check out Susie's confidence -- her kick a** stance that screams "we are here to win this thing."
My pose is more cheesecake with the head tilt, come hither look and a "hope this corset doesn't pop off during the big dance number" vibe about it.
We "sang" and "danced" to the song Baby Love by Regina, which you should not feel bad about not knowing.
Regina was one person -- not two -- so I did more of the background "ooohs," "aaahs," and even a little baby squeal sound (gross) in the song while moving side to side and snapping my fingers while Susie did most of the work.
I can't remember who won. It doesn't matter.
What mattered was that we got second, we looked awesome and again, my CORSET did not pop off of my 14-year-old body.
I'll drink a giant piña colada mocktail to that.
Calling all HuffPost superfans!
Sign up for membership to become a founding member and help shape HuffPost's next chapter