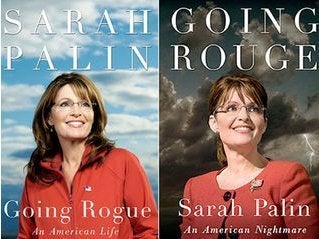 An alternative, liberal judgment of Sarah Palin's legacy will appear in book stores on November 17, the same day Palin's own autobiography, "Going Rogue: An American Life," hits the shelves. "Going Rouge: An American Nightmare" is the brainchild of Richard Kim and Betsy Reed, editors at the progressive magazine The Nation. In addition to their nearly identical titles, the two books share similar covers, both showing Palin smiling into the distance.
"The cover is a parody of hers and it certainly takes some shots and mocks Sarah Palin, but it is a very serious book and the book itself is not a parody," Kim told POLITICO. "It is not at all intended as a joke or a parody." "Going Rouge" will feature essays from 23 contributors, including Jim Hightower and Naomi Klein.
The most honest, revealing account of the Palin story to appear this fall? You betcha!

Sarah Palin has many faces: hockey mom, fundamentalist Christian, sex symbol, Republican ideologue, fashion icon, "maverick" populist. But, above all, Palin has become one thing: an American obsession that just won't go away.
Popular in the Community