'Tis the season for attending weddings! Are you going to a wedding (or five) this summer? You too can flawlessly navigate the unspoken rules of weddings and avoid any guest gaffes with these tips from real-life brides and grooms.
Couple Conundrum: Late or Missing RSVP's
Recent bride and groom, Emma and Adam, had large extended families and a wedding venue with a small capacity, meaning they weren't able to include some friends on their original guest list simply because of space. When a sizeable chunk of RSVP's failed to arrive, they assumed those guests weren't planning to attend and decided to extend invitations to those they didn't quite have room for originally. Unfortunately, their assumption was incorrect. More responses than they bargained for eventually rolled in and affected guest counts -- which ultimately affected their budget and caused some serious stress with venue capacity.
Pro Tip: RSVP on Time
Do the couple a favor and RSVP as quickly as possible, and certainly before the requested date. The RSVP card is one of the most important planning tools the couple has, but they need your cooperation for it to be effective. Show your enthusiasm and excitement for their big day by responding promptly. Texting doesn't count! And don't assume you have a plus one, unless the invitation specifically says so.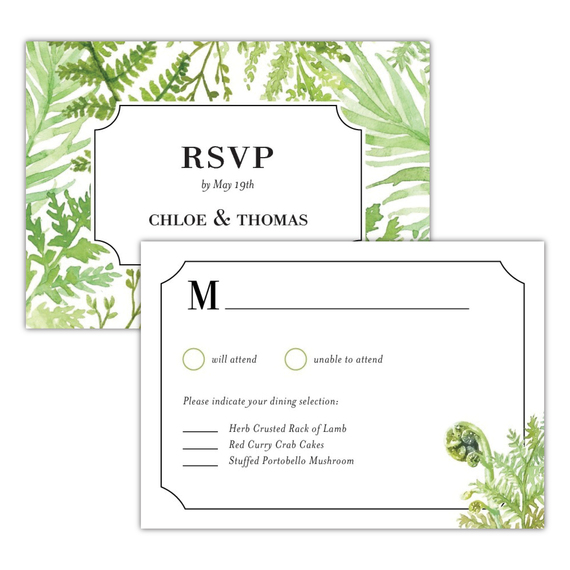 Image courtesy of Wedding Paper Divas
Couple Conundrum: Duplicate Gifts
Last summer, brides-to-be Danielle and Stephanie spent weekend upon weekend meticulously curating their registries at various department stores, only to be gifted not one, but three of the same gift that wasn't on their registry. After trying to return two of the three identical gifts, they discovered that the credit had been applied back to the gift-giver's credit cards, much to their dismay...and embarrassment!
Pro Tip: Use the Registry
The registry is there for a reason. Stick with it to avoid putting the couple in a potentially awkward situation. If you can't find the couple's registry ask a member of the family or bridal party. There are exceptions, of course, like personal and meaningful gifts, gift cards and cash.
Couple Conundrum: Specific Dress Codes
When Becca was invited to an Indian wedding last year, she did her research on what to wear (at Indian weddings brighter is better!) and found a beautiful jewel-toned dress as opposed to something with a more neutral or conservative tone. She had an amazing time, felt beautiful and fit right in with the party. Three cheers for doing homework in advance!
Pro Tip: Do Your Homework
A wedding is not the place to flaunt your new avant-garde look! If you're unsure of the dress code, use the season or the wedding venue as a cue. Be sure to do your research, too, in case there are any important cultural preferences you should be aware of. And if all else fails, just ask a bridesmaid! They can always give you the scoop.
Couple Conundrum: Unwanted Social Sharing
Facebook and Instagram may be great ways to share life's special moments, but be careful. In many cultures it's considered bad luck for the groom to see the bride before the wedding. Last fall one groom, John, unintentionally saw his bride, Juanita, before she walked down the aisle. One of Juanita's bridesmaids had posted a photo of her getting ready on Instagram before the wedding had begun!
Pro Tip: Post with Caution While the overzealous bridesmaid certainly didn't mean any harm, it's a good lesson for us all. Be mindful with social media -- especially at weddings -- as posts can have unintended but serious consequences. Even though it's tempting to post throughout the event, remember it's the couple's special day, so look for any guidelines. If you don't see any instructions, just follow the couple's lead!
Regardless of the situation, you can be sure that you don't want to be that guest! You know the one. Avoid anything that makes you the center of attention. It's never fun to have regrets the next morning. Pace yourself with the bubbly, participate in the activities, dance your heart out and have a blast celebrating. Just be sure to keep yourself in check. Soak in every moment of this special day and show your support for the newlyweds!