The Hague -- seat of the Netherlands government -- had long been on our to-visit list. It took years for us to act, but Jackie and I finally made it for a couple of days after a recent trip to Amsterdam: it is only a 13-dollar, 50-minute train ride. Plus, there's a good train link back to Schiphol Airport so you can leave directly from (or arrive at) The Hague.
Everyone who'd advised us to go was right: The historic center is charming and beautiful, its ample streets and squares lined with substantial houses, mainly of the 17th and 18th centuries and many of them now diplomatic missions. Smaller streets are home to interesting shops and places to eat and drink. The area's core is the national parliament complex, the picturesque Binnenhof, the oldest parts of which go back to the 1200s. People are free to walk through the campus, with none of the visible security common in lots of other countries. And outside the gate is an organic produce market and a very good herring vendor.
We stayed smack in the middle of this neighborhood, at the Hotel des Indes, just a few minutes' walk from the Binnenhof and from the royal palace. The plush but good-humored décor summons up a romantic fin-de-siècle fantasy, visually enveloping you in deep-hued velvets, fringed lamp shades and rich paint colors. This mood-setting continues even down in the nice little fitness center, with its tiny but peaceful swimming pool. Our room (a superior king) continued the theme, with a fringed bed canopy and hanging bedside lamps. It was of generous size; very quiet and conducive to a restful mood. Everything worked as it should, including the Nespresso machine and tea kettle that we were glad to find in the armoire.
As it should be in a hotel of this vintage (it opened in 1881), the main lounge/bar area is in a domed rotunda; all that red and purplish velvet makes you feel quite naughty as you drink your cocktail. Beyond this is the restaurant, where a standard-issue buffet breakfast is served. In Amsterdam Jackie and I had become acquainted with the Dutch painters of The Hague School, among them Isaak Israels, and it gave us a little frisson that one of his works hangs in the lobby, a version of his portrait of Mata Hari (a client of the hotel in her day, as was Anna Pavlova, who actually died there). We loved the hotel's location, comfort and style and will certainly stay there again when the Mauritshuis art gallery reopens, next year, after its renovation.
Until then, highlights from the Mauritshuis collection are being shown at the Gemeentemuseum, to which we made a bee-line as soon as we'd unpacked our valise. Well, almost a bee-line: On our way we stumbled upon the Panorama Mesdag and stumbled right in the front door. I couldn't wait to see whether this painted 135-year-old 360-degree view of the seashore at nearby Scheveningen would seem crude now that we have 3D movies with surround-sound. It didn't. Walking along a darkened passage then climbing up the stairs to the central viewing platform to confront this vast (about 130 feet in diameter) trompe-l'oeil cyclorama just about took my breath away, and when pulmonary function was restored it made me laugh with pleasure. It was as if we were there on the beach. Still housed in its original purpose-built room, it is amazingly effective seen just as a nineteenth-century viewer would have seen it. It was worth the train ride all by itself.
There is a convenient bus to the Gemeentemuseum (and you can pay the €3 / $4 fare in cash - nice for visitors without commuter passes), but we continued our 45-minute walk through leafy streets of ample villas (many of them, again, functioning as foreign embassies) and past the Peace Palace, headquarters of the International Court of Justice.
The museum, designed by 19th/20th-century Dutch architect Hendrik Petrus Berlage and opened in 1935, is a small beauty of a building, with side galleries surrounding a central garden and a pool extending across the façade. The artist Harold de Bree built a bridge spanning it not that long ago, then in early mid-September set it afire; the charred remains were still in place during our visit and will stay there for a while.
The focus here is normally the 20th century (spilling over at either end and with plenty of exceptions including excellent period rooms), most notably and interestingly the work of Piet Mondrian and other artists of the De Stijl group. The presence of the Mauritshuis's Golden Age paintings changes the collection in a kind of piquant way. I found moving from Vermeer's astonishing View of Delft to a temporary exhibition of Lalique glass and jewelry almost disconcerting, but I wouldn't have wanted to miss either.
The big section devoted to De Stijl was illuminating: We all know Mondrian (though perhaps not that his name was originally spelled Mondriaan), but other worthy members of the cohort were new to me. The displays are imaginative and well organized, and even an ignoramus like me was able to come away with a good sense of what was going on in Netherlandish art and design between the two world wars.
The self-service museum café is pleasant, with good bottled organic beer from Gulpener (more flavor than the ubiquitous Amstel, for one).
Once we were museumed-out it was time to think about dinner. Our new friend, food writer Janneke Vreugdenhil, suggested not some hot new practitioner of Nouveau Rough cuisine, but 12-year-old Restaurant Basaal, run by the chef Bas Oonk and his wife Loes. Getting there entailed a nice 15-minute walk down to one of The Hague's few remaining canals via the shopping/business district (and back via Chinatown).
The menu changes with ingredients and inspiration. The décor is low-key and pleasant, with a few comfy banquettes (ask for one when you reserve -- and yes, everyone speaks English). The food -- as with other good meals we've had in The Netherlands -- was straightforward, imaginative and flavorful, starting with a snack of highly seasoned chicken liver spread and croutons to smear it on. Because it was so substantial, we shared an appetizer (which Mr. Oonk considerately divided onto two plates): crisp breaded croquettes of crayfish and peppers, its béchamel-like filling made using stock prepared from the crayfish shells.
I stayed with seafood, because I can never resist turbot, which doesn't come to our side of the Atlantic. The grilled fillets were served on a bed of what I'd call bubble-and-squeak -- crushed potatoes with sweet cabbage and bacon. The sauce was supposed to be akin to a bouillabaisse, but Mr. Oonk felt a veal jus would work better with the Alsatian wine we'd ordered: a nice display of flexibility and cooking off the cuff. Jackie had a version of the Dutch stamppot (Janneke had told us to keep our eyes open for this) with new-season potatoes and vegetables, topped with aged Messeklever cheese from North Holland and served with a mustardy sauce.
The Oonks are proud of their suppliers, notably of dairy products, so we had cheese for dessert, all from Dutch producers apart from one excellent well-balanced Belgian blue. Dutch cheeses are not all that easy to find on menus, so this was a real treat. As was the whole evening in this lovely family-run restaurant.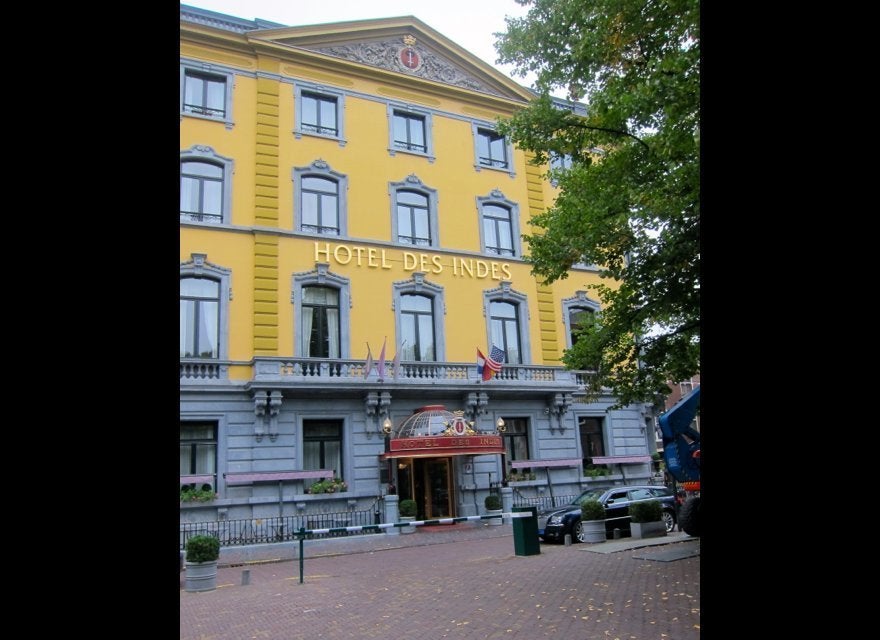 The Hague, Netherands: Art, Lodging And Dining