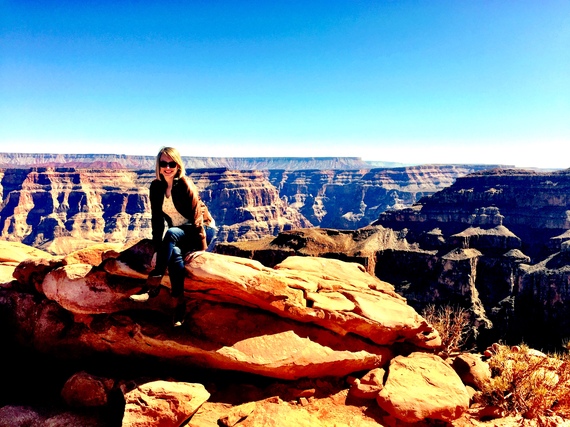 I've got a lot of "musts" to check off each time I visit Las Vegas -- $1 Wheel of Fortune slots at the Flamingo, late-night boozy milkshakes at Holstein's and a vanilla latte breakfast at Wynn's Terrace Point Café -- but after a day trip to the Grand Canyon this month, it's now at the top of my recommendations list.
There are several ways to get to the Grand Canyon from the strip. Multiple tour companies offer airplane, helicopter or bus tours that pick you up from your hotel and take you on a day trip past Lake Mead, the Hoover Dam and, finally, to the Grand Canyon. The planning and transportation is done for you, and you'll get some great information from your tour company's knowledgeable guides.
The views are stunning, too -- the helicopters on these tours are often outfitted with sightseeing windows and stadium seating for 180 degrees of unobstructed views.
My sister and I are do-it-yourself kind of girls, so we opted to rent a car and drive ourselves down to Grand Canyon West. For a Tuesday to Friday trip, an economy rental cost us just $130 plus gas. The car came in handy on the rest of the trip -- parking is much easier than you'd think along the strip with free self-parking at most hotels, plus it saves you the blisters you'd surely get hiking from Mandalay Bay to the Wynn.
In early March, the flexibility to blast our "Road Trip to the Jam Canyon" playlist, stop when we wanted to and stay as long as we pleased made the car well worth the money. If you're going over the summer, however, I'd strongly recommend one of the tour packages, as the 2.5-hour ride through the desert would be sweltering in the height of summer.
We left around 7 a.m. and were one of the only cars on the road. We took a quick detour to get some pretty views of the Hoover Dam, but saved a tour for another trip. By 9 a.m., we stopped at a gas station to buy Legacy Gold Package tickets to Grand Canyon West and avoid the lines upon arrival. For about $80 each, our packages included a ticket to the Skywalk glass bridge, a meal at the view point of our choice (we had surprisingly yummy black bean burgers) and access to the hop-on, hop-off shuttle to all three of the area's viewpoints. After another 30-minute drive of beautiful Joshua trees and cattle in the middle of the road, we were there.
Grand Canyon West is not a part of the Grand Canyon National Park -- it's run by the Hualapai American Indian Reservation. It's definitely more of a tourism destination, but for the ease and stunning views it offered, plus the easy proximity from Vegas, it was a great option for our first visit. If you're even more do-it-yourself than us and want to get in some hiking, I'd recommend the 4.5-hour drive to the South Rim and staying the night.
The viewpoints were stunning and the staff at Grand Canyon West was friendly and helpful. On a Thursday morning, there were plenty of other sightseers around, but not enough that you couldn't snap clear, people-free shots of the stunning views. I'd read some negative reviews online about how touristy it would be that made me wary, but I was pleasantly surprised throughout the experience.
Similarly, the Skywalk was not nearly as scary as we anticipated, though the glass bottom definitely shocked a few choice words out of us when we first stepped on. The official photographer took about 30 shots of us for purchase in the gift shop afterward, though it's not obligatory. We picked out our two favorites and took home copies that will likely be our computers' desktop backgrounds for many months to come.
After quick 2.5-hour ride home, we were back by late afternoon with plenty of time to rest before a night out on the town. No matter how you choose to get there, the natural beauty of the Grand Canyon was a great change of pace from the neon lights of the strip and should be a definite "do" on your next trip to Las Vegas.
-- Anna Heinemann a producer at Travelzoo and based in Chicago. Travelzoo has 250 deal experts from around the world who rigorously research, evaluate and test thousands of deals to find those with true value.