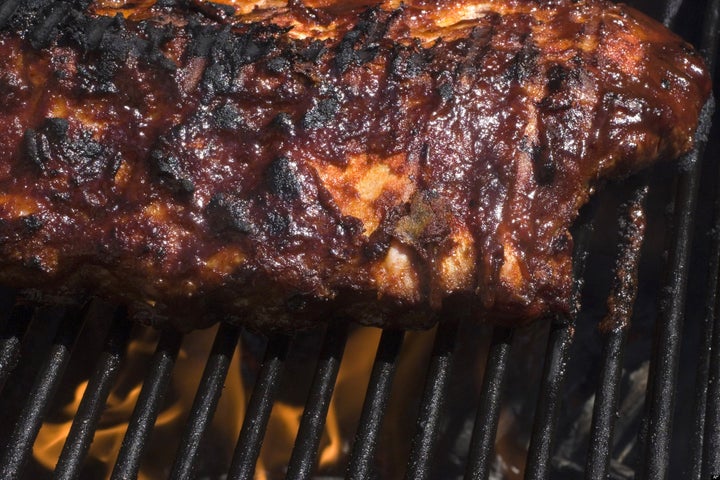 Almost every day I pass by Dallas BBQ, and each and every time it's packed. Lunch, dinner, even in between. Even more interestingly, it's packed with an incredibly diverse set of New Yorkers, of every race and ethnicity imaginable. All these folks appear to be having an insanely good time. In fact, it looks like they're having a big old house party -- complete with super-cheap humongous meals, made up mostly of grilled or fried or barbecued meat and foot-high plates of fried accompaniments, and moat-sized multi-colored drinks (with umbrellas) to wash it all down.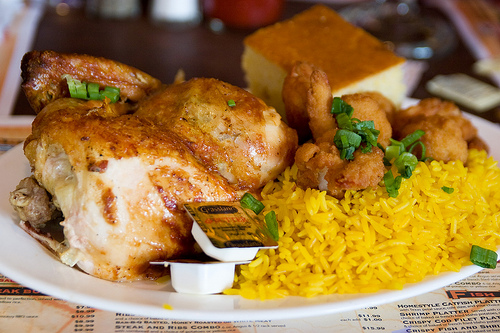 Hundreds of people eat at this restaurant every day, and savor every last fried or grilled bite. But nary a food critic or food writer or blogger among them. Until now. The serious eaters hit Dallas BBQ en masse last week, and I for one survived with my palate intact ... and my stomach full for a full week afterwards.
I have an inviolable rule when I order, particularly in restaurants like Dallas BBQ: If any menu item is described as "the best" or "famous," I have to order it.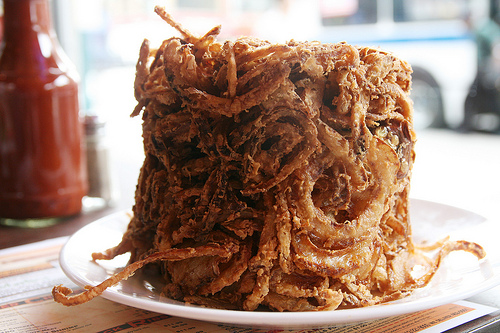 Dallas BBQ's onion loaf ($5.99) is, according to the menu, the "Best in NYC." I cannot in good conscience tell you that I have had every onion loaf in New York, but damn, this onion loaf is good. It's a crispy ten-inch high mass of greaselessly, lightly battered strands of sweet onion. It's shaped like a Shriner's hat, and with a hole in the middle, it looks like an onion ring bundt cake.
A small order of "Famous" Texas Crispy Wings ($7.99) appeared with six cleanly fried, pterodactyl-sized fried chicken wings. I don't know that they deserve to be famous, but they were crispy and crunchy and clearly showed that someone knows how to fry in the restaurant's kitchen.
Chicken tenders ($7.99) also reflected the kitchen's frying abilities, and though they weren't exactly juicy and moist, they did have plenty of crispy, salty flavor.
With our starters, we ordered a Texas-sized, big-as-a-moat Blue Bull ($7.99), a margarita drowned in blue with an extra shot of tequila. Our extremely friendly and knowledgeable server brought it to the table with four umbrellas. The bartender could have fit a couple of more in the glass, believe me.
The rotisseried chicken ($5.99), described as the "very best slow rotisseried BBQ chicken, prepared with no additives or sauces every hour on the hour!", is, alas, not even the best in the 'hood. But it is huge (even the quarter chicken is more than enough to eat), the skin is vaguely crisp, and though the white meat is dry, I've had far worse at twice the price.
The barbecue at Dallas BBQ is not even smoked (it's steamed or baked and then finished on the grill), so it shouldn't really be called barbecue. The baby back ribs ($8.99) come with no hyperbolic menu description, nor should they. They are falling off the bone tender, but they didn't have much pork flavor (baby backs as a rule don't), and all you really taste when you bite into them is the sauce. The beef ribs ($11.99) are gigantic, tender, and messy, thanks to the pool of cloyingly sweet barbecue sauce.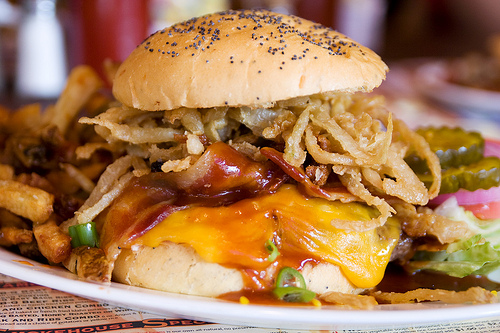 The "New" Texas hot dog ($6.99), served with baked beans, isn't described as the "best" or "famous," but perhaps it should be. It's a grilled all-natural, no preservatives, no nitrates, 12-inch half-pound all beef hot dog that is juicy and garlicky and plenty meaty. It comes with beans and your choice of starch, and at $6.99 it's a ridiculous bargain. The burgers ($7.99 and up with potato or rice) are a half-pound of ground sirloin that our server told us are ground on premises from the steak tips. Alas, the burger joined the ribs in the barely-any-flavor department. Crispy shrimp ($8.99) were kinda crispy, but they were the only thing we ate that tasted as if they had been sitting around the kitchen already fried waiting for someone to order them.
Baked potatoes are huge and tender, though their skin was flaccid. The French Fries were really fine, fresh, skin-on, thick-cut Idahos that are in fact better than Shake Shack's, though I wish their exterior had been as crispy as the Shack's. But the cornbread is sweet and cakey, and should be considered a dessert.
Which is a good thing, because as we found out, there is no dessert served at Dallas BBQ. Our server directed us to the Baskin-Robbins next door. We all just took another bite of the cornbread and washed it down with a big sip of Blue Bull. Voila, dessert. The only other thing you'll need if you have the ribs or chicken is a wet nap -- which do come in handy, but really stink up the place.
After a few meals, I get why Dallas BBQ is always jammed. Inoffensive, somewhat tasty food; huge, strong, multi-colored drinks (that come with multiple umbrellas on request); ridiculously reasonable prices (the price-value ratio is off the charts here); and a party-like atmosphere in which all kinds of people seem to be having a great time eating. I'm not going to spoil the party. I just don't know that I need to return any time soon.
261 Eighth Avenue, New York NY 10011
212-462-0001
Service: Friendly and familiar the first time, off-putting and weird the next
Setting: A big diner with cacti, a concrete ceiling, and reasonably well-spaced tables
Compare It To: Applebee's, Chili's, TGI Friday's
Must-Haves: Hot Dog, Onion Loaf, Chicken Tenders, and yes, a big ol' blue drink
Cost: Twenty bucks will get you enough food for two to share and one of those drinks
Grade: C+
Related
Popular in the Community