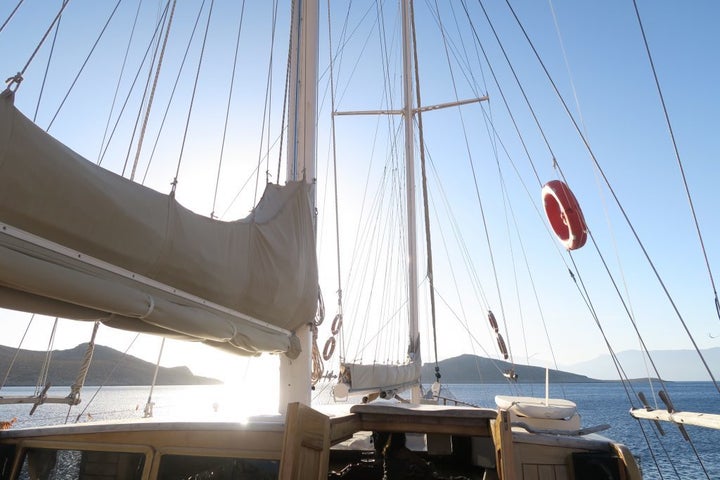 Are you somebody that likes to be in control, or are you happy to go with the flow? If pushed, many people would claim the latter, but if we're honest, it's not always true. Technology and the fast pace of modern life have put us in control: we have busy diaries, appointments to keep, information constantly at our fingertips about the weather, train times, the best walking routes, how many steps we've taken so far today…
So while the idea of going with the flow becomes more attractive – particularly in our leisure time – letting go of control becomes harder. Take a look at cruise ship schedules, for example. Every minute of your trip is accounted for, the times of arrival and disembarkation are a matter of military precision. Planning is everything.
There is another way. I recently returned from a sailing cruise of the Greek islands on the Naviga 1 which sleeps up to 16 people with a crew of four. It's a beautiful wood-built 90ft ketch with sleek lines, comfortable cabins and plenty of plump cushions where you can laze in the sun, sipping wine and reading books. But what you don't get is a fixed itinerary.
"It depends on the wind and the captain's judgement," explains Loes Douze, who owns the boutique company SCIC Sailing based in Bodrum, Turkey. "We have a plan of where we want to go, but we can't guarantee it. We think it's more important to open the sails and enjoy the elements rather than stick to a prescribed route."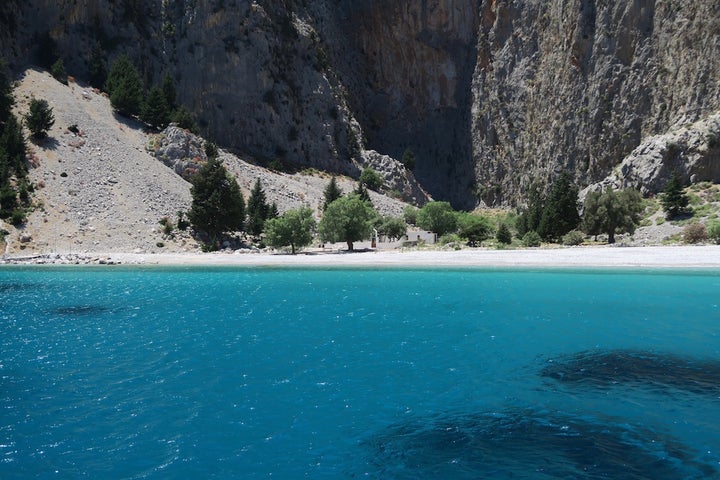 Some passengers struggle with this, says Douze. "Even when we explain the concept, we get people who arrive on board and want to know exactly where and when the boat will be sailing. They can get quite anxious the first couple of days. Then a change usually happens. They experience the sailing, the movement of the boat and they start to relax. They get it."
There are few better ways to unwind than on a boat carving through the clear waters of the eastern Mediterranean, mooring in sheltered bays for al fresco lunches on deck and swimming in the clear turquoise water. On our seven-night cruise, we spent some nights moored up at small Greek islands – the ports too small to accommodate cruise ships or large ferries – and others in splendid isolation on deserted sections of the Turkish coast.
The food – a mix of Turkish and Greek – was plentiful, fresh and healthy, lots of fish, seafood, salads and vegetables. The crew were outstanding – smartly turned out, always ready to refill our drinks, keen that we should not raise a finger as they raised and lowered the sails.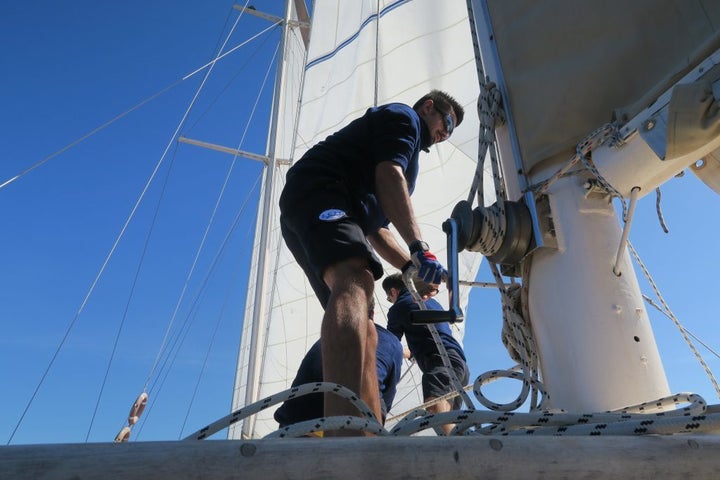 We did have a rough itinerary and we made it to most of the islands we planned to visit. On the volcanic island of Nisyros, we explored the spectacular lunar landscapes inside the caldera where sulphurous steam hisses from between the rocks. Looming above the volcano is the idyllic blue and white village of Nikia (pop. 35) where we sipped soumada, a sweet milky drink made with bitter almonds.
On the island of Symi, where the pastel-painted Italianate harbour looks like the set of a 1950s movie starring Gina Lollobrigida, we wandered from one coffee bar to the next, ate tiny local shrimps and slow-cooked lamb, visited a monastery and got waylaid by the world's chattiest customs officer. It was early season, there were few other tourists about and nobody seemed in any kind of hurry.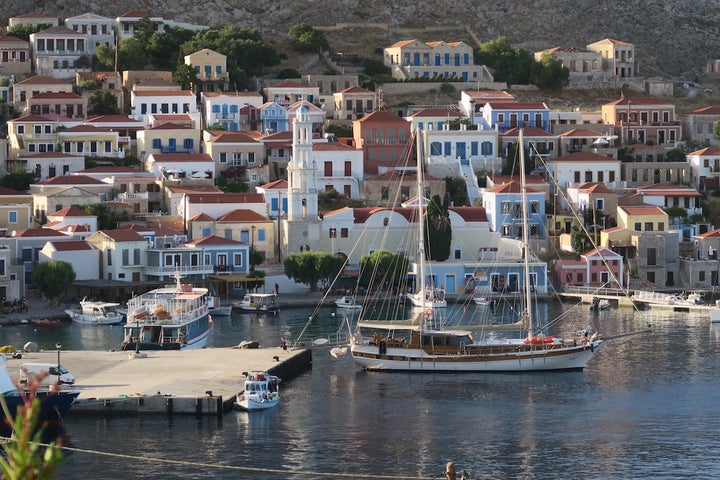 The wind didn't take us to Tilos, but we made an unexpected stop at the island of Chalki, which proved even more somnolent than Symi. At dusk the local kids came out to play on the quayside, but nothing much stirred apart from the occasional buzz of a coffee machine. The port wasn't particularly pretty, just perfectly Greek.
The biggest of the islands was Kos – our start and finish point – where we rented cycles and pedalled into the hills to visit the Hatziemmanouil winery and the ruins at Asklepeion, where Hippocrates founded the world's first hospital.
But the real enjoyment of this cruise wasn't about excursions, it was lying on deck feeling the creak of the timbers as the wind flapped in the sails, no wifi, nothing much to do except gaze at the horizon, read, chat, eat and drink.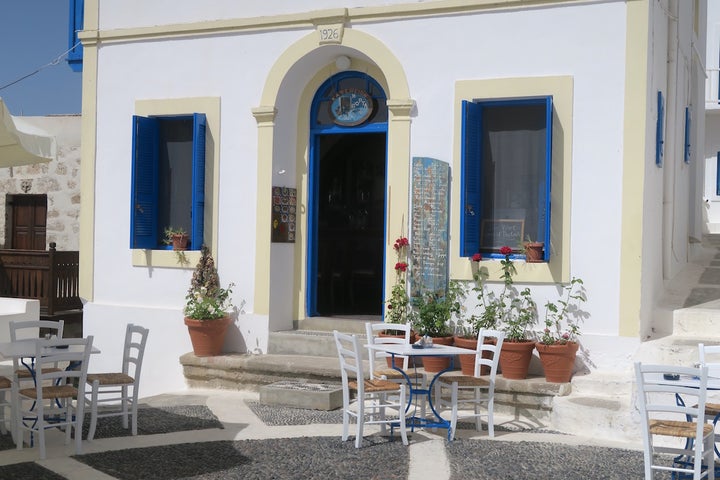 There were occasional flurries of excitement, like the time we came across a pod of dolphins, one of which peeled away to follow our bow, leaping out of the water and dashing in and out of sight. That sort of interruption can put a smile on your face for the rest of the morning.
There's something to learn on a trip like this about how to travel. Robert Louis Stevenson, writing in the late 19th Century, summed it up as well as anyone before or since: "For my part, I travel not to go anywhere, but to go. I travel for travel's sake. The great affair is to move."
I'll visit Tilos another time.
How to do it
SCIC Sailing has seven-night sailing cruises including breakfast, lunch, five dinners, snacks and all drinks including alcohol, from €949 to €1,069 per person. Flights are not included.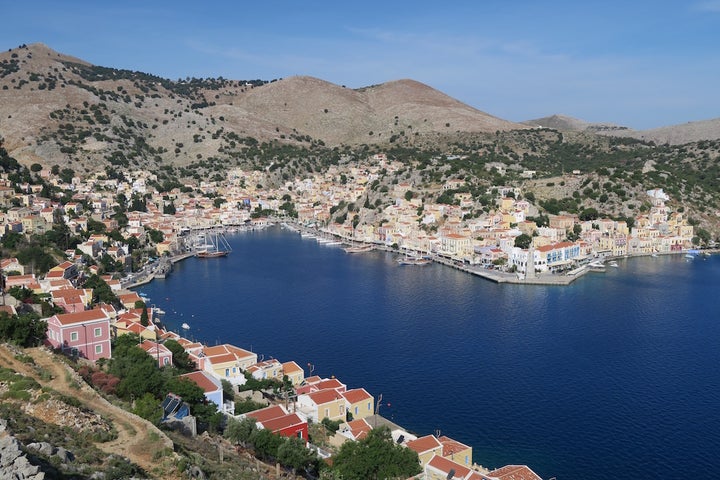 Related
Popular in the Community