Nicknamed "Big Maple Leaf," the Canadian coin has a face value of 1 million Canadian dollars (about $750,000), but because of its weight and purity is actually worth $4 million at auction.
"It's gone," Bode Museum spokesman Markus Farr said Monday, according to NBC News.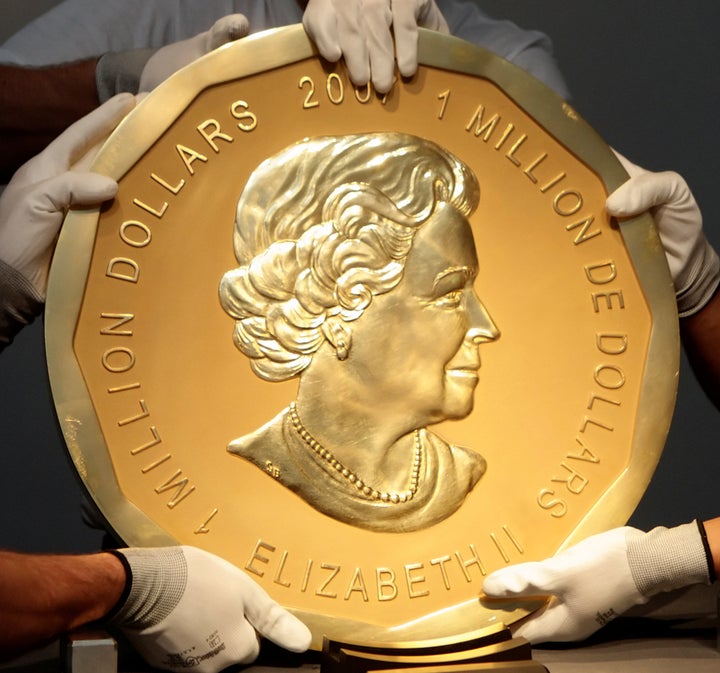 It appears the operation wasn't exactly high-tech by today's standards. Police suspect the thieves used a ladder to enter the second story of the Berlin museum through a window and smashed the bulletproof glass box that contained the coin. Authorities believe they escaped through the same window, used a wheelbarrow to transport the coin, and eventually reached a getaway vehicle.
The following Reuters video shows how the heist may have gone down.
The Royal Canadian Mint issued the coin — at the time the world's largest — in 2007. It weighs about 220 pounds and measures about 21 inches in diameter and 1 inch thick. The coin has a depiction of Queen Elizabeth II on one side and a maple leaf on the other.
The Bode Museum has had the coin in its collection since 2010.
Of course, theft is a serious matter, but The Mississauga News couldn't help taking a little jab at the thieves.
Related
Popular in the Community