Valentine's Day is creeping up on us again, everyone. Whether you are coupled, dating, single or otherwise, we bet there's someone you want to show a little love to, and we'd like to help you do that with cookies and 23k gold.
For $48, Ike's Cookies will send your designated loved one (or, ahem, yourself) a box of 15 chocolate cookie dough balls wrapped in edible gold leaf. The box arrives frozen, and your freezer is where it should live, until you or said loved one want fresh, warm, crazy fancy, gold cookies. Each dough ball comes wrapped in its own little parchment paper robe, so all you have to do is preheat your oven, put the dough and paper on a cookie sheet and bake for 15 minutes. You can make all 15 at once, or you can make one cookie at a time whenever the mood strikes. Oh, and did we mention that they are literally covered in gold?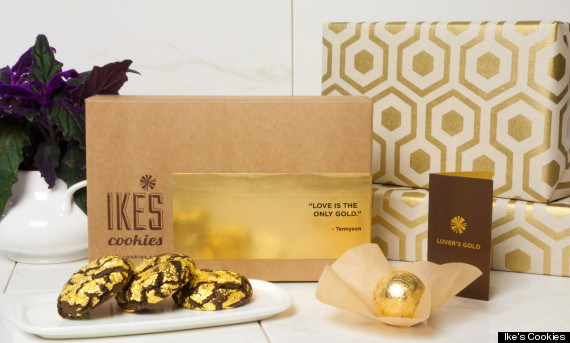 According to Ike's, these cookies are "made with extra dark, fair-trade chocolates with cacao content greater than 60%. Each cookie is lovingly covered in pure, natural 23 karat gold leaf, produced to exacting culinary standards in Germany. Our flour, sugar, butter, and cream cheese are organic and locally sourced."
We tried these cookies and can confirm that they are indeed crazy easy to bake, crazy beautiful to look at and pretty delicious to boot. If that sounds like it's liable to delight someone you love, you can order a box from the Ike's Cookies website.