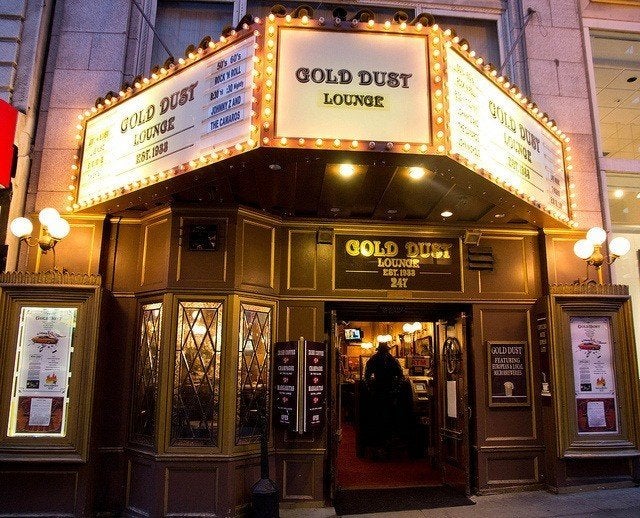 The owners of the Gold Dust Lounge filed a lawsuit yesterday against their landlord, hoping this will put an end to the imminent eviction slated for March 10. However, the owners -- James and Tasios Bovis -- have come up with an interesting and emotionally charged defense to save their beloved watering hole: elder abuse.
The duo's attorney, Joseph Cotchett, told reporters that the landlord, Handlery Hotels, used nothing but "trickery and deceit" to get the Bovises -- both of whom are in their 80s -- to continually sign leases that had been amended without their knowledge. Those "amendments" essentially were loopholes giving the Handlerys carte blanche to boot the Gold Dust Lounge at any time with just 90 days notice.
The lawsuit also claims that the Handlery family gradually snuck in shorter lease termination clauses, while telling the Bovises they were signing an amendment with no major changes.
"Under California law, you can't do that to senior citizens," Cotchett told reporters. "You can't take advantage of senior citizens."
The Handlery family delivered the bad news about the bar's closure back in January, which upset just about every social drinker in San Francisco. The bar, which has been at its current Union Square location since 1966, is being forced out to make room for a new retailer -- something the community doesn't really want.
Alas, Sam Singer, spokesman for the Handlery family, issued his own statement to the press, calling the claims of elder abuse like an episode from The Twilight Zone. "Their time would be better spent searching for a new home for the Gold Dust rather than filing fictitious lawsuits," Singer said.
Stay tuned for the next episode of this San Francisco saga.
Take a look at footage from a recent "Occupy The Gold Dust" effort, courtesy of Adrian Mendoza, below:
Related
Popular in the Community