In January, I wrote about the bizarre case of the imprisonment of writer Enoh Meyomesse in Cameroon, a country with a terrible record on free expression. He was charged at the time with stealing gold from one of Cameroon's gold fields, using the gold to buy weapons, and planning to use the weapons to overthrow the government with co-conspirators. Human rights groups, including PEN, expressed fears that the charges were little more than a ploy to jail a prominent member of the political opposition, and sure enough the government has dropped all its charges against Mr. Meyomesse just six months later. Yet a judge has ordered him to remain in prison for six more months and he continues to suffer from medical problems.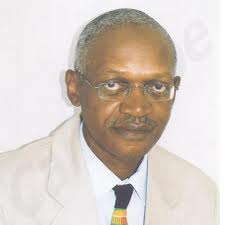 Enoh Meyomesse
Enoh Meyomesse has published 15 books of poetry and prose and is a founding member of the Cameroon Writers Association. He has also engaged (unsuccessfully) in politics for decades, making him a target for retribution from the regime. In January 2011, he had his passport seized when trying to leave the country to report on the crisis in Cote d'Ivoire. In October 2011, he decided to run for office directly against President Biya in a national election, but the government claimed that he did not properly register and prohibited his candidacy. Biya went on to win a landslide election that U.S. Ambassador Robert Jackson stated was marred by "irregularities and shortcomings."
Why is Mr. Meyomesse still in prison? All his charges have been dropped and no evidence has been found against him. This suggests that his continued imprisonment is a mere pretext to keep him out of politics. Cameroon's legal system allows for a judge to grant provisional detention while a chief investigator gathers evidence against the accused. Section 221 of the penal code allows up to six months of provisional detention, which can be extended for another 6 months. However, the judge can release Mr. Meyomesse on parole, as long as he informs the court of his whereabouts. And this is what should happen.
Mr. Meyomesse is also suffering from medical problems. His bifocals reportedly disappeared before he spent one month in solitary confinement in total darkness at Bertoua prison. He is now reporting blind spots and extreme sensitivity to light. After denying Mr. Meyomesse the right to see a doctor for the past 6 months, he has finally received permission for a visit. It is unclear whether he would be released under the terms of his present confinement if his medical issues are urgent.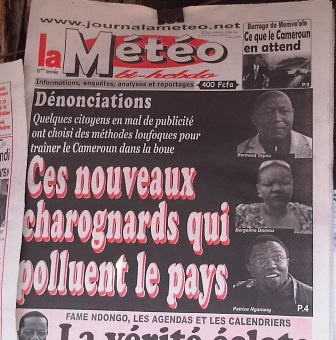 A newspaper calling Mr. Meyomesse's supporters "vultures"
There is another threat, which is that government-supported media has launched a smear campaign against Mr. Meyomesse's supporters, labeling them "vultures" that are "polluting the country."
You can do something about this. Visit PEN International's latest alert, which has addresses for you to contact Cameroonian authorities to call for Mr. Meyomesse's release. Or, you can donate to Mr. Meyomesse's legal defense at Internet Without Borders here.