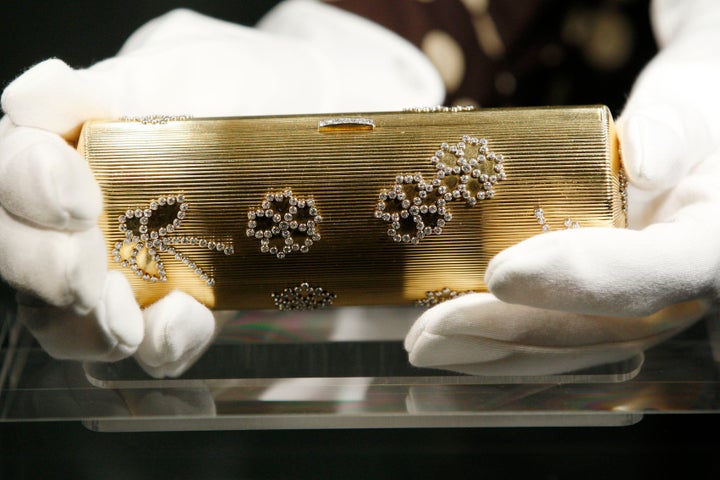 This story was reported in collaboration with our partners at Patch.com.
It was a rainy afternoon in January of 1848 when a builder named James Marshall arrived at the office of his employer, John Sutter, a tannery owner, farmer and merchant, in a rural trading post in what is now Sacramento.
"He told me then that he had some important and interesting news which he wished to communicate secretly to me," Sutter later wrote in a letter to Hutchings' California Magazine.
"... Marshall took a rag from his pocket, showing me the yellow metal: he had about two ounces of it; but how quick Mr. M. put the yellow metal in his pocket again can hardly be described."
The yellow metal was gold, of course, and the secret wasn't secret for long. "Gold fever" struck, and by the next year people were flocking to California from as far away as Chile, Australia and China.
Fast-forward to April 2011. The price of gold has just hit $1,500 an ounce, a record high, and in a shop not so far from where that fateful meeting occurred, a different sort of gold rush is taking place.
Well, maybe not a rush, exactly. More like a "bump" -- that's how John Paul Liscandro, an employee of The Pawn Advantage Store in Santa Rosa, described it. A lot of people have been coming into the store to sell gold, he said.
Asked whether he meant that people were desperate, he replied, "I mean, it's a pawn shop."
Also: "gold teeth -- yes, teeth" and "ancient computers that were once soldered with gold."
"The middle class is growing very rapidly," said Sam Dolabany, owner of Dolabany Jewelers in Westwood, Mass.
Unfortunately for people who live in the United States, he was talking about the middle class in India and China, where the demand for gold, high to begin with, is getting higher.
Think of gold as fear in mineral form. As economic anxieties increase, so does the price of gold, as does the financial desperation that drives a person to cash in on the solid gold Elvis pendant their husband bought them in Memphis on that cross-country trip in 1982.
For this reason, store owners are generally wary of sharing their customers' information with reporters.
"Some people -- I don't want to use 'ashamed,' but it's not a happy situation," said Brian Weinberg, the owner of Parkway Gold in Alpharetta, Ga.
He added, more bluntly: "The economy's bad. People need money."
The shame of having to sell jewelery is why Irma Evearts and her husband, George, the owners of Evearts Gallery in Haddonfield, N.J., will often bring customers to a private room in the back of the store. Sometime they'll even shut the whole store down.
""People come in for all reasons," she said. Meaning, hey-I-never-really-liked-this-bracelet-anyway-and-now's-the-time-to-get-some-money-for-it reasons, and sadder reasons.
"A lot of people don't want to sell their jewelry, but they have to," said Steven Bumb, part owner of Santa Cruz Pawn. "It's their monthly mortgage payment or whatever the case is ... We hear a lot of sad stories."
Also in the bad news department was this report from Barnstable, Mass.: "In a town where break-ins are commonplace -- this past weekend there were three break-ins and two attempts -- drugs are a key driver of jewelry thefts, not the price of gold. "
Meaning the rash of burglaries is completely unrelated to soaring gold prices?
"The nitwits stealing the gold don't really follow the commodities market," noted Sean Sweeney of the Barnstable police department.
As sad stories go, there may be none sadder than this dispatch from Connecticut's "gold coast", the ribbon of super-wealthy suburbia stretching from the Westchester border to Westport. There, people in the habit of buying $10,000 Swiss-made watches must now steel themselves for the possibility of paying, oh, slightly more.
As Terry Betteridge, of Betteridge Jewelers in Greenwich, reported, "Customers of ours are very concerned."
However, gold's soaring price has had brighter consequences for some: Across the country, women have been holding "gold parties" at their homes, inviting friends to dig into their jewelry chests for whatever pieces they can stand to part with. Licensed dealers arrive with scales, and the guests leave with cash.
"Gold parties are actually pretty fun," said Brian Weinberg, the owner of the Alpharetta shop. "People have sold things that you know they had no intention of selling. A girl might be wearing something an ex-boyfriend gave her and when she sees it's worth 500 bucks she cares even less about him than she did before."
For most Americans, though, this latest gold rush appears to be no more a cause for celebration than the last one was for old John Sutter. "So soon as the secret was out my laborers began to leave me," Sutter wrote.
Sutter eventually left the trading post himself and tried to make a go of gold-digging, but the expedition was doomed by his reliance on a drunken, duplicitous workforce.
"Instead of being rich," he wrote, "I am ruined."

REAL LIFE. REAL NEWS. REAL VOICES.
Help us tell more of the stories that matter from voices that too often remain unheard.