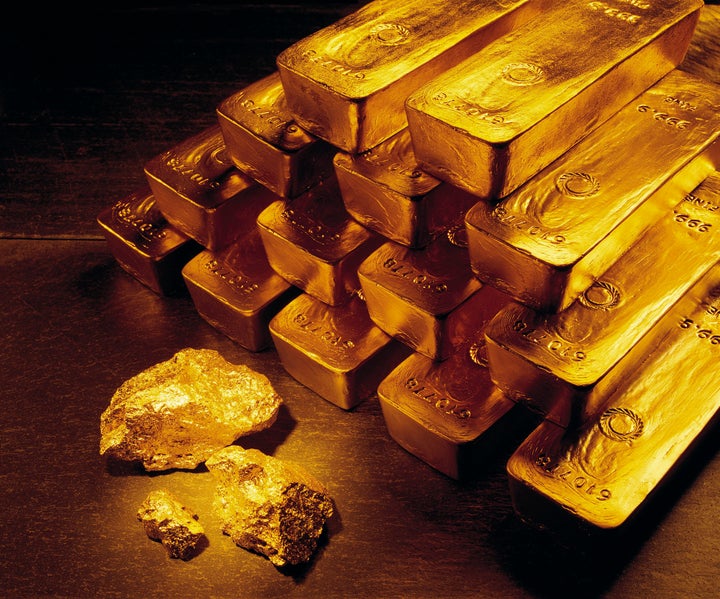 The rivers of Indonesia's Kalimantan provinces seem pristine and free of the toxic stuff floating around in the Hudson and the Potomac rivers, but thousands of gold miners operating under tin roofed sheds near those rivers are pouring toxic mercury into the air as they feed the global hunger for gold that has driven prices over $1,500 per ounce.
These artisanal or small-scale miners use mercury to pull gold out of crushed ore; then they burn off the mercury which floats downwind and poisons wildlife, air, water, soil and the 300,000 people who live nearby.
A small NGO, Blacksmith Institute, has figured out a way for these gold miners to continue to extract and sell gold but to keep the mercury out of the environment -- and out of their bodies.
Approximately 10 to 15 million people around the world -- including 4.5 million women and 600,000 children -- earn their living from this dangerous method of mining, the U.N. says. Millions more downstream from the mercury emissions are also at risk.
Some 95 percent of all mercury used in artisanal mining is released into the environment says the UN Industrial Development Organization. Mercury causes permanent damage to the brain and kidneys, and, in the case of pregnant women, to the development of the fetus. Symptoms include shaking and neurological problems.
Working with an Indonesian NGO, Yayasan Tambuhak Sinta (YTS), and using funds from the UN and U.S. EPA, Blacksmith sent experts to observe the mining process.
After gold and mercury form an amalgam, the glittery substance is heated in open pots to drive off the mercury as toxic vapor. The solution was to make a simple retort -- a cap with a metal tube -- that traps the mercury vapors and guides them into a vessel full of water, where they condense back into liquid mercury.
Not only is the mercury kept out of the air, it can be used over and over in extracting gold, saving money as well as protecting health.
Blacksmith cleans up sites laden with lead, mercury, dioxin, TNT, radiation, pesticides and the like, in more than 40 poor and middle income countries.
The NGO has a small budget but gets grants from the World Bank, USAID and other donors. It recently completed a survey that found 2,500 toxic sites in more than 100 countries; and they have cleaned up 40 of those sites.
The number of children and adults at risk of serious health damage from toxic waste, including neurological impairment, death or shortened life spans, reaches 100 million -- more than at risk from AIDS or TB. Yet it's rarely in the news like famines, earthquakes and diseases which could travel across borders and impact the West.
Wealthy industrial nations such as the United States got a handle on toxic waste in the 1970s. With the super fund and environment protection we have cleaned up much of our country. Developing countries are now getting cars and factories, but they have just begun to deal with the waste that modernity produces. Blacksmith projects include:
-- In Senegal, cleaning lead in soil from recycling of car batteries.
-- In Mexico, helping pottery producers remove lead from the process.
-- In Ghana, modify computer and electronics recycling to eliminate toxic clouds of black smoke over the main market of the capital city.
-- In Ukraine, cleaning up a large abandoned Soviet chemical plant laden with TNT.
The group provides experts, not activists stirring people to oppose the local governments. Instead they stress working together with all parties to find healthy and cost-effective solutions.
Sometimes, well-meaning aid projects fail because they try to halt mining, logging, hunting and other activities that provide jobs to poor people without helping people find alternate ways to earn their living.
Blacksmith spent only $25,000 on the Indonesian gold project while the U.S. Environmental Protection Agency and the UN Environment Program added $100,000. Now the Indonesian government is drafting a policy that will expand the anti-pollution drive.
Richard Fuller, president of Blacksmith, said that "Within our lifetime we can clean up all 2,500 toxic sites and prevent the poisoning of millions of adults and children."
Ben Barber is a freelance journalist, photographer and a communications consultant for Blacksmith Institute.
Popular in the Community