This is not the grilled cheese of your youth. Unless, perhaps, you were born into royalty.
In honor of April being National Grilled Cheese Month -- as well as April 12 marking National Grilled Cheese Day, according to the authorities who decide such matters -- one Chicago restaurant is serving up the decadent grilled cheese sandwich to end all decadent grilled cheese sandwiches.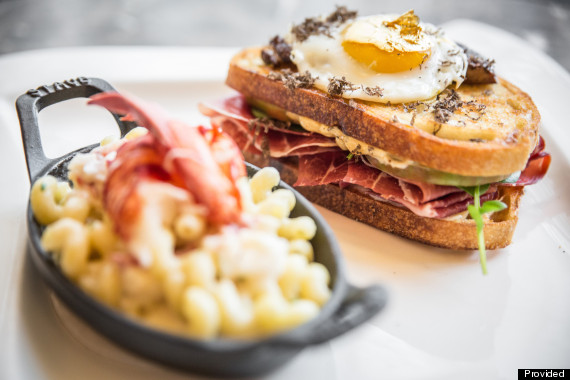 The sandwich features thin slices of black Iberico ham sourced from acorn-fed free-range pigs living primary in southern Spain, Ellis Family Farms heirloom tomatoes, 100-year-old aged balsamic vinaigrette and Oregon Perigord white truffle aioli, according to a press release. Even the bread -- artisan country sourdough cooked in Laudemio Marchesi de' Frescobaldi extra virgin olive oil -- is fancier than most.
And the kicker, of course, is the cheese: 40-year aged Wisconsin cheddar infused with 24k gold flakes. Yes, 24k gold flakes.
Finally, this grilled cheese is topped with Hudson Valley foie gras and a sunny-side-up duck egg, plus lobster macaroni and cheese on the side. Because of course.
Here's another look at this ridiculous sammie beast: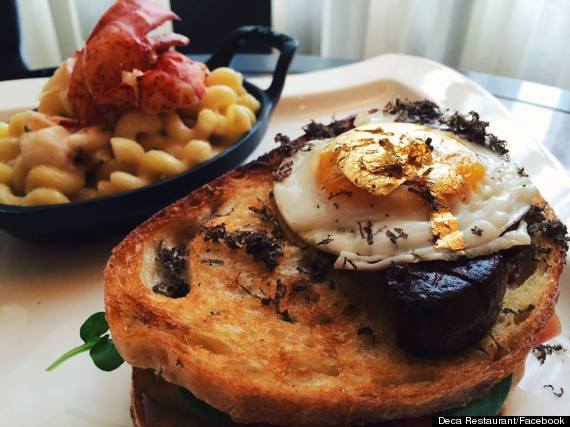 Despite the sandwich's lofty price, Eric Ciechna, a host at Deca, told DNAinfo Chicago the cost could actually be "a steal" considering the high value of all of its components combined.