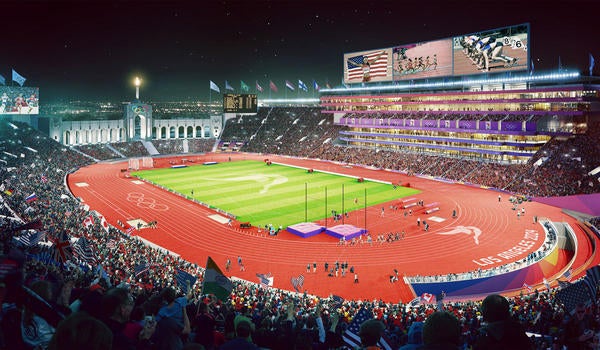 The next California gold rush just might be coming in 2028.
As the Wall Street Journal reports, the International Olympic Committee is in talks that may result in the unprecedented awarding of two Summer Olympics at the same time. If the plan goes through, both cities currently vying to stage the world's grandest sporting event will get their wish, with Paris hosting in 2024 and Los Angeles landing 2028.
According to the newspaper, Los Angeles' bid committee, currently locked in a closely competitive race with Paris for the 2024 Games, is considering incentives that would sweeten the prospect of holding off until 2028. Such a move, a monumental first in Olympic history, would allow Paris to host the Games on the Centennial anniversary of its last Olympics in 1924. Los Angeles, meanwhile, would throw its next Olympic party 96 years after its first in 1932, and 44 years after its most recent in 1984. The IOC Executive Board is scheduled to meet June 9 to discuss the dual award.
But here comes the fun part for fans of once-in-a-lifetime spectacles: if LA is indeed wooed into waiting for 2028, it will mean there will be not one but two such spectaculars in the City of Angels that year. If you follow the math (or Oscar history) you'll know that there's already a landmark event set for LA in eleven years' time: the 100th Academy Awards. The first Oscars were staged on May 16, 1929, making 2028 the year of the Oscarcentennial.
So the largest city in America's Golden State may be gearing up for the next great gold rush in its history, with Oscar's 100th birthday party and the Summer Olympics potentially happening within a few months of one another. Even in a city accustomed to mega-events and A-list affairs, it would have to be considered an unprecedented 1-2 punch of pomp and pageantry. But Tinseltown is surely up for the task. The 1984 Games, despite a Soviet boycott, were among the most profitable and best organized in Olympic history. And the Centennial Oscars, celebrating not only a century of gold statues but the evolution of motion picture artistry and achievement itself, should be one of the most joyous, nostalgic and emotional occasions ever in the entertainment industry.
We're still a decade or so from knowing who the Centennial Oscar contenders might be, and many 2028 Olympians are just finishing grade school. But there might be a whole of of California dreaming in their collective futures… and glory in a place called La La Land.
Calling all HuffPost superfans!
Sign up for membership to become a founding member and help shape HuffPost's next chapter