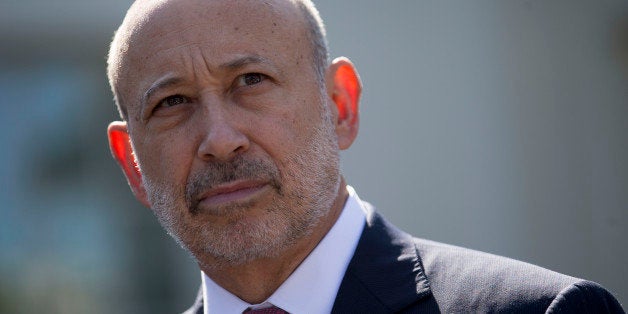 Goldman Sachs Group Inc slashed employee compensation costs by 35 percent in the third quarter as bond-trading revenue plunged, an unusual step that signals the investment bank's concern about performance for the rest of the year.
Revenue from trading fixed-income, currency and commodity products for clients, one of the bank's biggest businesses, tumbled 47 percent in the quarter, excluding an accounting adjustment, Goldman reported on Thursday. That was a much sharper decline than rivals have posted. The bank's shares fell 2.6 percent in afternoon trading to $158.08.
Harvey Schwartz, the bank's chief financial officer, said Goldman was hurt by its big mortgage bond business. Client trading volume in that sector dropped as the Federal Reserve said it would refrain from changing its bond-buying stimulus policy, giving investors less reason to trade.
"Goldman showed that they are also mortal," said Michael Holland, founder of Holland & Co, which owns financial stocks but does not own Goldman shares.
While rival Morgan Stanley has been building up its brokerage unit - sometimes painfully - to reduce its reliance on areas like trading, Goldman has been resolutely sticking to its traditional businesses, focusing on advising companies, underwriting and trading securities, and managing assets. Investors on Thursday seemed less worried about Morgan Stanley. Its shares rose 14 cents amid a broader market rally to $28.77.
Goldman responded to the weaker revenue by setting aside less money to pay employees during the quarter - $2.38 billion (1.47 billion pounds), compared with $3.68 billion in the same quarter last year. The 35 percent decline is high compared with competitors. JPMorgan Chase & Co cut its third quarter compensation expense by 15 percent.
Goldman's compensation costs amounted to 35 percent of its revenue in the quarter. The bank's target is usually closer to 43 percent.
The bank sometimes cuts the money it sets aside for pay in a quarter, but it usually does so in the fourth quarter, when there is no hope of earning extra revenue for the year. Doing so in the third quarter signals that it does not expect a big rebound in the fourth quarter, a point Schwartz conceded on the conference call.
One bright spot-- Goldman set aside a fair amount for pay in the first half of the year, when net income was up about 35 percent over the year-earlier period. Even with the third quarter drop, total compensation costs for the first three quarters are only down 5 percent from the same period last year.
While the bank may always change the amount of money it sets aside later in the year, the third-quarter reduction will likely translate to lower bonuses for employees.
Pay consultant Alan Johnson estimates that across Wall Street, fixed-income, currency, and commodities trading bonuses could fall 10 to 15 percent this year, with many employees getting $0 bonus checks.
Overall, Goldman reported net income for common shareholders of $1.43 billion, or $2.88 per share, down 2 percent from $1.46 billion, or $2.85 per share, a year earlier. Per-share earnings rose because of stock repurchases.
Analysts had been expecting earnings of $2.43 per share, on average, according to Thomson Reuters I/B/E/S. Analysts had forecast higher revenue, and most of the better-than-expected performance came from cost-cutting and a lower tax rate, which are difficult trends to sustain.
Overall revenue fell 20 percent to $6.72 billion. Excluding an accounting adjustment that investors often ignore, revenue from the bank's fixed income, currency and commodities business for clients fell to $1.29 billion, from $2.49 billion. Its revenue from investments in debt securities and loans fell 46 percent to $300 million from last year's third quarter.
The bank boosted its dividend for the third time in less than two years, to 55 cents per share quarterly from 50 cents. The dividend is a relatively small expenditure for the bank, but Goldman is usually loath to boost its payout if there are better opportunities for it to invest the money elsewhere.
"The third quarter's results reflected a period of slow client activity," Chief Executive Lloyd Blankfein said in a statement.
Blankfein laid some of the blame on the budget impasse in Washington, which made companies and investors hesitant to take risk. Wall Street banks that reported earnings earlier in the month, including JPMorgan Chase & Co, Citigroup Inc and Bank of America Corp, also reported lower fixed-income trading revenue, and said that uncertainty about the Federal Reserve's plans for monetary easing had also hurt trading volumes.
But Citigroup and Bank of America's declines were more in the 20 percent range. Goldman said its mix of products and clients, including its mortgage bond trading business and its focus on institutional clients, was responsible for the bigger drop.
(Reporting by Lauren Tara LaCapra; Editing by Dan Wilchins, John Wallace and Andrew Hay)
REAL LIFE. REAL NEWS. REAL VOICES.
Help us tell more of the stories that matter from voices that too often remain unheard.
BEFORE YOU GO
PHOTO GALLERY
The Most Evil Fictional Corporations